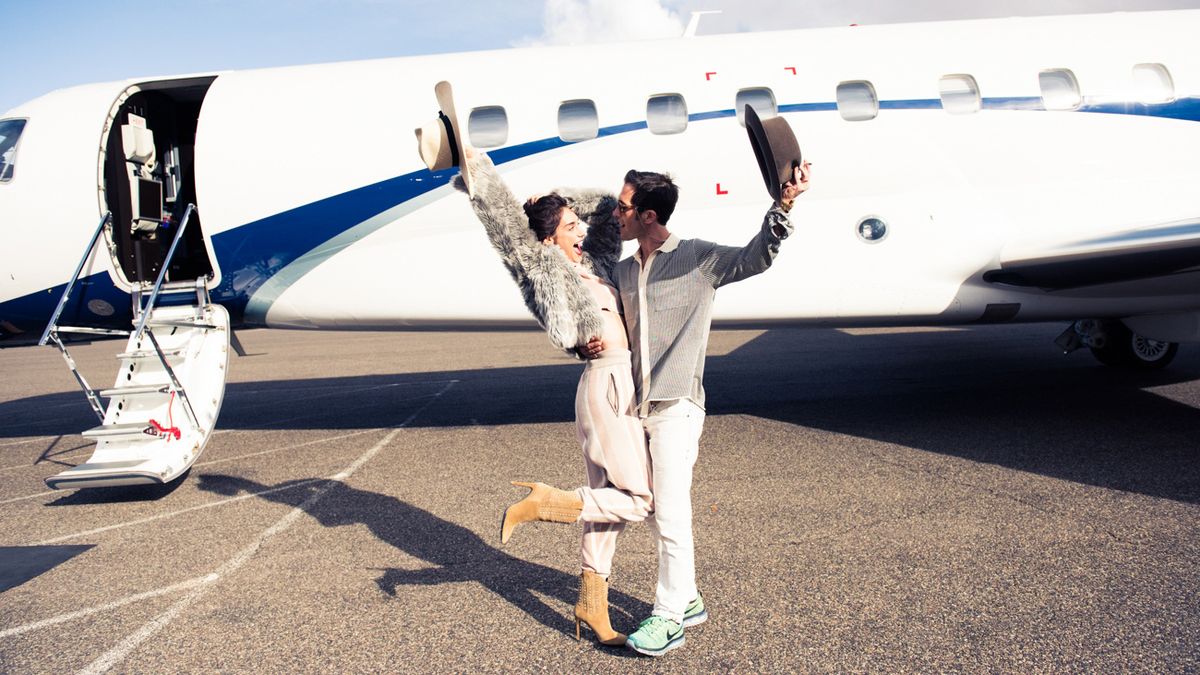 Wedding Week
The 3 Rules to Planning a Perfect Honeymoon
And the secret places to go.
So you don't want to go to Hawaii, Tahiti, or the Amalfi Coast. Call you crazy, but going somewhere different and unexpected is important to you. We get it.
But where do you start? How do you choose a location, or a hotel? Plan an itinerary, and make it as dreamy and "once-in-a-lifetime" as humanly possible?
It can feel like a lot, quickly, and before you know it you're sending your significant other that all-inclusive resort just to get it all over with. Now, there is nothing wrong with that all-inclusive resort, but if your true, lifelong honeymoon dream is to be frolicking on a deserted island, hiking, swimming, relaxing, and eating things you've never seen before, you should be able to make that happen.
So we chatted with the man who knows exactly how to make that happen: Tom Marchant. Tom is the co-founder of Black Tomato, the luxury travel company that specializes in planning the honeymoon you didn't even realize you had been dreaming of your entire life. They create custom itineraries for clients ranging from anything to everything, and trust us when we say each one is not only different and unexpected, but out of this world. Here are his rules for crafting the perfect trip, and tips on where to go.
---
Start with a blank slate:
"Our first recommendation is to drop every preconceived notion of what a honeymoon should be. We recommend couples think first and foremost about what they want to get out of their honeymoon, to really reflect and seek out the emotional elements of an experience before picking the destination. So whether it's complete isolation to escape the daily grind, or an energized adventure of a lifetime in an unusual environment, match a destination to those whims. If the couples want entirely different experiences, for example the bride is looking for R&R while the groom is interested in an adventure…then look at pairing two complementary experiences."
Be realistic:
"As the buildup to the wedding can be an exhausting time for couples, try beginning your trip with relaxing elements like the beach or a spa stay, and then embark on the more adventurous or experience-based part of the trip. Take it slow—don't feel the need to pack too much in with a visit to many different locations. Remember it is your honeymoon, after all."
Get help from the pros:
"Work with an operator who can intuit which destinations, activities, and accommodations suit your needs and budget—a lot of hotels offer activities to suit a range of interests, such as in the Maldives, where some have access to amazing spas and yoga facilities as well as heli-surfing and diving schools."

And last but not least, what are some of the best hidden gems around the world to honeymoon to?
Sri Lanka: off-the-beaten-track adventures, extraordinary flora and fauna, riveting cultural offerings, and coastal spots that are great for surfing and chilling out.
"Sri Lanka is a destination perfect for honeymoons with diverse landscapes, adventurous activities, vibrant new hotels, and intriguing food & bev scenes. Try an overnight trek to Adams Peak in the Tea Country, safari through Yala National Park to check out leopards and blue whales, and head to the white beaches of Tangalle or the Maldives for some uninterrupted beach time. Sri Lanka is the only place in the world where you can see the two largest mammals on earth within 24 hours—a blue whale and an elephant—a very special romantic experience to enjoy as a new couple."
Indonesia: think island hopping and amazing spiritual traditions.
"For honeymooners looking for the perfect blend of relaxation, adventure, and spiritual stimulation, look no further than an off-the-radar island-hopping experience in Indonesia. Spend days exploring the history and secrets of Borabadur temple, witness the sunrise over majestic volcanoes, snorkel and dive in the crystal-clear waters off the magical Gili Islands, and seek out mysterious Komodo dragons. And, of course, there will be plenty of opportunities to simply lay back, enjoy a cocktail, and relish the art of chilling in a destination that exudes romance in its natural glory."
Iceland: Honeymoons don't have to be all about beaches and spas.
"An easy flight from the US, Iceland's unique environment offers a host of adventures, from midnight diving and snorkeling between two tectonic plates in Silfra, ATV rides through the rugged terrain, discovering waterfalls, and exploding geysers. Reykjavik is a brilliant city home to vibrant art and foodie scenes and boutique hotels, and to truly unwind, take a refreshing soak in private lagoons while the majestic northern lights sparkle above."
Botswana: Camp on a remote island on the Okavango Delta after a heli-safari.
"So much more than your typical safari destination, Botswana is emerging as one of the most incredible honeymoon destinations for thrill-seeking couples. Experience wildlife from all different vantage points—the air via heli-safari, or take the opportunity to get closer to the animals than ever before on a canoeing adventure. Once you've taken in all of the wildlife, take an ATV across the salt flats or take the plunge bungee-jumping at Victoria Falls."
Want more stories like this?
The Most Luxurious Honeymoon Destinations
How to Have the Best Sex on Your Honeymoon
The Best Honeymoon Destination for Every Type of Couple