This Gwyneth Paltrow-Endorsed Brand Is A Favorite Among Fashionable Brides
Consider it a one-stop-shop for all of your wedding needs.
Designers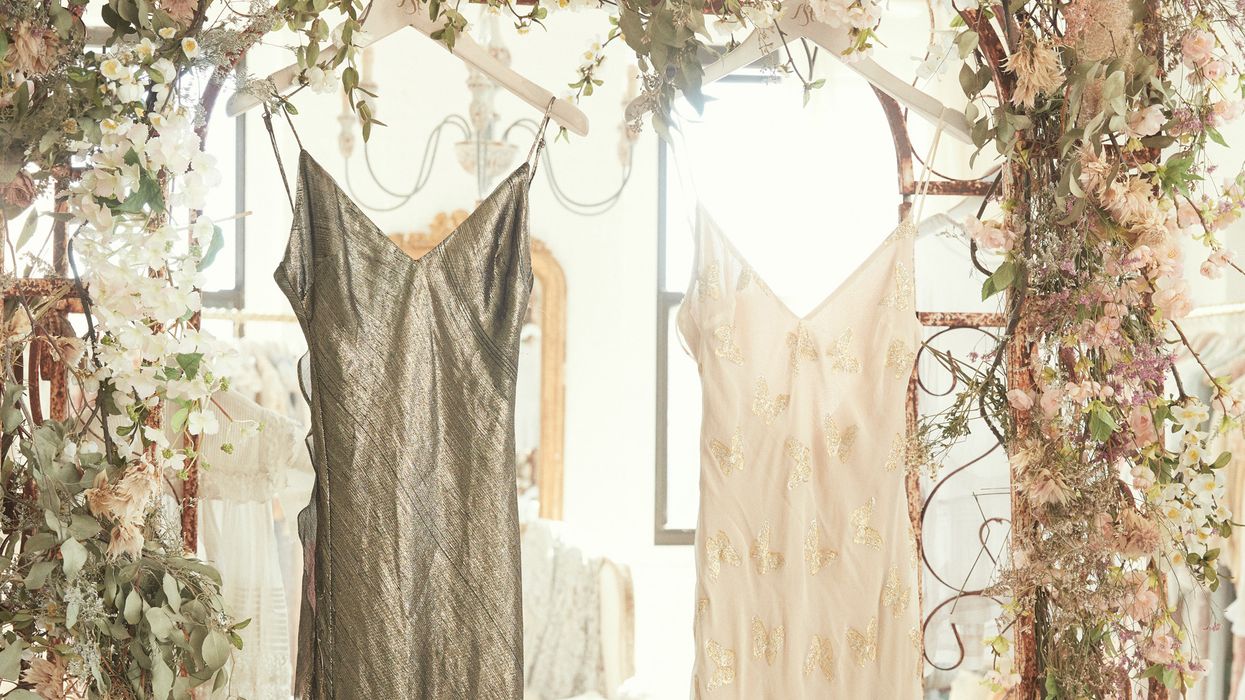 Hands up if you too have a saved IG folder bursting with images of island weddings and brides-to-be dressed in beautiful vintage-style gowns. Us, too! While recently obsessing over said photos, we noticed that a few of them had something in common: Loveshackfancy, aka a perfectly designed collection of romantic dresses, ruffled skirts, and dreamy knitwear.
Both brides and bridesmaids around the world are turning to the label for rehearsal dinner outfits, wedding gowns, bridesmaids dresses, honeymoon pieces, and more. Naturally, we booked it to the brand's showroom to see the collection for ourselves and chat with founder Rebecca Cohen. As Cohen gave us a tour of her drool-worthy showroom—we're talking real flowers everywhere and massive mood boards that could double as fine art—she talked to us about how she had never planned to start her own brand, the role Gwyneth Paltrow played in its success, and what she's focusing on for 2018.
---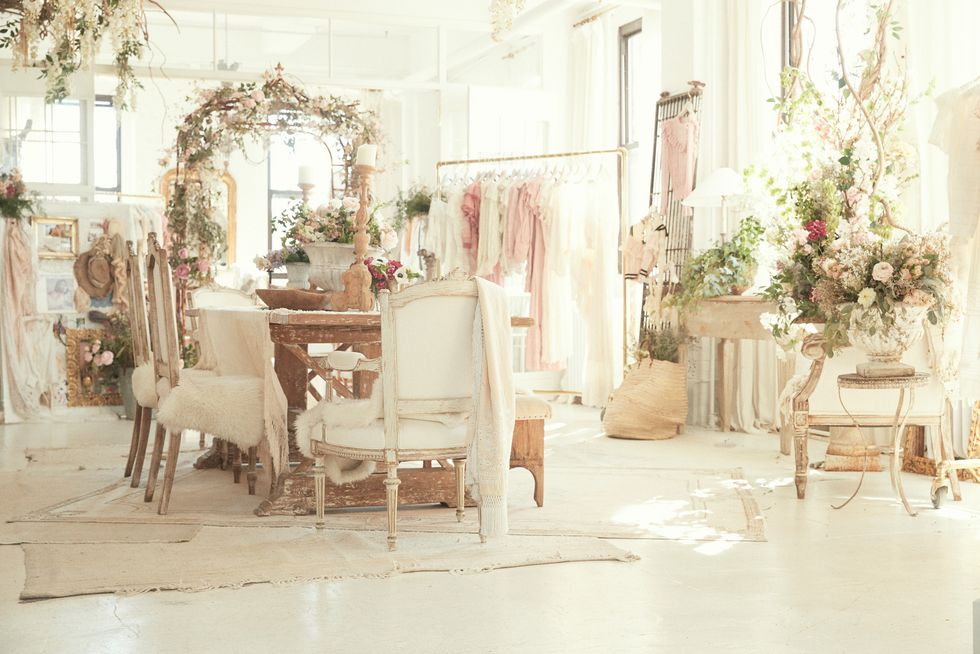 The name Loveshackfancy was passed down from mother to daughter:
"My mom used to be the creative director at Seventeen magazine. We've collected vintage our whole lives, and she was going to start a prop-styling business online out of her house in Bridgehampton, [so she left Seventeen]. What she would do is style different houses and call them love shacks. We were doing a shoot with a British magazine, and someone had said it's love shack, but it's love shack fancy, and she loved that. She had the name, and then when I was starting the business, I was thinking of a million names and nothing felt right except for Loveshackfancy."
It all began with her own bridesmaid dresses:
"I was at Cosmopolitan for about eight years, and while I was there, I had been looking for bridesmaid dresses and couldn't find any. I decided to work with a pattern-maker in the design district to design my dresses. I did that, and they were these beautiful long halter chiffon gowns. [From there] I did a single-layer dress, and someone asked if I could do the dress as a skirt and if I could do a top to go with it, so I started playing around with a few key pieces. The idea was to keep it super simple—everything you could twist and knot into a ball and throw in your suitcase. I had this little side business doing trunk shows out in the Hamptons, and then the dresses started selling really well. I decided to start the business, [and] it kept evolving very organically."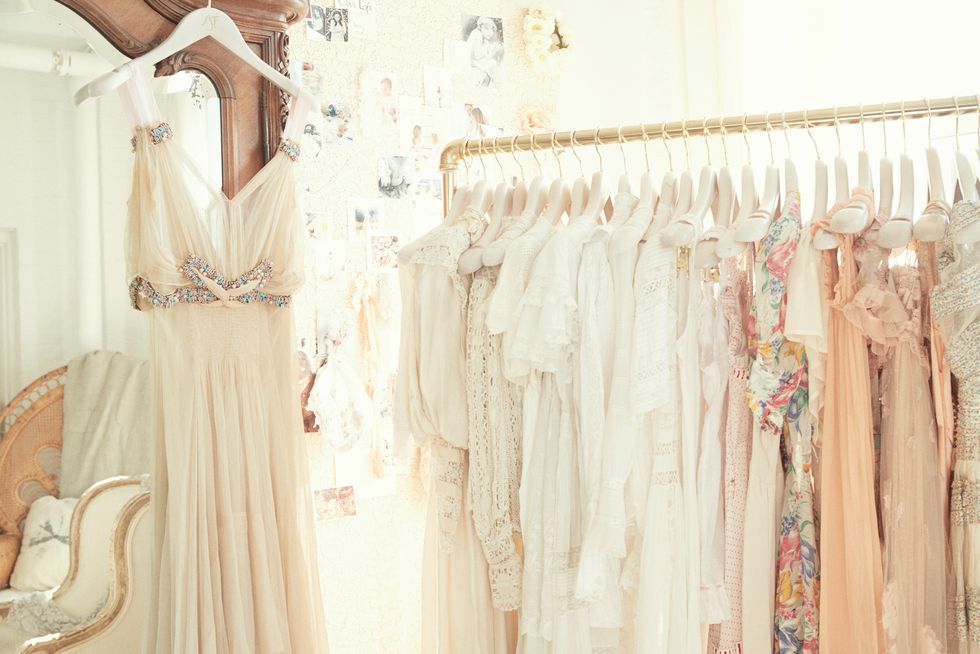 Vintage, traveling, and her daughters are her main sources of inspiration:
"We collect a lot of vintage, and travel is a huge inspiration. My little girls [too]—I'm so inspired by little girls' magical worlds. From their clothes to their imagination to their dreamy stories, even children's books. Everything comes together, and it's a mix of that with all of the travel, antiques, flea markets—anything nostalgic."
Her mom has been a constant through the whole journey:
"I was really nervous to leave Cosmo because it was my life, it was all I ever wanted to do. We were on the beach in France—me and Lisa Marie Fernandez—and she gave me this whole pep talk about how she is a stylist, she comes from the same business, she started her company, and it was the best thing she ever did. Throughout all of it, my mom is the core, she is the ultimate Loveshackfancy—she calls herself the senior intern. Now my daughters are involved. They love to edit things—last night they were choosing their favorite spring runway images."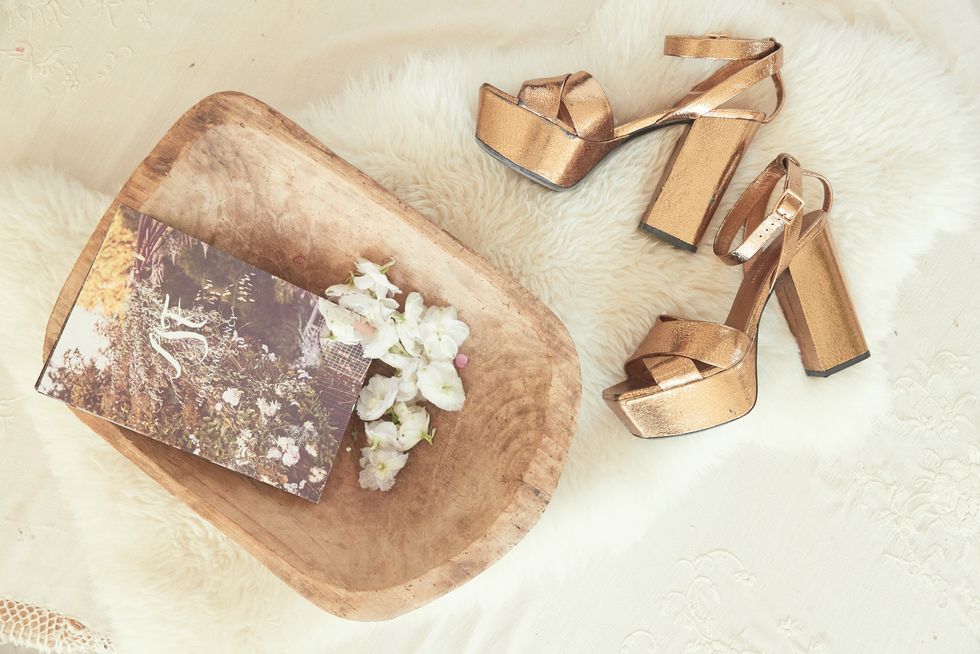 Consider Loveshackfancy a go-to for your destination wedding:
"We have girls that buy dresses for their after-party. Pamela Tick—she's one of my closest friends and works with us for social media and shoots—she had an after-party dress [that we made]. It's called the Ryan dress because that's her husband. It was going to be limited-edition, but then we decided to put it in the line, and Net-a-Porter bought it. When [Tick] went on her honeymoon, she came in and pulled everything white. Another girl, Alexis, packed only Loveshackfancy for her entire wedding weekend. A lot of times it happens with destination weddings."
Heritage and ruffles are two of their best sellers:
"The girls in London are wearing [our Victorian dresses] over jeans or belted, almost like a dressing coat. We still have our few classic styles that we repeat every season—ruffle mini skirt, ruffle mini dress—the easy pieces that you layer. Now everyone is loving these sort of drama dresses, anything that has ruffles. Or there are the more fashion pieces that are true interpretations of some of the vintage that we do. They're not as much for wholesale, but more so for direct sales."
She collaborated with Goop before fully launching the brand:
"The first [celebrity client] was Gwyneth Paltrow, before we even really launched the company. I was still at Cosmo, and I remember my in-laws had rented their house out for a photo shoot for Self magazine—Tracy Anderson and Gwyneth Paltrow were on the cover. Of course, my mother-in-law was talking to [Gwyneth's] stylist, saying her daughter-in-law does dresses. He [asked] if we could get them over there, and so she called me at Cosmo and said I had to get out there right now. I drove to the beach, went to my mom's house to pick up all of my hand-dyed stuff, ran over, laid them all outside, and the stylist went through saying, 'Gwyneth would love these.' He took a few, and a few weeks later someone from Goop called and said, 'Gwyneth loved these dresses so much, she wants to do a collaboration with you, and she wants you to do Loveshackfancy for Goop'. We did eight styles. It was so nice because she was wearing them all over the Hamptons in the summer. She was the first, and then J.Lo got some things. They were buying pieces out of Blue & Cream, where we first started that summer out in East Hampton. It was all organic, so that was good."
It looks like a store and swimwear is up next for the brand:
"Now that we have a bigger design team, we have so much more capability to expand and bring our whole vision to life. We go back and forth about having a boutique, so I think we'll for sure start by having some pop-ups. When we do the store, we want to sell a mix of vintage and some antiques, some things for the home and stuff like that. For bridal, we're definitely going to do more—we'll probably have that in a year. We have these great silhouettes, so whether it's for your rehearsal dinner or if it's for the bride who wants to spend under $1,500. Swim is also something that's in the works, too. Not full swim, but our version of it."
Want more stories like this?
How to Find the Perfect Wedding Ring for Every Type of Bride
Inside One of NYC's Most Luxurious Bridal Salons
Meghan Markle Was the First Celebrity to Ever Buy a Rime Arodaky Gown