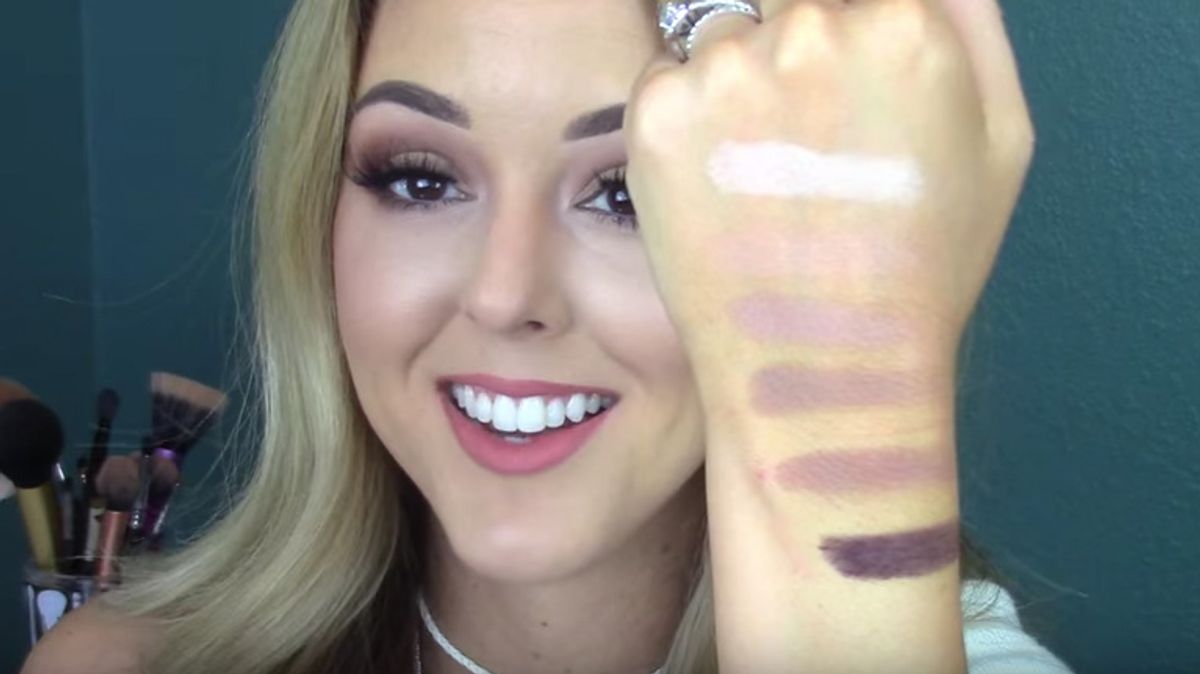 Makeup
Just in case you get it as a gift this year.
Bustle and Coveteur are working together to bring you the best mix of the season's hottest releases, shopping tips, and gifting ideas in ways that are both inspirational, and attainable. Check The Holiday Edit channel weekly to see what we're up to.
When it comes to gifting beauty products, things can get a bit tricky when you get into makeup territory. In the same vein as giving someone clothing as a gift, gifting makeup can be risky. People have personal preferences, not to mention particular shades they want to be using (and want to avoid). And even if you think you know all of the above, finding just the right eyeshadow palette to give can be even trickier—especially for someone who isn't a makeup aficionado. Because even those of us who love makeup have had a moment where we look down at our makeup drawer and say: "Wait, how the hell do you use this eyeshadow palette?" But according to Ulta, Urban Decay's Ultimate Basics Naked Palette is one of the most popular gifts this holiday season. This makes sense, given the palette's gorgeous neutral shades and everyday wearability.
The really amazing thing about most beauty products is that how exactly to use them is almost always up to the user. Just because an eyeshadow palette is full of dozens of different shades doesn't mean you have to use all of them, or even more than one at a time. You don't have to follow any specific set of guidelines at all if you don't want to, and if you do want a little assistance along the way, YouTube is there to teach you everything you need to know. Here are nine videos that will show you exactly how to use the neutral palette, whether you're looking to try a bold look, something more natural, or anything in between.
---
Everyday
This review and tutorial is great for someone looking for the easiest, most subtle way to use the palette.
Dramatic
Leave it to none other than NikkieTutorials to give us drama from a neutral palette.
All-Matte
Only interested in mattes? This tutorial has you covered.
Everyday Drama
This is a great tutorial if you want something that can go from day to night without being too over-the-top.
Grunge
Who says neutrals have to be basic or plain old "pretty"?
Smoky Eye
Just because this palette is all about basics doesn't mean you can't use it to create a smoky eye. This tutorial is perfect for a quick, easy, but super sexy look.
Super Subtle
On the opposite end of the spectrum, this palette is great for those who don't want anything over-the-top for day-to-day wear. This quick tutorial is an excellent starting point if you're hesitant to jump right into a dramatic look.
Smoky Eye with Shimmer
Want something just a little shinier? This tutorial from Mallory1712 is gorgeous
Vampy
Every palette needs to be able to be used for a vampy, ultra dramatic look (even if it's not your usual thing). This tutorial shows exactly how the Everyday Basics shades provide exactly the chance to do that.