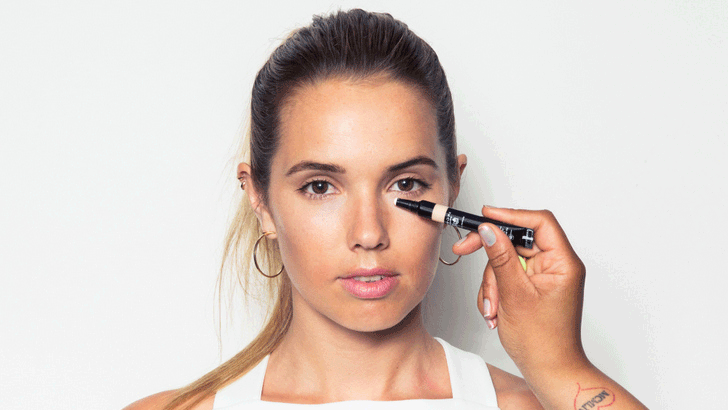 Makeup
Just because you're a party animal doesn't mean people need to know the next morning.
Bustle and Coveteur are working together to bring you the best mix of the season's hottest releases, shopping tips, and gifting ideas in ways that are both inspirational, and attainable. Check The Holiday Edit channel weekly to see what we're up to.
You'd think that with the longer nights, winter would be the time of year we all look the most well-rested. Rarely is that the case. (What a cruel world indeed.) Happily, concealers come in a cornucopia of creams, gels, tubes, jars, clicky brushes, and palettes—a million different variations (or 134, by Sephora's count). To make the best use of them, we asked top makeup artists to share their own personal under-eye routines. After all, when it comes to something extremely serious like hiding dark circles, we want the no-joke, big-guns, failproof step-by-step, no matter how many products or what it takes to get them on. Just please make us look awake! Below, four makeup artists each share how they do it themselves. Note: They all start with a good eye cream.
---
"I will start with an eye patch, like Shiseido, which I keep in the fridge so they are cool upon contact. I press on eye patches once they are applied to start draining any swelling. I let the patch work while I apply all of my eye makeup and brows, allowing the excess shadow fallout to be caught by the eye patch—kind of like a shadow shield. Then I remove the patch, pat away any excess residue with my ring finger, and apply foundation. I am digging Koh Gen Do Moisture Foundation right now, and I choose a shade that is slightly more on the golden side, because I want to cancel out the redness in my cheeks and provide contrast to the pinkish-lavender color I use to brighten my under-eye. I am loving the Becca Creamy Undereye Brightening Perfector, applied with a damp Beautyblender Micro.Mini. Then, I layer Onomie Bright Concealing Elixir on top using the same Beautyblender, being sure to blend towards the center of my cheek, rather than towards my temples, which creates a nice radiance and light bounce in the center of the cheek. To finish, I use a Tom Ford Illuminating Powder to set, using a small eyeshadow brush. I like glowy skin, so the less powder, the better, especially on the high planes of the face (cheekbones, nose!), and big powder brushes distribute too much product!"
"First step is eye cream for a smooth, hydrated base. I love Kiehl's Midnight Recovery Eye, even in the daytime. Second is MAC Pro Longwear Concealer. I love it because it's liquid, so not at all dry, but the coverage is intense and it lasts all day without powder. I apply it in a triangle under my eye: a horizontal line from inner to outer corner, a vertical line down my nose and connect the outer corner of the eye to the bottom of the nose. Then I use a very damp Beautyblender and roll/press until the color is smoothly blended. If there are areas that need additional coverage, I take a small fluffy brush and dab the concealer in dots over them. Then I let them set for maybe thirty seconds to a minute so it starts to dry before lightly using my ring finger to pat in the specific areas. I take the Beautyblender once more and make sure the edges are buffed out completely, and that's it. I prefer not to powder on myself, and the MAC Pro Longwear really does last without it on me, but if you're very oily, you may want to lightly dust translucent powder such as Laura Mercier to set. I am personally anti-'bake' unless somebody needs really Intense coverage for on-camera. In person those Instagram techniques look really Intense and harsh!"
"To protect the skin around my eyes from cold weather, I dab a bit of the La Mer The Eye Concentrate under my eyes and in the inner corners. It helps fade under-eye darkness, but it also helps keep makeup from looking dry around the eyes. I have always felt like finding the right shade of concealer for myself is super tricky. Most are so beige that they look grey or chalky around the eyes. The Bobbi Brown Under Eye Corrector in Peach has enough pink and peach tones in it to cancel blue, grey, or brown tones around the eyes. I simply pat the concealer under the eyes with my ring finger. I like that it's a solid cream so that you can just touch the makeup, then touch the skin around your eyes you want to cover. You don't have to blend excessively like you do with most liquid concealers. Removing makeup at the end of the day is really important to me. I always use the L'Occitane Immortelle Oil-Makeup Remover or Dr. Bronner's Organic Coconut Oil. They dissolve all makeup easily, without drying or irritating your skin. However, to be honest, my dark-circle-fighting routine had simplified a lot since I went vegan four years ago and recently improved even more after incorporating what I read in Kimberly Snyder's book, The Beauty Detox Solution."
"I start with Sunday Riley Auto Correct, which is good for oily skin, and the Ole Henriksen Banana Bright; they both already brighten the skin. Apply it just around the orbital bone, and really tap it—it should feel a little more tacky, like a primer, before you start applying concealer. For the concealer I like Glossier Stretch Concealer, and I use a soft fluffy brush like MAC 217 to apply to the inner and outer corner, then I blend the two together underneath and above over the lid, but I don't add extra concealer because you want to keep it light where there are creases or laugh lines in your skin. Wherever you add concealer directly, that's where it sticks the most. I add loose powder like Glossier Wowder to set the concealer as I apply the rest of my eye makeup. When that's done, I'll add a little more concealer around the details to create a soft, diffused look, to a shadow, to a precise look, to a wing."
Want more stories like this?
How 4 Facialists Cure Puffy Hangover Skin
6 Ways to Look Awake in 60 Seconds
Best Sellers from the Cutest French Beauty Boutique Ever