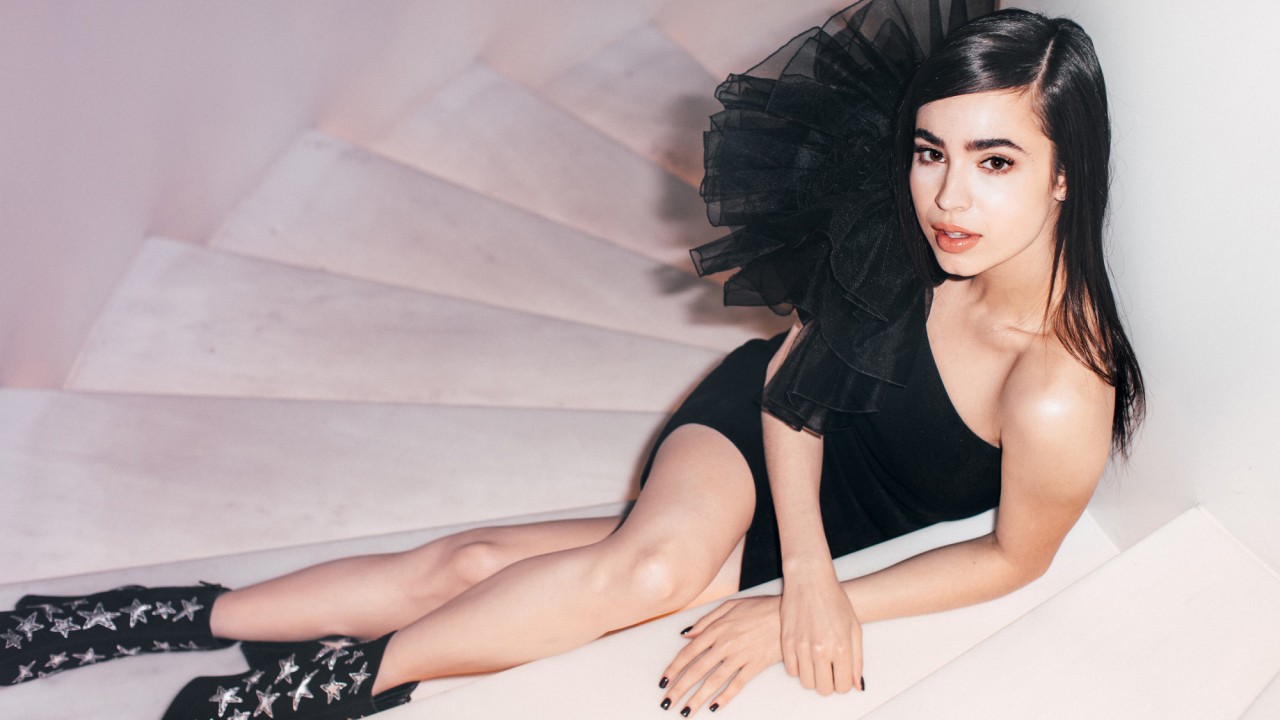 Actress Sofia Carson Once Had a Crazy Run-In with Prince Harry
The Disney star and "Ins and Outs" singer spoke with us about heartbreak, being a role model, and Meghan Markle.
Sofia Carson may primarily be labeled as a "Disney star," but that's likely not for long. The 24-year-old, who plays Evie (aka the daughter of the Evil Queen) in the massively successful Descendants movies, is on a mission to become the next Jennifer Lopez. Or so she tells me, after striking about a million fierce poses while at Estiatorio Milos in NYC. Carson's off to a good start, too: Following her hit song "Back to Beautiful," she released the catchy "Ins and Outs" and promises an EP is on the way, along with a few film projects she recently signed on to.
But before Carson really *is* the next Jennifer Lopez, you'll obviously want to know more about her backstory—including the time she was a self-proclaimed nerd with a knack for writing love songs, and the day she ran into real-life royalty, Prince Harry.
Do you find that it's tricky to be a good role model while living the average 24-year-old life? Do people assume you're younger than you are?
"People do assume that I'm younger, which, I'll take that! [laughs]. But I've always felt that my values and morals are very much in line with the person that you see on social media. I've always just been honest; the girl that you see playing Evie [in Descendants] is the same girl that you see performing 'Ins and Outs' on stage. I've never felt like I had to change in any way, so I haven't felt that pressure."
What's the meaning behind your song "Ins and Outs"?
"My whole life I've been afraid of falling in love, just because that means being vulnerable and that you could get hurt. The song, to me, is about finding strength in vulnerability, and looking the person you love in the eye and telling them, 'You can tell me all of your ins and outs. Don't be afraid, because it will only make it easier to love you.' It's a really beautiful, kind of vulnerable love song that's also a little sexy."
Have you ever had your heart broken?
"I have a really funny story! When I was 15 years old, I was in L.A. working with a producer who, at the time, had just finished working with Michael Jackson before he passed. He had me [work] with a writer, and I was writing a song, and the writer walks out of the studio and asks my mom if my heart had ever been broken. My mom was like, 'I don't think so… She's 14 years old. I don't even think she's ever dated anyone.' And he was like, 'Wow, she writes as if she had her heart destroyed.' I don't know what it is, but even when I was a little girl, I would always write really emotional, really dark love songs about my heart being broken—even though I had never even kissed a boy at the time. Maybe in a past life I got my heart really broken [laughs]. I have gotten my heart broken now, but in the past I never had, and I was always so terrified of it."
What were you like as a kid?
"I went to an all-girls school and we had uniforms. The cool girls would have the cool, short skirts—they looked really cute—but I was the girl with the skirt that went below her knees, socks [that] went above her knees, and a sweater that was two sizes too large, with big nerdy glasses, and my hair was always in a bun or ponytail. I was always studying, always reading a book, so when the school found out that I was traveling to L.A. to sing, they were like, 'What? Her? There's no way!'"
You're both an actress and a singer, so how do you find that balance?
"I grew up idolizing women like Cher, Barbara Streisand, even Jennifer Lopez, who didn't have to choose. They had incredible careers in music and incredible careers in film—Cher is an Oscar winner. That has kind of been the model that I would love to follow. I equally love film and I equally love music, and I think it's different forms of expressing myself and telling a story. If I'm lucky enough, I would like to keep doing both—keep making films and to keep releasing music."
Since you're involved with Disney and princesses, what do you think about Meghan Markle?
"Congratulations! I think it's amazing. The royal family is something that everyone just looks up to and admires. When we were at WE Day in Toronto, I was there performing, and right before I performed 'Back to Beautiful,' we see the royal secret service come through the halls. And we see Prince Harry, lo [and] behold, right in the middle. We were very starstruck. But I think we're all very excited—an American princess!"
Want more stories like this?
Sofia Carson Wanted to Confront Her Hollywood Crush at the Oscars
Dove Cameron Once Convinced Her Classmates She Was a Vampire
Disney Star Peyton List Has Some Thoughts about the Disney Double Standard