Celebrity
The O.C.'s Seth Cohen Is Back on TV—Only This Time, He's Played by a Girl
Marvel's Runaways' Ariela Barer fills us in on the connection between her character and the aughts icon.
Tristan Kallas
Marvel doesn't need superpowers to take over the universe—it's already doing that with TV shows alone. Take Runaways—aka Hulu's latest hit—for instance. Not only is the highly addicting show full of mysterious cults, plot twists, and familiar faces (oh hey, Buffy's James Marsters and 24's Annie Wersching), it's also full of fresh new talent, all of whom are bound to be ev-er-y-where soon.
Ariela Barer plays the purple-haired and bespeckled Gert on the show, a character who, in a way, could be likened to a more independent Barb from Stranger Things. But Barer actually has a different descriptor for the teen: Gert is *actually* the female version of Seth Cohen from The O.C....which makes sense, since Runaways' creator is also behind the aughts hit. That might be enough convincing for many to tune in, but after our photo shoot at the Botanica Restaurant & Market in L.A., we asked the actress to fill us in on where she thinks the show will go from here, her character's power, and what it's like to get a shoutout from Gina Rodriguez.
---
There are so many Marvel shows out right now, so why should people watch Runaways?
"What sets the show apart is that it's an ensemble piece with such diverse characters. Not just ethnically, but personality-wise. I think no matter who you are, you're going to find your person to relate to and kind of view the story through their eyes."
Can you tell us a little bit about your character, Gert?
"I love how genuinely flawed she is. Her heart's in the right place, and she has the right idea about things, but the combination of being in high school and having a mental illness [like anxiety] can really skew your perception. She wants to do the right thing, but she can feel very antagonized. I love her growth as an activist, where she's putting away her personal problems and learning to genuinely be the supportive person she wants to be, and be a little nicer without changing who she is, and learning to be tough in a new way and changing the meaning of that word. She's stronger in more ways than she thought."
Had you watched Josh Schwartz's shows before?
"I actually re-watched The O.C. while we were shooting because Josh told me, 'You know, Gert is the Seth Cohen character of this [show]. It's just a gender swap.' So I freaked out because Seth Cohen is such an icon and someone I love, and I love Seth and Summer [laughs]. It's so cool that we get to switch these roles, and I get to be unapologetically pursuing this guy who, some would say, is out of my league. But Gert doesn't give a shit; she just goes for it. I've gotten messages on Twitter that were interesting, like, 'Why is she so thirsty and insecure?' I'm like, 'First of all, if this was guy, you would never use those words. Second of all, how is she insecure?' She's actively pursuing this guy that everyone says is too hot for her, and she's like, 'Yeah, I don't care. I can get it.' I personally was such a sucker for [Gert and Chase's] plotline, even as I was reading it."
What was going through your mind when you saw that Gina Rodriguez gave you a shoutout?
"She's amazing—I literally cite her as an icon of mine in every interview I've ever done, so to know her on any level is a dream come true. She had previously put me in her Instagram story the day before, and with that I was like, 'Oh my God. I've made it! That is everything I've ever wanted!' The next day I was in Mexico, so I woke up particularly early because of the time difference and was the first one to [see the post]. I immediately texted Allegra [Acosta], who was also featured, and I was like, 'Wake up! You have to go on Instagram!' And she was like, 'What? What's happening?' and I was like, 'Gina Rodriguez' [laughs]."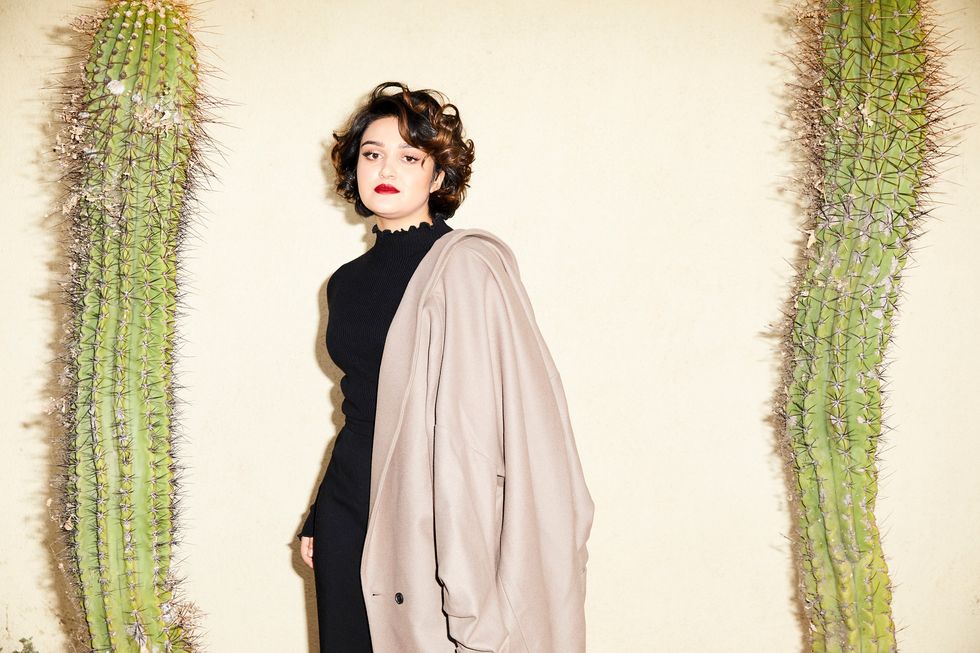 You're able to communicate with a dinosaur on the show, but what's your dream crazy pet to be able to communicate with in real life?
"I would be happy just being able to communicate with my cat, but I guess if we were going for protection, maybe a large cat like a jaguar, because they can still purr. The bigger the cat, they can't purr, but a jaguar is just small enough. They can purr, and kind of roar, and also definitely kill someone who tries to attack me [laughs]."
Where can the story go from here?
"This season is kind of like an origin story to the start of the comic. It's a lot of in-depth character exploration, and a lot of very cool and interesting plots that just add a lot of depth and stakes to what already is in the comics. And I promise also the stuff in the comics will happen."
Can you describe the finale in a few words?
"I'll tell you it made me cry. It's really emotionally impactful; it all kind of culminates in an intense way. The script just got better and better with every episode, the way that the information reveal happened in five. It only gets more intense after that."
Want more stories like this?
Inhumans' Serinda Swan Told Us the Crazy Story Behind Her Name
How Elodie Yung Mastered French-Girl Style
Why Mr. Robot Should Be Our Next Binge-Watch, According to Portia Doubleday