Down to Party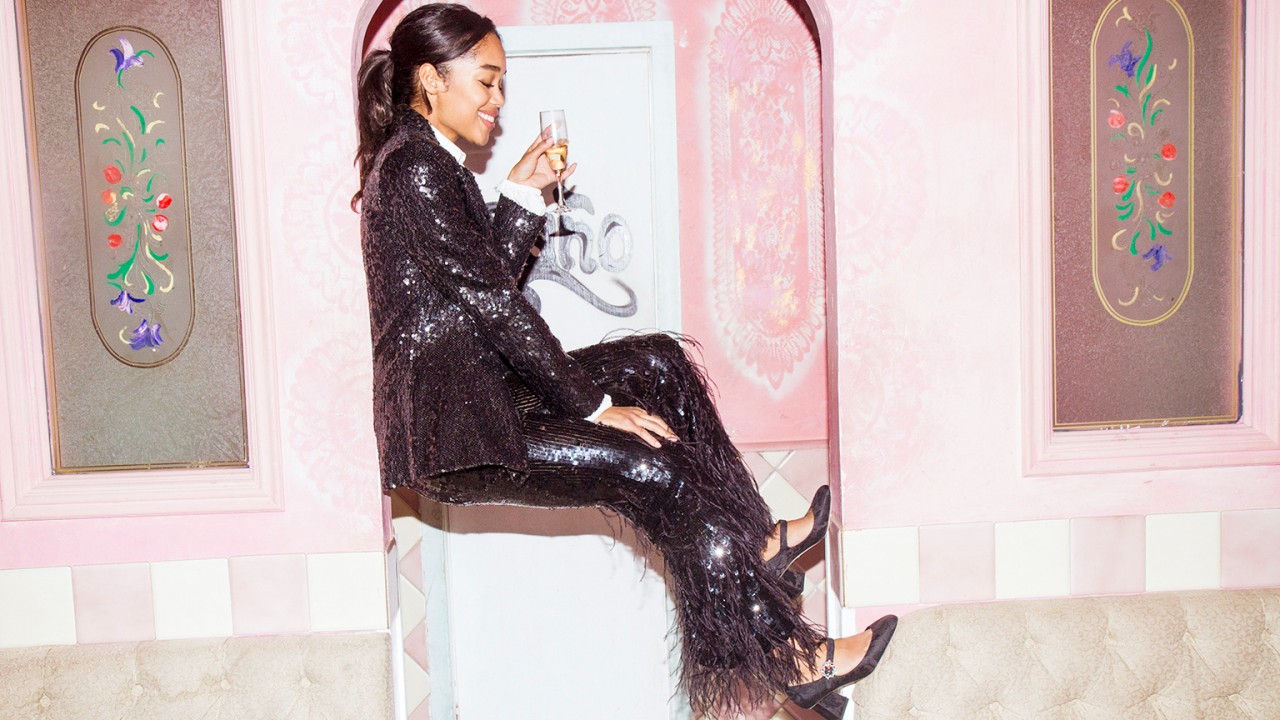 5 Editors on Their Dream Holiday Party Outfits
Think silk mini dresses, sequin socks, and gowns.
While the reality is that half the time that $5,000 pair of shoes ends up living in our shopping cart online rather than in our actual closet, you can't knock us for dreaming—especially when it comes to party dressing. This week, we're playing "if money were no object" and imagining just how extra we could be with our holiday lewks. So please, allow yourself 10 minutes to indulge in the below silk, tweed, fur, and sequin pieces.
---
Noah Lehava
Senior Editor: Health and Wellness
1. Lanvin Mini Python Bag: A teensy, chic bag is all I need to hold my essentials: a slim card holder (which is my everyday wallet, btw), lipstick, and my cellphone. Getting bogged down by a heavy bag is the antithesis of a great dancing outfit IMO.
2. Prada Feather-Trimmed Wool and Silk Blend Top: Feathers! Need I say more? Alas, I will, because this top is a party all on its own, and it will take me through the entirety of the holiday season.
3. Marlo Laz Lucky Star Eye Earrings: I'm a sucker for gemstones, and my recent obsession is malachite, an opaque, rich green stone. It also happens to be one of Marlo Laz's (we bonded over our mutual love for it when we visited her home), and I love how she's turned it into her evil-eye earring. I would wear these well past the holidays!
---
Hannah Baxter
Assistant Editor
1. Chloé Silk Mini Dress: Who cares if it's snowing outside during your holiday party circuit when you're rocking this dress? It's slinky, classic, and I'll treasure it forever.  
2. The Row Paycen Tweed Coat: Wow, this coat! I mean, parties are meant for making an entrance, and The Row's luminous tweed style is meant for my closet.
3. Elisabeth Bell Bobcat Claw Necklace: I don't need an excuse to buy diamonds ever, but after combing through Iconery's range of designers, I'm guilty of buying myself more than a few holiday gifts. Next up is Elisabeth Bell's Bobcat Claw Necklace, which is the perfect mix of rock 'n' roll chic.
---
Jodi Taylor
Associate Editor
1. Gucci Sequined Socks: Rihanna wore these Gucci socks, so I decided that I need to own these Gucci socks. Sure, they may cost more than my entire outfit put together, but let's be real, I can (and will) wear them with absolutely everything. *Shine bright like a diamond*
2. Balmain Silk Wide-Leg Pants: Balmain, red, and sheer. Say no more. These pants are screaming my name and would show off my sparkly Gucci socks perfectly.
3. Haider Ackermann Shearling Jacket: I have a confession to make: I'm obsessed with fur. I'm attached to my fur jacket all winter long but am thinking it's time to add another to my collection. Plus, this one is the best possible jacket option for an outfit that involves sheer pants. This outfit is coming together quite nicely if I do say so myself.
---
Samantha Sutton
Editor
1. Markarian Cassiopeia Gown: There aren't enough occasions to wear a white, princess-like gown aside from your wedding, and I have a real problem with that. Can I just wear this poofy Markarian number to all my holiday parties and say I'm a snow angel?
2. Roksanda Besa Textured Leather Shoulder Bag: I am a sucker for bright-colored bags with cute handles, so this one is obviously on my Christmas list! The squiggly strap, the structured shape, the size—please, Santa, please?!
3. R13 Leopard-Print Faux Fur Hunting Coat: I already have two different leopard coats—one from I Am Gia and another from Unreal Fur (in blue!)—but then I saw Taylor Swift wear this one, and now I need it, too! But in all seriousness, it's so cute and looks so warm, which is a combo I'm definitely after these days in freezing NYC.
---
Laurel Pantin
Editorial & Fashion Director