Designers
This Layering Trick Can Make Your Winter Coat Look More Stylish
And more things our new favorite luxury brand Arjé' taught us about seasonal style.
Alec Kugler
When Bessie and Oliver Corral met at Parsons, they didn't speak the same language. But a teacher saw something in Oliver and told Bessie, "You've got to call him." Years later they've overcome the language barrier, gotten married, and written three chapters with their luxury clothing brand, Arjé. 
They not only set out to create beautiful clothing, but also to design a world that transcends language. Walking through their temporary shop, which they like to call a "winter home," at 829 Washington Street in New York, it's almost hard to speak because there is so much to look at. Terracotta walls, the smell of tangerines, Mediterranean leaves fresh from the flower district. "Chapter one, chapter two, chapter three…" Bessie points across the store at the different racks that represent different collections but come together to tell one story. 
---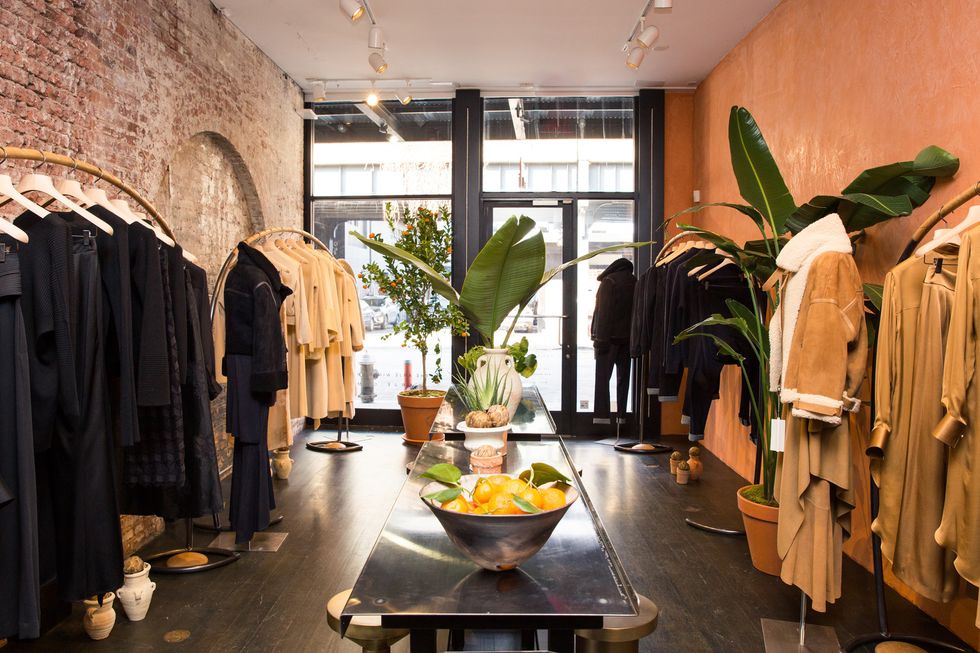 "The name comes from ancient Greek philosophers, who coined the word to say that before life, we all existed in some way, shape, or form. In essence, it means the beginning of the beginning and the essence of everything," Bessie tells me. "The most important thing about Arjé is the concept. There's no start and no end to anything we're doing, so from the racks to the men's to the women's clothing, there's a natural evolution. We create these worlds that never end and have our identity on them."
The identity of Arjé is fluid–literally–with silky slit silhouettes, reversible jackets, and menswear designed to complement the womenswear. "I think the beauty of having two brains, a masculine and a feminine, is because he looks at me how he wants to see me, and I feel what I want to feel, and vice versa," Bessie tells me before looking over at Oliver, who is wearing the shearling side of the suede coat she has on.
But with incredible pieces, like an oversized shearling jacket that's entirely reversible to reveal a camel suede coat, and oversized silk cami tops made to perfectly fall over sculptural flare pants, it isn't hard to imagine why someone would want their closet to look like the inside of an Arjé shop. The Corrals have mastered (in just nine months) clothing that's comfortable and cool, that looks perfect together and separate, that looks just as good on a Tuesday as it does on a Wednesday or a Thursday or every day of every week of every year.
Click through to discover the Corrals' favorite Arjé pieces and read Bessie's tips for how to style and layer them (or similar pieces you already own) perfectly for chic comfort and warmth this winter.
1 / 7
Invest in reversible pieces that help you get two looks out of one piece, like the Arjé Luna Curly Hair Shearling Jacket.
BC:
"A lot of the pieces this season have double meaning, double purpose. So with the shearling, it starts with the camel suede side, and the white gold hair, and they're all fully reversible! So you've kind of got two different looks, where the shearling side one is really more, we call it like the 'tomboy' look; it's got buckles coming out, you're a little bit more casual. You can roll up the sleeves, and then you can wear it fully reversible, and you've got a totally different feel of a jacket. Much more winter-y, sheepskin... into-the-chalet, into-the-mountains look."