8 Beauty Tips We Learned from Cosmopolitan.com's Beauty Director
No surprise, but Carly Cardellino is a makeup master.
Beauty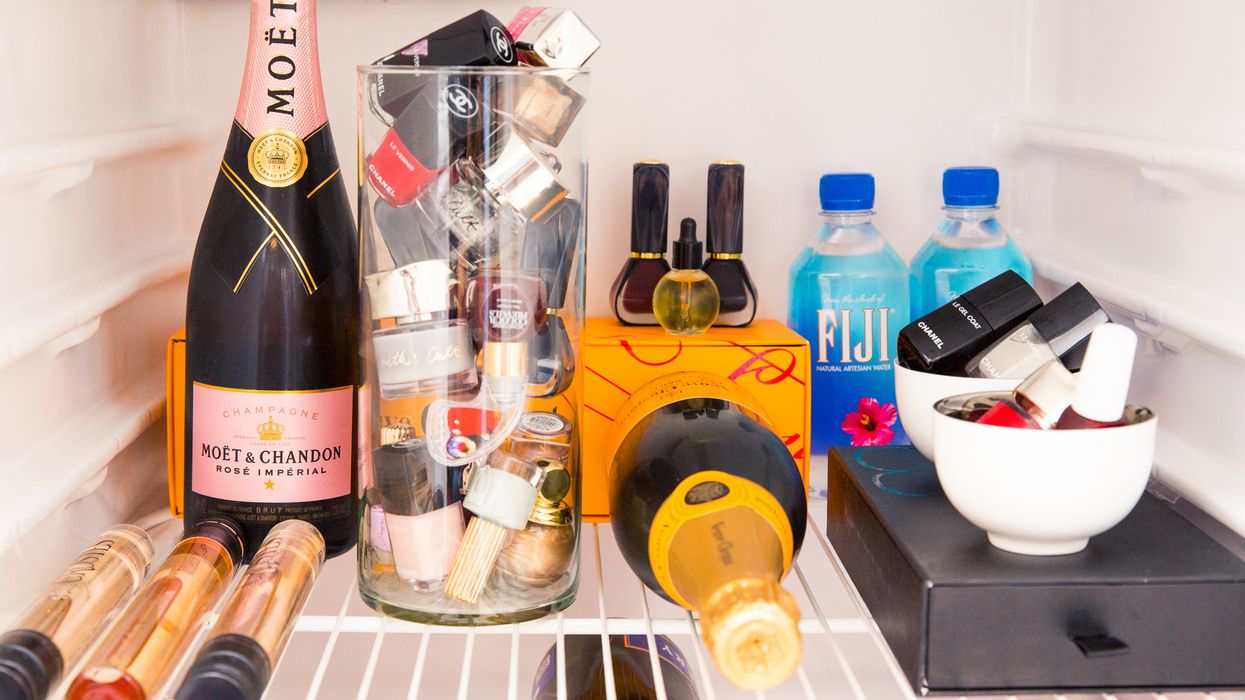 ---
2. Everybody makes mistakes—that's what Q-tips are for!
"It's so hard to do [makeup] on yourself. I know how to explain to you how to do it. I give so much credit to these girls who know on the first try. But even the major artists, we're all doing the touch-up with the precision Q-tip."
3. A red lip solves any beauty dilemma
"I always love a red lip, [like] Bawse from Smashbox. I feel like with a red lip, you don't even have to have makeup on. I know everyone says this and it's so cliché, but it's so true. You're just done."
4. Rogaine will give you the brows of your dreams…seriously!
"So, here's the trick—I talked to this blogger once, and I asked her, 'How do you have such thick brows?' and she uses Rogaine Women's Foam. It is not on the market for this, but it works. You just get mascara spoolies at Ricky's, and swipe it on morning and night. You will see a difference. They get bushier—mine grew longer. I'm not kidding, this girl had Brooke Shields brows. I was like *runs to store to get Rogaine*."
5. But $6 brow tint always helps
"I don't really fill my eyebrows in. I find that I have a heavy hand, so if I do, I look like Groucho Marx fast. No one knows about this tinted brow gel from Soap & Glory. A lot of brands make them, but Soap & Glory is my favorite. It's a very true tint, and it's like, six bucks at CVS. You just swipe it up, and you're done."
6. Blush is a seriously underrated makeup must
"My blush is probably the most important thing on my face. I put [it] right on the apple on my cheek, and then I always go up. This makeup artist Robin Black—she's a good friend of mine— was like, 'If you bring your blush up toward the temples and even around your eye, it will make you look instantly awake.' So I always try to do that. [I] kind of cup my eye in a way, kind of like a C on a slant."
7. Harsh acne treatments might be doing more harm than good
"I went to this facialist at Maria Bonita Salon & Spa—Virginia. She was like, 'You're ruining your skin barrier, [and] we need to build it back up.' Because when you're using a lot of spot treatments and acne washes and acne lotions, you're constantly drying out the skin. If your skin is dry, it has all these cracks, and that's when all of the dirt, oil, bacteria, sweat can seep in and brew a nasty blemish. So she helped me do that, and she told me about this brand, PCA. The products are very heavy-hitting, and they're great. So she told me to get the Blemish Control Bar, and I've been using that morning and night, and it really changed my skin. If I mess with my face too much, I will break out, and then I can't be showing up to meetings like that."