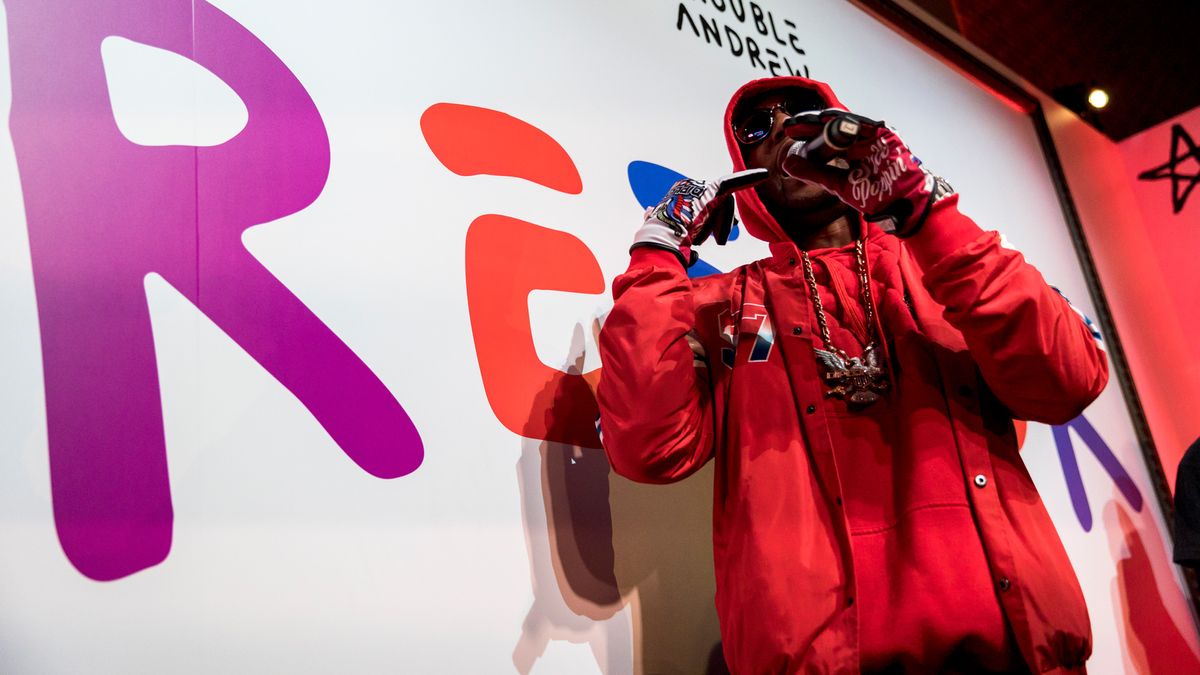 Celebrity
The OG also still owns a flip phone. We had a lot of questions.
Tuesday evening an email slid into our inbox asking if we would like an interview with a particular OG celebrity—one who goes by the name of Cam'ron. Once we gathered our wits, we immediately replied, hopped on a call, and before we knew it we were on our way to Reebok and Foot Locker's party to celebrate the launch of their new content and event series, 3:AM, which explores creatives' inspirations and work ethics. New York's event featured both Cam'ron and Trouble "Trevor" Andrew (aka GucciGhost). The party, which included a performance by Cam'ron, was also to unveil Andrew's capsule collection for Reebok. Once Cam'ron completed his performance (with his chains blinging in all of their glory), we met up with him in his greenroom. Although we didn't get the chance for photos before the artist decided to Dipset out of there (see what we did there?), we did get to talk about all things luxury, how he used to be a bit of an "asshole" with his rider, and what he would be doing if he didn't work in music.
---
What does luxury mean to you?
"Luxury... I like that question. Luxury could be one thing to one person, and something else to somebody else. But to me, luxury [is] a little bit of fur, little bit of pony skin. You know? Little fluffy, little mink. There's different levels of luxury. We'll say chandeliers, minks, and champagne."
What is the most expensive thing you've ever purchased?
"Most expensive thing I've ever purchased for myself? Probably a house. Couple million on a house."
How do you take care of your health when working so many late nights?
"You know what's crazy? I really do a great job of taking care of myself. I eat healthy, work out twice a day, everything. But I'm on tour now, and it all goes to shit when I'm on tour. I've been on tour for a month, [and] I've been eating terribly, I haven't got a chance to work out in like, three weeks, and I was doing really good for the last eight months before I went on tour. I think I'll be able to pick right back up when the tour's over, but it really gets you mad because when you're on tour, your schedule is all over the place, you get hungry, you just get whatever you can get to eat, you don't get the chance to wake up because you have to drive to the next town. But when I'm not on tour, I do really great with taking care of myself."
What's on your rider?
"[Laughs] Champagne, Malibu, weed. I used to be a real asshole. I'm not bad anymore. I would tell people I want a bowl of Skittles, but I only want the yellow Skittles in the bowl. You know what I'm saying? I want two TVs up in my dressing room, and they both have to be on ESPN. I used to be an asshole, but I got old. I realized that shit was fucked up, what I was doing."
How do you feel about pink now being *the* color of the year?
"You know, I didn't invent it, so I can't really get too mad about it. I just got my own color pink; it's called 'Killa Pink.' I got my own official color pink right now, but I appreciate people recognizing my style and to [being] asked about the color pink. At least four, five, six times a week people ask me about it. I did it to stand out because I don't like to be like anybody else."
If you weren't working in music, what would you be doing?
"I don't know. I went away to school for basketball. I had a full scholarship to University of Miami, and I'm not graduating. Went to a junior college in Texas, and then after that, I got kicked out of junior college, ended up doing music. My major was accounting when I was in school, so might be doing something along those lines. I could be doing a bunch of things, but music actually kicked off the money to fund my other businesses."
How did it feel to release yet another shoe with Reebok?
"To be honest, I'm just really happy that they reached out and see my vision. You know, it wasn't like a bunch of sneaker companies was banging down my door to do sneaker deals with me. Now they are, but I'm doing something with Reebok. So for them to give me the opportunity, to even have my own shoe, is really dope. For the creative process, we have a great creative team over there. They send different designs to me, and I just approve or tell them I don't like it till we narrow it down to the one sneaker that I like."
What's next for you and Reebok?
"I'll tell you this, out of all the sneakers that we've done so far, which I've loved them all, the new ones come out this June, and they're crazy. I wish I could tell you about them, [but] I'd get in trouble. I feel like I'd be scolded by Reebok. You can't even give out any hints or nothing. But I'll tell this much—I think everybody gonna like these ones."
If Apple came out with a flip phone, would you buy it?
"Yeah. I got a flip phone now."
Photos:  Mark Tanno
Want more stories like this?
Kendrick Lamar Talks Sneakers
Inside Pusha T's Closet
Meet the Man Who Has Your Favorite Artists on Speed Dial