City Guide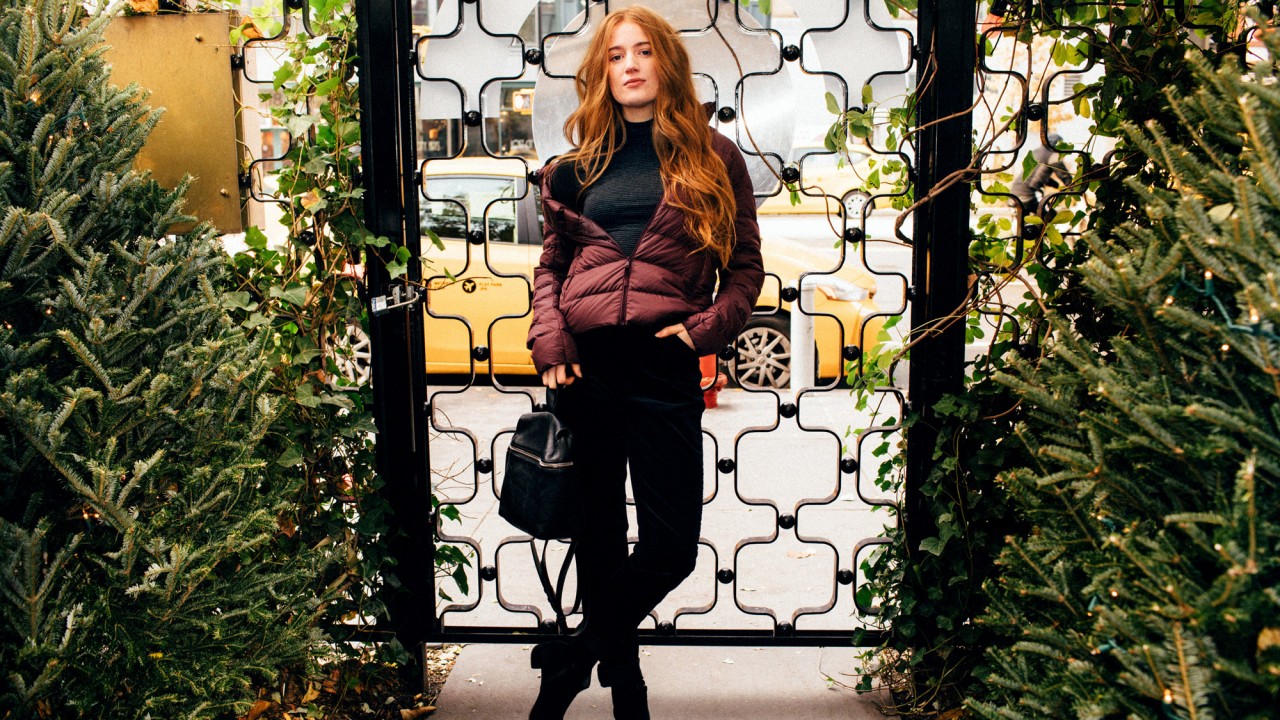 A Fashion Insider's Guide to Spending the Holidays in New York City
Brigette Muller, aka @hummusbirrrrrrrd, reveals her must-see spots during the most wonderful time of the year. In collaboration with UNIQLO.
New York City during the holidays truly is like no other place on earth. Perennially grouchy commuters light up over 5th Avenue storefronts, snow dusts the steps of stately brownstones, and the smell of fresh-cut pine trees envelops entire street corners. There's a palpable buzz in the air no matter where you venture, and whether you're visiting for the first time or a born-and-bred New Yorker, you can't help but embrace the holiday spirit at every turn.
But with so many incredible shops and restaurants to experience in just a few short weeks, it can feel a tad overwhelming at times. To give us a true insider's guide to enjoying the city's greatest holiday hits, we turned to New York native (by way of Long Island) Brigette Muller, otherwise known by her Instagram alias @hummusbirrrrrrrd. With plenty of social media savvy—which she also manages for shopping favorite Etsy—and a seriously dreamy aesthetic, she knew exactly what places to explore in order to make the most of the season.
Of course, walking around the city in the middle of winter can often feel less than idyllic. Frostbite, anyone? So, rather than let freezing temperatures ruin her adventure—or resort to a bulky, unflattering ensemble—Muller layers key pieces from street style staple UNIQLO to stay toasty warm for hours. Never underestimate the power of a cashmere turtleneck or a two-way stole. From taste-testing hot chocolate at The Standard's serene Winter Garden to indulging in a plate of pasta (and maybe a cocktail or two) at Morandi NY in the West Village, this is Muller's local guide for experiencing the best of New York City this holiday season.
 
Why do you love living in New York?
"I've been in and around New York my whole life. I grew up on Long Island. I went to college at the Fashion Institute of Technology in the city. Earlier this year, I was thinking it was time for me to get out of here and get ready for the next adventure. I went and visited a couple of other cities that were high on my list. When I went, I was kind of like, 'Well, it's not New York.' So I kind of dropped the whole idea. Nothing else compares."
What is special about the city around the holidays?
"I think New York around the holidays has a different feel. It's more cheerful. You can feel [it] in the air, and there's just this buzz where everyone's excited and laughing a little bit more, and everything's cozy. Yeah, it might be freezing, but everyone is finding cute places to go hang out in inside."
 
What's the best secret spot for getting in the holiday spirit?
"I think The Standard's Winter Garden is really different. It's something that you wouldn't necessarily know exists in New York City, and it feels kind of like a retreat from the rest of it. You're literally ten feet away from these crazy streets where [there's] so much going on, but you kind of feel like you're in your own little world. It's very cozy."
Where do you like to grab a meal with loved ones?
"During the holidays, I'm drawn to anything and everything with a warm, cozy feel. Morandi's was introduced to me a few years ago by one of my best friends, and it's the perfect combo of bright, open space mixed with little warmly lit nooks to cozy up in. It reminds me of my future dream home that I've pictured time and time again. The brick walls win me over every time, and the food is so good."
What else would you advise someone visiting New York to do this time of year?
"I would say explore the West Village. [It's] my favorite spot in the whole city to wander any time of the year, but around the holidays the magic is amplified. The beautiful tree-lined residential streets live right next to cute restaurants and shops, and although the streets are buzzing with people, the whole neighborhood somehow feels quiet and calm. Just walk around the streets and see what other gems you can discover on your own."
 
What are you most looking forward to this holiday season?
"Holiday dressing! I've been into black and white for so long, and finally I'm like, 'I want to start incorporating more colors!' You can start [by] wearing all different textures, like the sparkly tights from UNIQLO. I feel like I look for fun outfits, and then the outfit informs what I want to do instead of the other way around. It's not like I have an event to go to, and then I find an outfit for it."
How would you define your winter style?
"I think that my style's definitely feminine. I wear a lot of earth tones. I feel like, growing up, I would have one winter coat, and I always cared about what I was wearing, but now I'm realizing that—especially in New York—your outerwear is part of your look. You have to have multiple different options, and it all has to come together as one piece. I like to wear things that I feel like can move with me as opposed to super structured clothing. Comfort is important, but I still prefer fashion over function. I have to be able to look good in it [laughs]."