This Makeup Palette Has 7 Essentials and Is Smaller Than My Phone
The annual Yves Saint Laurent palette packs infinite pretty looks.
Makeup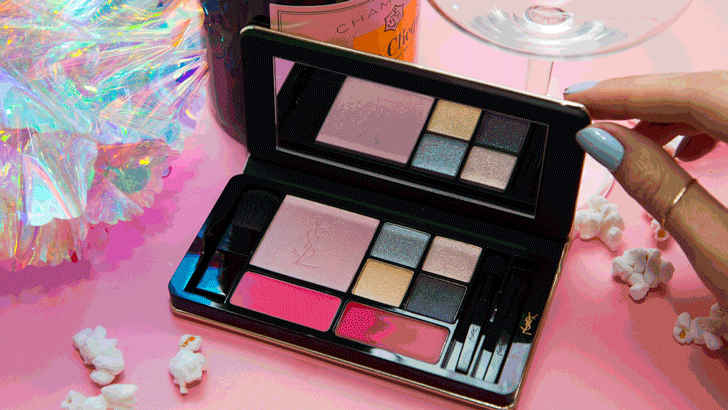 Bustle and Coveteur are working together to bring you the best mix of the season's hottest releases, shopping tips, and gifting ideas in ways that are both inspirational and attainable. Check The Holiday Edit channel weekly to see what we're up to.
I have a distinct feeling this Yves Saint Laurent Dazzling Lights Palette will be the fourth item on my get-out-the-door checklist after my wallet, phone, and keys for the rest of party season. Bonus: It's smaller than my wallet and my phone. Every year, YSL Beauté releases a super chic makeup palette, ideal to slip into a clutch throughout the season of shindigs, but this year's might be my favorite because it is full of easy-to-wear eye, lip, and cheek colors that all lend a little glow, shimmer, and shine. Once you actually crack this baby open (and I fully intend to do so at dinner tables, cocktail tables, and on the subway—look at that poppin' cover), you realize there are a million ways you could multitask. Some of my ideas below:
---
THE EYESHADOWS:
The quad of four are shimmer powders that actually go on really well with the included sponge applicator. The silver shade has a touch of blue, and when I use it across my entire lid, I have instant flashbacks of frosty eye makeup from the '90s, but I promise I mean that in a good way. Then I contour my crease with the darker purple, which has a hint of blue shimmer as well, or I use it to cover my whole lid for something more deep and dramatic. It's the perfect shade and texture for a smoky eye if you have no idea how to really do a smoky eye. The two lighter shades are the *perfect* inner corner highlights to make your eyes look more awake. One is more of a champagne chrome without flecks of glitter, while the other is more of a sheer glitter on the pink side. I also use them to boost the highlight on my cheekbones and Cupid's bow.
THE CHEEK COLOR:
Speaking of highlighter, the large square of cheek color gives the prettiest pink luminizing effect. Don't expect true blush color out of this, but you will get a fleck-free highlight that looks like it could have come from a liquid highlighter rather than a powder. You can also use it on your eyelids for a pretty sheen or on the center of your lips to make them look extra pouty. If you really like to go wild with your highlighter, add a layer of the champagne or pink eyeshadow.
THE LIP COLORS:
The two hydrating lip colors are sheer, but I consider them multitaskers. The pink, which has only the slightest hint of color when you apply it, works perfectly as a lip balm on its own. I also use it on my eyelids if I'm going for a fresh, glossy eye look with a hint of a blush tone to it. I love that look for day. The red lip color gives the perfect just-bitten flush to your lips, like you stained them with strawberries—it makes you look so kissable (go find that mistletoe, girl!). I also dab it onto the apples of my cheeks and up my cheekbones for a nice dewy blush. Of course, if your look this season is all about a bold lipstick, you'll want to stash those in your bag in addition—the two in this palette are on the subtle side.
If you also use foundation and concealer, like me, the only extra thing you might want tote along in addition to this palette is a creamy concealer that can be used in a concentrated amount under the eyes and on a blemish, or sheered-out to customize the coverage. The ones I love (which are also clutch-friendly) are NARS Radiant Creamy and Chanel Concealer.