8 Ways to Make Your Makeup Last All Night
Your dawn-till-dawn beauty plan according to the pros.
Makeup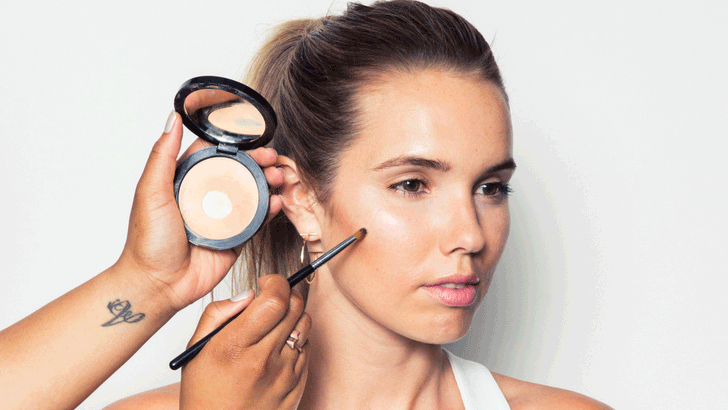 Bustle and Coveteur are working together to bring you the best mix of the season's hottest releases, shopping tips, and gifting ideas in ways that are both inspirational and attainable. Check The Holiday Edit channel weekly to see what we're up to.
Who wants to leave a solid holiday party to go touch up their concealer, eyeshadow, or lipstick in the bathroom? Unless we're bringing the party in with us (admittedly, there's no better gossip than bathroom gossip), we'd rather be out in the action. Especially when we've just carefully applied a really good bold look. We asked a few of our favorite makeup artists to share their best tips to help makeup last all day and night. Below, a few tricks of the trade, like which mascara holds a curl and why you might use eyeshadow for highlighter.
---
Use a Setting Spray Twice
"For longest wear, I apply [setting spray] spray before and after foundation, then before and after powder," says makeup artist Andrew Sotomayor, who likes Urban Decay Chill Cooling and Hydrating Setting Spray. "Cold air causes skin to dry out. This can make your dehydrated complexion 'drink up' whatever emollients are in creamy makeup, leaving you with chalky remnants of your foundation. Or, worse, when you step indoors, you instantly go from freezing to sweating, and the makeup breaks down quickly. A multitasking setting spray addresses both of these problems."
Prime Your Lips and Use Metallic Lipstick
"Prepare by hydrating the lips with a lip balm, like EOS," says makeup artist Kelli Bartlett, vice president of makeup at Glamsquad. "Then use [a] generous amount of hydrating lip primer like MAC Prep + Prime Primer, taking care to apply with precision, as the lipstick will stick where you place the primer. Then, dust a little translucent setting powder—I like It Cosmetics Bye Bye Pores Powder—around the edge of the lip. Next, paint the lip with a metallic liquid lip. I love Urban Decay Vice Liquid Lipstick in Trap Queen because the metallic pigment has lasting power. Instead of using the applicator, use a brush like Make Up For Ever's 226 Brush. Saturate the brush with product, and use the edge of your brush so you have more control along the border of the lip. Last, use a super-sharp lip pencil to play around with the lip shape, etching through the bow and center of the bottom lip for a crisp finish."
Or Just Use Lipliner Alone
"I start with a clear, invisible lip liner on the natural lip line and a little outside," says makeup artist Nina Park. We suggest a clear lip liner like Lipstick Queen Invisible Lip Liner. "After that, I cover the lips in lip liner. Pencils shape and define lips, where lipstick is sometimes harder to contain. And, under lipstick, it makes the look appear more complete because if it starts to fade, there is a backup background behind it. Or you can just let the lip liner alone be your lipstick. Look for a texture that's not chalky, but glides on easily and can look like a lipstick."
Set Your Concealer with a Powder Puff
"I always prep the eyes with an eye cream like Koh Gen Do, and then I do a higher-pigmented concealer," says Park. "When I send someone on the red carpet, I use like, a gel waterproof concealer like It Cosmetics. Definitely warm it on your finger first and really pressing it in only in the ring around your eyes. You don't need it everywhere. So it doesn't look too heavy, I'll use a lighter liquid concealer like Yves Saint Laurent Touche Éclat and buff it in. Then you have to set it. I use a puff with translucent powder like Laura Mercier Translucent Powder and really roll it on. Then I'll take a clean, fluffier, smaller brush and dust off the excess."
Use Multiple Highlighters At Once
"To get a mega-watt long-lasting highlight, the trick is to layer on several different formulas," suggests Bartlett. "First, begin with a liquid luminizing primer, like Becca Cosmetics Backlight Priming Face Filter, which provides a strobing effect. After applying foundation, press on a cream highlight like RMS Beauty Luminzer Quad to the tops of the cheekbones and around the eyebrow, using your finger to press the product into the skin. To really bake in the glow, apply a powder highlight, like Stila Kitten eyeshadow. The three layers will ensure that your highlight stays on point."
Layer Your Eyeshadow
"To help eye makeup last, you gotta learn to layer!" says Sotomayor. "When I'm making up a celebrity for an awards show or getting an actress ready for a 14-hour day on a TV set, I always layer eye makeup. First, I use an eye primer like NARS Smudge Proof Eyeshadow Base. Next, I apply a light-toned pressed powder shadow from lashline to brow, like the new NARS Hardwired eyeshadow in Outer Limits. Then, to intensify the color, I finish the shadows with a veil of loose pigment like Naked pigment from MAC just on the lids and the brow bone."
Use New Mascara and a Lash Primer
"First, make sure you are using a new tube," advises Bartlett. "Old mascara will dry and flake off. Begin with a curled eyelash, and hold the curler for an extra 15 seconds. Next, use a primer like Lancôme Cils Booster XL. It will lengthen and condition the lash as well as prime it for long-wearing mascara. Then, follow with an extra-deep black mascara, like Lancôme Hypnose, and really grind it into the lash line. The mascara builds up at the bottom and is light and feathery at the tip, so it won't weigh down lashes."