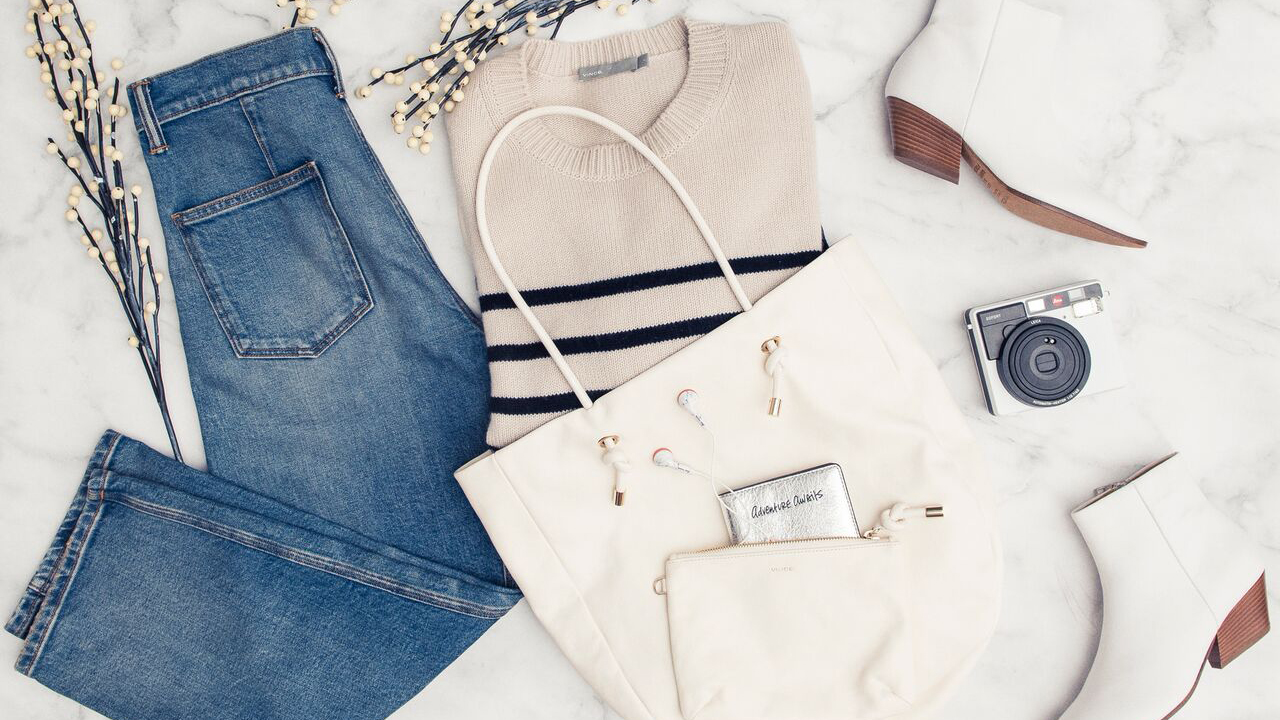 The Low-Key Luxe Pieces We're Living In This Season (You'll Want To Too)
Fancy, meet comfortable. We think you'll get along just fine. In collaboration with Vince.
It was just a few years ago that comfort and luxury were seen as opposing forces. You know how that one goes: in one corner, impossible, impractical heels and fussy, fragile separates; in the other, schlubby sweatsuits and orthopedic sneakers. But thanks to the "pretty much anything goes" attitude that's reigned supreme in fashion over several seasons, we're at an inflection point, where the precise opposite is true (and hopefully here to stay). We can think of nothing chicer than, say, a cashmere sweatsuit and a clean pair of kicks.
It also doesn't hurt that no contemporary brand has mastered this specific mix of luxury and low-key quite like Vince. Their key to getting away with what's essentially a very expensive-looking sweatsuit? It all comes down to choosing classic pieces that are virtually seasonless and usually employ the sort of ultra-luxe fabric you never want to take off. That could constitute a buttery suede skirt, a cuddly, light-as-air organic cotton cardigan, or a slinky, Studio 54-esque silk blouse. Here are a handful of the other go-to guidelines we rely on all year 'round.
Layer, Layer, Layer
The first rule of remaining clad in pieces so comfortable it feels like cheating? Layering, baby. First and foremost, it implies that thought went into your outfit—even if it was thrown together five minutes after you were supposed to be at work. In the cooler months especially, we'll opt for long layers that elongate the frame and radiate a very specific elegant ease: drape-y cardigans over wide-leg trousers, long sweater dresses with leggings peeking through, or suit jackets and blazers teamed with pleated midi-skirts. The more fluid and oversized, the better. Transitional outerwear pieces also add to the effect—we're especially into this Vince leather hoodie.
A Touch of Texture
Another relatively low-effort way to make it look like you really thought about what you're wearing: distracting everyone with texture, and lots of it. Think of it as bringing in an opposing force, especially when teamed with sleeker, more streamlined items like a pencil skirt or slim-cut denim. A chunky, bouclé, or even simple ribbed knit will totally do the trick. We also love a piece that does the work for us and juxtaposes fabrics like, say, satin paneling on a cotton sweatshirt.
Keep It in the (Color) Family
It's pretty much the oldest trick in the book, but let us be clear: No, we're not talking about wearing head-to-toe black (it reminds us of another "b": boring). It's no secret that the unofficial New Yorker's uniform is comprised of a singular shade. But have you ever considered applying the same formula to other shades? It might be long after Labor Day, but there's nothing we love more than an all-cream or off-white ensemble. The same goes for shades of camel and olive.
Not ready to commit to a full-length color story yet? We get it. That's why we like to use a smattering of hues to break up and play off of statement pieces, too. This season, we're feeling an unexpected palette of yellow, mint, and lighter shades of blue to play off of mainstays like olive, black, and navy.
Look for Luxe Details
We like to think of a hidden, luxurious detail as a kind of "outfit insurance"—a tiny little touch of something that reminds you that, yes, despite the fact that your outfit is deceivingly comfortable, it's in fact as indulgent as can be. Case in point? A bit of lush shearling trim peeking out of an otherwise utilitarian, no-frills coat or jacket, or completely relaxed track pants, and hoodies done up in fancy French Terry with sporty zip details.