Series
The Best Hangover Cures Come from the People in the Food Industry
'Tis the season of copious eggnog and champagne.
Bustle and Coveteur are working together to bring you the best mix of the season's hottest releases, shopping tips, and gifting ideas in ways that are both inspirational, and attainable. Check The Holiday Edit channel weekly to see what we're up to.
Good food and good drink is synonymous with a good eating establishment, wouldn't you say? You know what else is? A great group of people who work late and know what it means to let loose once the doors close late at night. Let's just say that, for the most part, restaurateurs nightcap better than the rest of us. Wouldn't you expect that they have the most delicious and genius hangover suggestions? We did! So we asked some of our friends to divulge their ultimate recipe for surviving a hangover, especially this holiday season. Take notes, friends.
---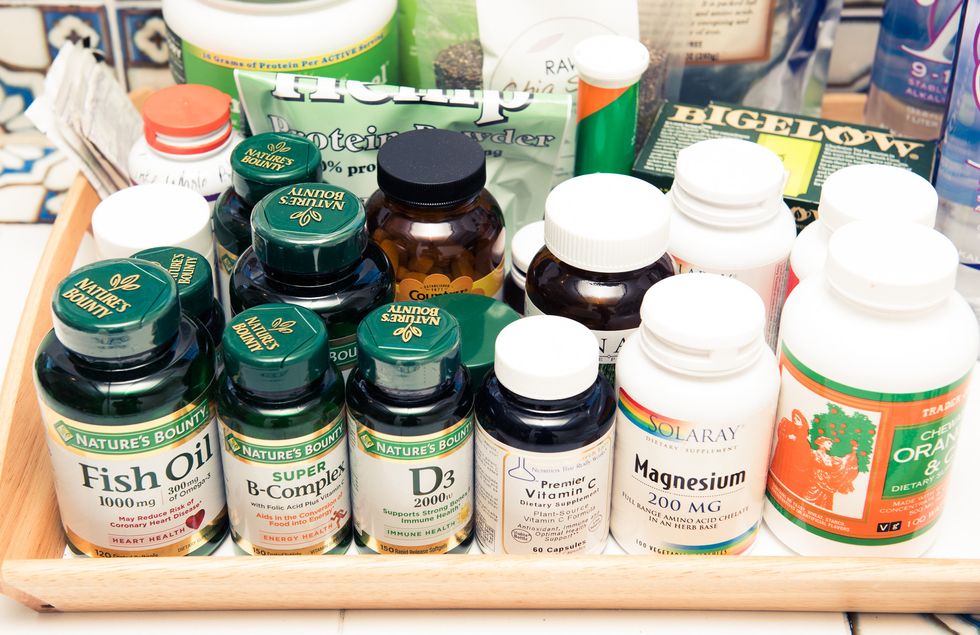 "I've tried everything under the sun. These days I take a vitamin cocktail pre- and post-drinking. Vitamins B and C nutrients deplete after a night of heavy drinking. Milk thistle contains antioxidants that are known to protect the liver from toxins. DHM or NAC, which is known to reduce acetaldehyde toxicity responsible for the main hangover symptoms like nausea and headaches. A lot of water, sleep, and steam room at the gym does the job!" —Damien Del Rio, Co-Owner of Loosie Rouge, Loosie's Kitchen, and Loosie's Café
"My go-to hangover cure starts with three Aleve. Then I either eat spicy Chinese food or pizza with pepperoni, but sometimes I also crave nacho cheese Doritos. I also need a variety of drinks: regular Coke, coconut water, Gatorade, and a raspberry or peach Snapple." —Leah Cohen, Chef and co-owner of Pig & Khao and Piggyback Bar
"Pretzels, Gatorade, and water at night after drinking. Eggs, coffee, and Advil in the morning." —John Poiarkoff, Chef at Denizen
"The ultimate hangover cure starts with a yoga class and ends with a hot matcha latte! But after a really big night out, we skip the yoga, add in a proper brunch (we recommend brunch at Café Mogador in Williamsburg), and make that matcha latte a double!" —Max Fortang and Graham Fortang, brothers and co-founders of MatchaBar
"I got this combination from an old friend of mine. It works wonders for a hangover and is actually fresh and delicious: First make a shake with full-fat yogurt, garlic, radish, cucumber, and ice—it works and really settles the stomach. Then it's time to dig into a greasy, healing breakfast—my favorite is a classic ham & cheese crepe (with lots of Emmental!)." —Thomas Besnard, Chef at Brigitte
"I have a pretty solid routine for curing my overindulgence (aka hangover): Drink a large glass of room-temperature water. Eat an everything bagel with bacon, egg, and cheese. Drink another glass of water. Have a coffee and two ibuprofen. If I still feel bad, I'll go back to sleep, wake up, and order Chinese food delivery (a fried rice dish of sorts) with a ginger ale, and add a healthy amount of Angostura bitters. That always works." —Jason Mendenhall, Owner, Creative Director & Beverage Director, The Wild Son, Goodnight Sonny, The Wayland, The Lost Lady, Whiskey Water Design.
"I like to call hangovers 'Taco Fevers.' The only cure for a hangover is a chorizo tostada, two carnitas tacos (extra onions and cilantro), and an ice-cold Sidral Mundet (apple soda) from Castro's in Brooklyn." —Ricky Arias, Chef, Dinnertable
"[My hangover cure is ] simple: a big-ass breakfast burrito or very large bacon, egg, and cheese followed by an enormous amount of coconut water. Optional: a steam room at any nearby Equinox." —Oliver Ressler, The Press Shop
"My tried-and-true hangover cure is a hot steaming bowl of pho and a coconut water. The coconut water is hydrating, the ginger and licorice in the pho broth helps with nausea, and the steam helps you sweat it out." —Chef Nini Nguyen, Cook Space
Want more stories like this?
How to Survive a Hangover at Work
How 4 Facialists Cure Puffy, Hungover Skin
How to Get Rid of a Hangover in 60 Seconds