WWWRN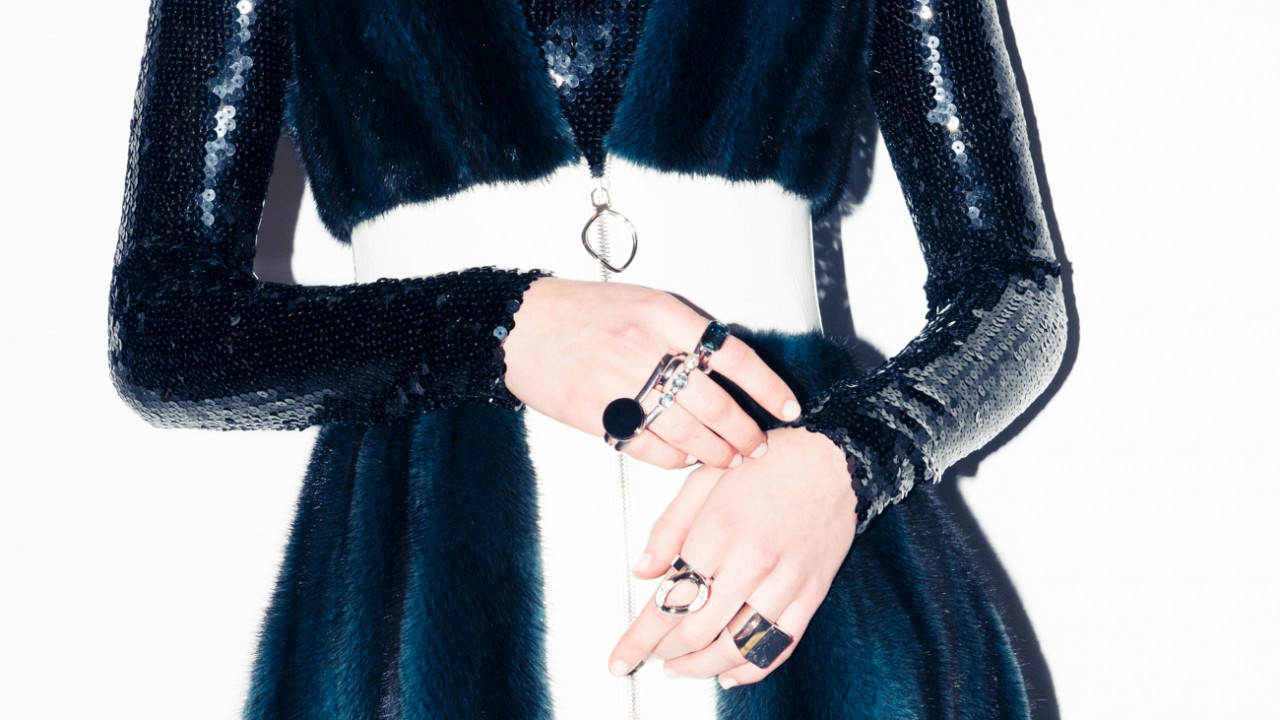 21 Winter Dresses We Want Right Now
Because your outfit should be the least stressful part of the holidays.
We probably don't need to remind you, but the holiday season is officially in full swing, and that means the party invites and end-of-year catch-up drinks are rolling in, too. What better excuse to shop for an entirely new outfit than a bit of festive merry-making? Of course, when it's near sub-zero temperatures outside for most of us, that can put a bit of a damper on your sartorial options. But don't worry—we've found 21 of the most stylish winter dresses that will impress everyone from straitlaced family friends to tipsy coworkers without freezing to death in the process!
---
Hannah Baxter
Assistant Editor
1. Rixo London Lucy Dress: The trouble with winter-appropriate dresses is staying relatively warm while not resorting to wearing a sleeping bag as a dress (unless you're into that sort of thing). This divine Rixo London dress boasts a sexy cutout, but still has the sleeves and the length to make it cold-weather-appropriate. Please join my happy closet family immediately.
2. Cienne The Hudson Dress: While it's true that I adore crazy color and patterns, lately I've found myself drawn to minimalist neutrals. Cienne's two-toned Italian crepe number could easily go from day to night with the right shoes and accessories. For holiday festivities, I'm feeling platform brogues and silvery art-deco earrings.
3. Tibi Plissé-Satin Midi Dress: Plissé fabric is my new obsession in any silhouette—pants, dresses, separates. You name it, I'll wear it. Bless you, Issey Miyake. A tasteful midi-dress in a light Kelly green is office-holiday-party-approved, but still fun enough to wear out to team karaoke afterward.
---
Laurel Pantin
Editorial & Style Director
1. Figue Frederica Tiered Floral Dress: Yes, this dress is floral and summery, but picture it with a pair of gorgeous riding boots, maybe with a turtleneck layered underneath? Still cute! And also unexpected in a season when everyone else is wearing black.
2. Topshop Asymmetric Hem Dress: I love the feel of sweater dresses, and especially being pregnant, suddenly I want something with a bit more cling to demonstrate my belly—but I hate dresses or skirts that are pencil-y around my legs and ankles. This one is ideal because it's my favorite midi-swingy shape, but also clingy up top. And it's warm!
3. Diane Von Furstenberg Cutout Two Tone Wool Dress: A sexy wool turtleneck dress? Sold. DVF can do no wrong in my eyes. Jonathan Saunders is a wizard, and I want everything he touches.
---
Samantha Sutton
Editor
1. Elizabeth and James Raquel Metallic fil Coupé Silk-Blend Maxi Dress: I love to dress up for holiday festivities, but if I'm going to be chilling on a couch or at a table all night, I'd also like to be comfortable. This flowy, metallic maxi dress—made by Elizabeth and James, as in the queens of comfy-cute, Mary-Kate and Ashley—is quite possibly the best of both worlds. I have a feeling that once it's on, I'll never take it off!
2. Ulla Johnson Suzana Velvet-Trimmed Printed Cotton-Blend Maxi Dress: I'm a lazy girl year-round, but during the winter I hit my peak. I can't even be bothered to put on pants, but at the same time, I don't want to freeze while commuting around NYC. Therefore, my go-to seasonal look is a maxi dress, and this Ulla Johnson option is just my style. It's colorful, pairs well with boots and booties, and the long length is a built-in blanket. Yes, please!
3. Topshop High Neck Rouch Midi Dress: I feel like summer is the time for throw-on-and-go dresses, but when you find the right one, you can do the same during winter! This high-neck Topshop midi would look so cute with some over-the-knee boots. Or tights and booties. Or tights and sneakers. Or even layered over some some pants (if you're feeling daring). The possibilities are endless!
---
Katie Becker
Beauty Director
1. Veronica Beard Beau Crewneck Midi Dress: Olive green is my very favorite color. This fabric and cut is so flattering and would keep me nice and warm on my way to the office. It would also look amazing with tall black boots.
2. Alice McCall Garden Party Embroidered Tulle Dress: Who says there isn't a place for spring flowers on your cocktail dress mid-December? Alice McCall's ruching disguises the areas I'd prefer to leave to the imagination, but the sheer layer gives a touch of sex appeal. Pair this with a graphic clutch and slinky stilettos to bring the holiday cheer.
3. Vetements Asymmetric Open-Back Velvet Midi Dress: I die for the cut of this dress, which has a gorgeous open back that's perfect for a holiday soiree. I love how it cloaks the body in delicious navy velvet, but shows off skin in some unexpected places. The balance between conservative and revealing is lovely.
---
Brooke Bunce
Social Media Manager
1. W118 by Walter Baker Gayle Gayle Asymmetrical Ruffled Floral-Print Crepe de Chine Dress: I know, I know—it's a floral-print dress. But this is a floral-print dress with long sleeves, ruffled cuffs, and just a hint of skin with an asymmetrical hemline. Which basically means it can be worn with a leather jacket, a shearling coat, ankle boots, sneakers, tights, a wool beret… Do I have to keep going? Bonus: It's vaguely reminiscent of Kim Kardashian's infamous Givenchy gown she wore to the 2013 Met Gala while pregnant with North.
2. Apiece Apart Fernwood Cotton Midi Dress: To me, the anatomy of a great winter dress is that it 1) keeps me warm without the need for annoying tights, 2) is versatile enough to support endless wintry accessories, and 3) is comfy and flowy enough to skim over any bloat that occurs after I inevitably stuff myself with holiday cookies and sweets. This one fulfills all three requirements!
3. Ganni Colby Tiered Sequined Tulle Dress: There's really no other time of year that you're allowed to be as over-the-top, and as inspired by Blair Waldorf, as holiday party season. That's why I'm so drawn to this gorgeous sequined dress with a floaty tiered skirt. It's both whimsical and serious, which is what guzzling champagne around your closest friends and distant relatives is all about.
---
Jodi Taylor
Associate Editor
1. Solace London Celina Maxi Dress: There's no arguing that red is the best color for this season. Sure, you may attend a party where every other person is in red, but wear the *right* red dress, and you're bound to stand out. Like this Solace London one. Not only is it the perfect shade, but it just looks so damn cozy. Who doesn't want to be cozy while they chug mulled wine?
2. Jil Sander Oversized Jumper Dress: Okay, so this one may not technically be a dress (it'd be a little chilly sans pants), but how incredible is this piece? Clearly, I'm not one to look too fancy, no matter the occasion, so this sweater-slash-dress is right up my alley. I'd style it with a leather mini and a pair of classic booties.
3. Nili Lotan Raw Hem Silk Satin Dress: Two words for you: silk and fur. There is no better combo this time of year, in my opinion. This dress looks like it would hug you in all the right places, and the color would warm up anyone's complexion. Throw a fur on top, and boom—you're looking chic and sexy.
---
Leah Faye Cooper
Features Editor
1. Saint Laurent Deep V-Neck Gathered-Detail Velvet Mini Dress: I usually don't do short and cleavage-baring (personal preference), but all rules go out the window when Saint Laurent is involved. The deep V is divine, and the color is very holiday.
2. Dolce & Gabbana Floral Print Bustier Dress: Our editorial and fashion director, Laurel, recently shared that she'd do crazy things for a very expensive dress, and looking at this Dolce & Gabbana number, I understand. Nobody does a bustier silhouette like them, and I'm dying to own one of these masterpieces.
3. Monse Cutout Ribbed Wool Turtleneck Dress: This dress is simple enough that you can throw it on and head anywhere, but also has a killer detail (oh hey, exposed shoulder!) that makes it festive. Plus, you can really go nuts with your shoes in an LBD.
Want more stories like this?
The 21 Warm and Chic Jackets We Want Right Now
18 Pieces of Jewelry We Want Right Now
5 Pairs of Fall Boots That We Want Right Now
Part of the series:
WWWRN