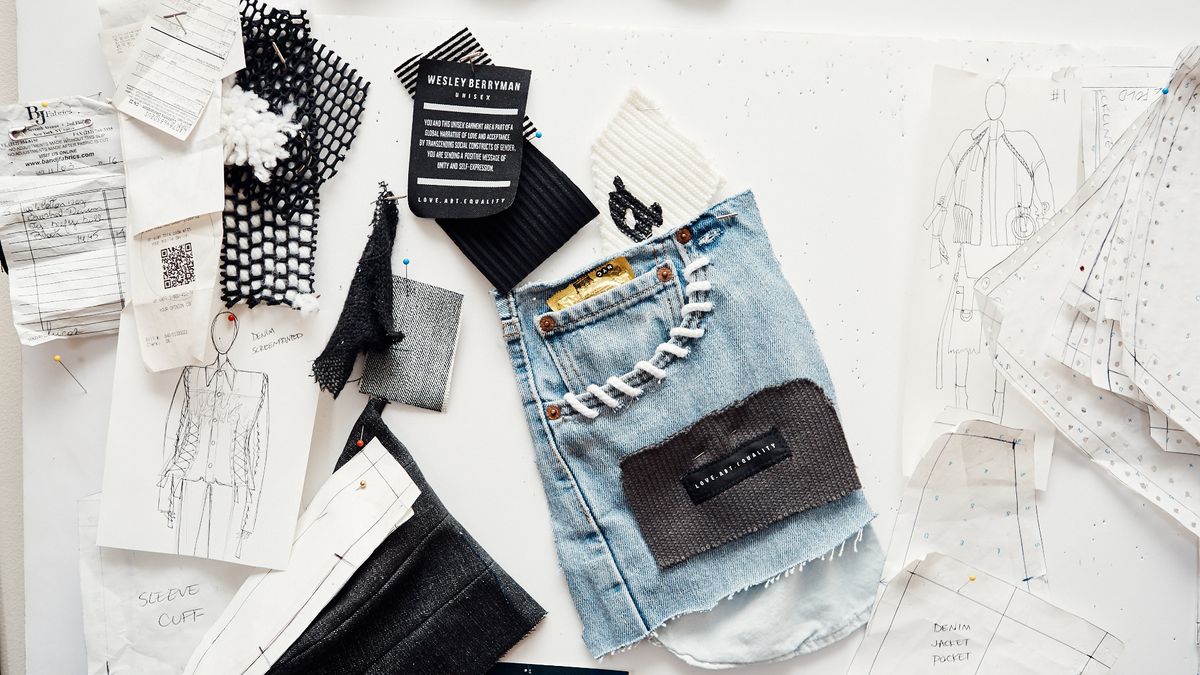 Designers
And he's dressed FKA Twigs and Lady Gaga, too.
Weston Wells
"Well, put Bella in anything, and I'm sure she'll make it amazing," emerging designer Wesley Berryman tells me at his Brooklyn apartment, where we're sitting in the kitchen between racks of clothes. He says it in a way that implies he knows I feel the same, gesturing for me to agree. (I do.)
Bella Hadid has worn hundreds of beloved outfits, but there was one look of hers that really struck me: her hair was bleached blond, her eyelids smeared in green, her lips bedazzled with jewels, and her shoulders draped with a dark denim jacket laced up the sides of her arms. It was for a PAPER shoot, so it wasn't necessarily her look, but regardless, Berryman's pieces looked like they were made for her. Hadid clearly felt the same way, arriving to the PAPER release party in braids, hoops, and one of Berryman's outfits. The top was naturally cropped, the pants distinctively laced up to her hips, and the material a deep, dark denim.
---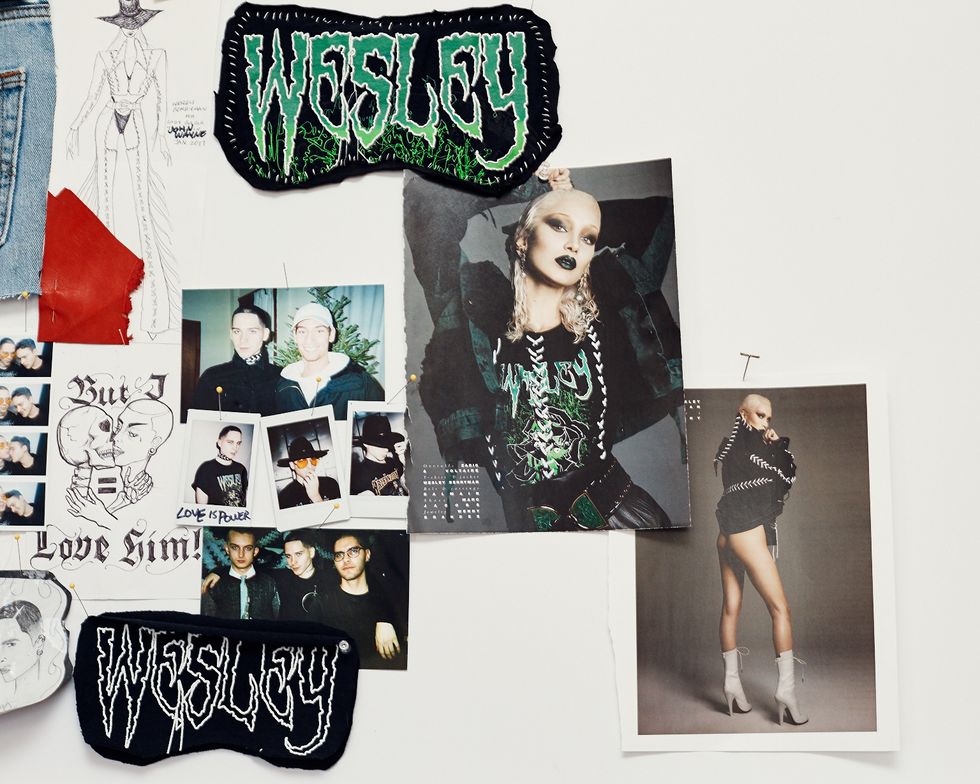 The next day the photos of her in the look were everywhere, and when I came across them all I could think was: those pants, those pants, those pants! Funny enough, Berryman made them without a second thought. "I was working on my collection and thought, 'Ugh god...I'm just going to put some holes in them and lace them up. I don't have time to sew them,'" he says. "When I saw them, I honestly was like, 'Oh my god. This is so hot! How did I do this?'"
Much like how Berryman didn't intend to make the pants, he didn't intend on having FKA Twigs DM him on Instagram to make a look for her tour, but she did. It's what gave him the courage to quit his job at HBA to pursue his dream of having his own line, although he firmly states regardless of what he was doing, he was always working on Wesley Berryman. "My clothes are the expression of everything that I am," he says.
Berryman's collection (which is all made-to-order by hand out of a small room in Brooklyn) is dark and goth and punk. It'd be easy to assume you know what the designer is like from looking at his pieces, which are often adorned with patches that read things like "Hell is full bitch." And before I set foot into his apartment, I thought I knew what he'd be like and how his voice would sound. I almost had to take a step back when he introduced himself with a hug and a sweet Southern accent.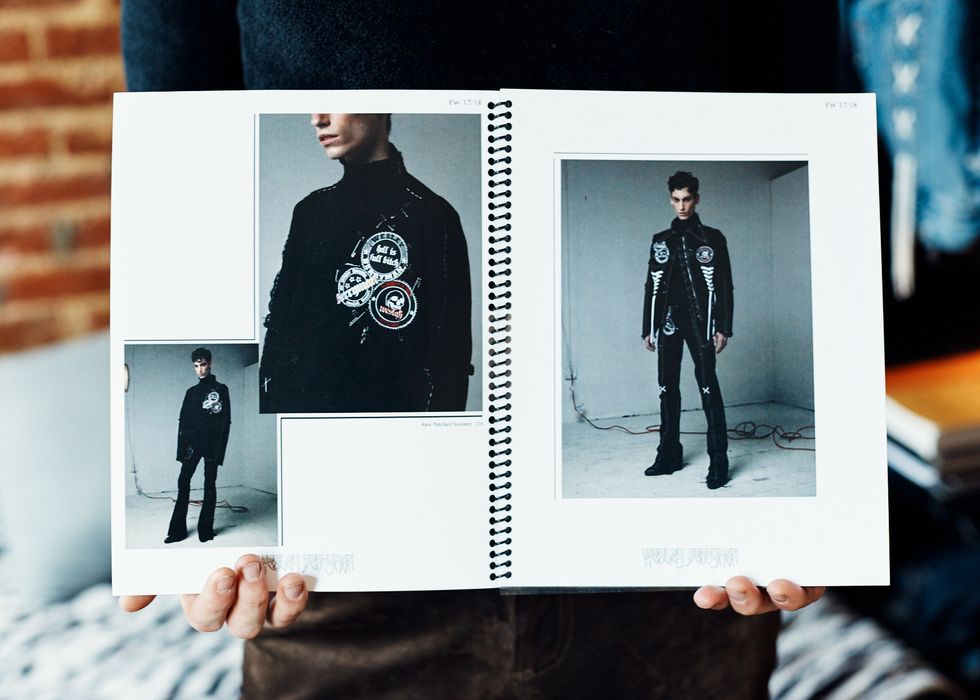 "Honestly, up until recently, I haven't been very inspired by my southern Tennessee background. Now that I'm learning more about myself as a person, it's showing through my designs," he says,pointing to the fringe on a bedazzled jacket in the corner. "The whole cowboy thing is hot to me. I love that, and I put my own spin on it...my dark gay spin on it."
With Lady Gaga's recent release of Joanna, an album with a Western twist whose songs she performs in a pink cowboy hat, it's no accident that she and Berryman would find one another. Her stylist called Berryman to design a t-shirt for Gaga's SNL performance. "I always told myself, 'I'm going to dress Lady Gaga one day,' and I did!"
Her music speaks to him in a way he hopes his clothing can speak to others. "I was a struggling gay teen, and I needed her music," he says. "What makes me want to keep designing is knowing that there is a gay teenager somewhere in Tennessee. He's probably questioning himself, and his parents are questioning him, and everyone is bullying him, and he might see my stuff and feel inspired by it. That might save his life, so how can I stop doing it?" I think there's no other answer than Wesley Berryman can't stop. After all, hell is full, bitch.