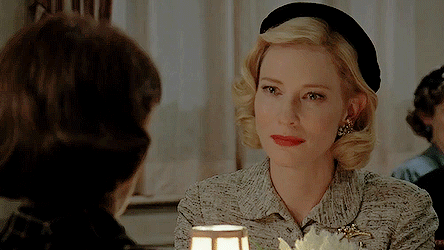 5 Holiday Looks Inspired By Your Favorite Christmas Movies
It's not all Santa hats and matching pj sets.
When my sister was home for Thanksgiving, we passed by the Christmas booths in Union Square and I asked if she was in the holiday spirit. She laughed almost immediately and told me, "I've had my Santa hat on since the day after Halloween." I wanted to say "too soon," but I was guilty as well, having watched The Nightmare Before Christmas the morning after (in my defense it is essentially a *two*-holiday movie). Mind you, I was partially still in costume with a fake eyelash on my cheek.
But who doesn't love a good holiday movie? They're lighthearted and fun—perfect for avoiding the horrifying headlines and current news cycle. They're entirely predictable because you've most likely already seen them too many times—perfect for watching while finishing up work or cleaning. And they're the visual equivalent of cozy—perfect for justifying drinking too much hot cocoa and eating that second bowl of popcorn. I'd like to argue that these films are also perfect for holiday party-outfit inspiration. Hear me out: There's so much more to Home Alone than flannel shirts and Santa hats. Kevin McCallister's mom could get it (and in a perfectly oversized suit at that)! Here are five movies to get you in the spirit with style you'll want to steal.
Winona forever! Edward Scissorhands isn't just an amazing *holiday* film, it's also an amazing film—period—about belonging, conformity, and beauty. Winona falling in love with Johnny Depp on-screen while concurrently falling for him off-screen (sans scissors) is one of the most iconic pairings ever. It's hard not to remember the scene where she emerges from her house in an off-the-shoulder white dress, complete with a bow cinched at her shoulder, and finds herself covered in ice flakes as Edward carves an angel ice sculpture. The dress immediately reminded me of one of Miaou's SS18 dresses, for which Winona's look could have been the inspiration. But since it's not available yet, here are some alternatives to wear to that next ice-carving event...and then forever after.
How to get the look:
Nicole Kidman is the epitome of sex appeal in Eyes Wide Shut. In most movies featuring Christmas trees, wired glasses are usually reserved for Santa and Santa alone. But she wore them as well, rocking a pair long before Garrett Leight made them cool by creating the Wilson, aka the sunglasses option that every celebrity owns. Although Nicole's character, Alice, wears them as she gets ready for a party that she and Tom Cruise attend at the onset of Kubrick's film, she later takes them off and lets her black lace dress speak for itself. And it does just that, eliciting the attention of everyone in the room. Plus, who says you need to wear red velvet to every holiday party? A black dress with a sheer top and sleeves like Kidman's is just as stunning, if not more so, and we already know it looks good with or without a pair of frames.
How to get the look:
It's a Wonderful Life is *the* classic (and kinda sad) Christmas film, which is often considered one of the greatest movies of all time. It was released in 1946, when fashion was amazing and full of embroidered berets, elegant evening gloves, and over-the-top dresses that were worn both to parties and to get ice cream down the block. One of those dresses that we couldn't stop swooning over? The tiered ruffle number Mary Bailey wears at the school dance where George famously courts her. And if Rihanna's recent Molly Goddard look is any indication, princess-like pieces are definitely back.
How to get the look:
Todd Hayne's romantic period film Carol is beautiful in almost every sense of the word. There's the forbidden love story between Cate Blanchett and Rooney Mara. There's the impeccable set design that takes you back to the 1950s. And then, of course, there's the dreamlike costume design by legendary Sandy Powell, which literally makes you want to go back to the 1950s, simply to wear pillbox hats and coral gloves. Blanchett plays Carol, and every one of her outfits induces just as much dreamlike desire as her character does. A particularly amazing ensemble is the grey suit, coral scarf, and fur coat pairing that catches the eye of Mara's character, Therese. The outfit itself is practically a masterclass in effortless, throwback layering.
How to get the look:
The obvious style to imitate in Home Alone would be that of Kevin McCallister's mom. She made gold clip-on earrings, oversized grey pantsuits, and floor-length trench coats look flawless even while worrying about, you know, forgetting her son in another country. But I'd like to argue Kevin McCallister himself knew how to put together an insanely comfortable and cute outfit all on his own. With his layering of contrasting t-shirts over cable-knit sweaters, and patterned hats paired with great outerwear, he's clearly his mother's son. A Kevin McCallister-inspired look may not be the best for that black-tie holiday event you're headed to, but it'll be perfect for the casual night you're spending with friends, drinking eggnog, and watching Home Alone.
How to get the look: