Shopping
So naturally, we toured the Frye factory to see how they were made. In collaboration with Frye.
When people think of American style, they likely think of the following:
-Leather jackets
-Denim
-Cowboys
-And...probably Frye.
Around since 1863 (!!), Frye has long represented that elusive American badass-ness that's as timeless as it is trendy. (Truly, our perfectly worn-in leather boots are at the top of the list of things we'd throw over our shoulder and save in a fire.) And their Made in USA campaign epitomizes that classic Americana vibe. Starring the next generation of American classics (see what we did there?), Emily Ratajkowski, Selah Marley, Luka Sabbat, and Christopher Abbot, their campaign and the Made in USA collection gives a nod to the original tenants of American values—hard work and inclusiveness.
---
Frye x GMG Sabrina, $378
But because Frye's Made In USA collection is, well, made in the USA (with both domestic and imported materials), and especially because we like to get a behind-the-scenes look at everything, we paid a visit to the brand's factory in Arkansas to see what exactly goes into making a pair of boots. Remember those factory visit segments on shows like Reading Rainbow back in the day, where you saw how items like crayons or nail polishes get made? Thousands of bright, shiny objects whirring down a conveyer belt? How soothing and satisfying that was?
Yeah, this was nothing like that. Each pair is lovingly made in many, many steps and given hours of individual artisanal attention, starting with the choice of one of the nine different kinds of leather Frye uses (everything from Antique Soft Vintage to Oiled Suede). We're willing to bet your perfectly worn-in pair of leather boots is from the brand's Campus, Engineer, or Harness collection—and the reason those boots are worn-in, not worn-out, is the TLC that went into making them. 
Seeing something so well-crafted and long-lasting (especially in a fashion climate that has become increasingly trend-driven and disposable) was surprisingly heartwarming.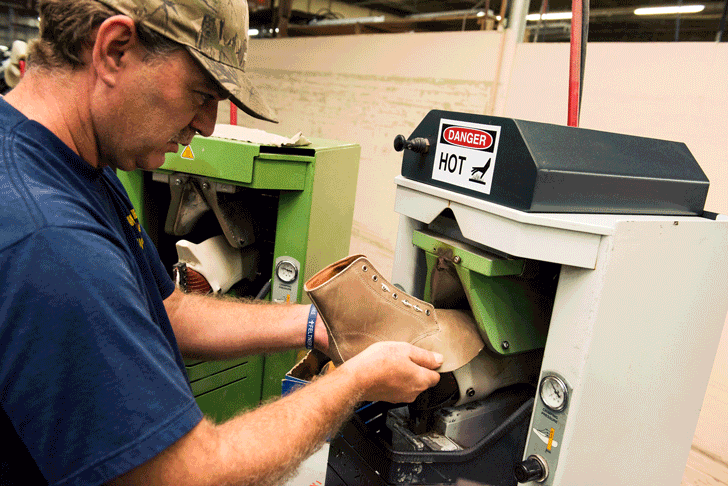 Frye x GMG Sabrina, $378
Frye x GMG Sabrina, $378
Frye x GMG Sabrina, $378
Emily Ratajkowski (who favors the Harness 8R style) said her hometown pride is all about the "power of place and how it affects our identity." The campaign's other stars, Luka Sabbat, Christopher Abbott, and Selah Marley (she loves the Sabrina Lace-Up), expressed a similar sentiment—they've lived in cities and towns all over, having taken on different personas and characters through modeling and acting, yet at the end of the day, they're deeply rooted in the country they call home and have hometown pride to spare.
Click through to shop our favorites from Frye's Made in USA collection.
Want more stories like this?
This Model and DJ Demonstrates How to Do Boho the Right Way