How to Go on a Honeymoon by Yourself in Honolulu
A very extreme attempt at some much-needed me time.
Travel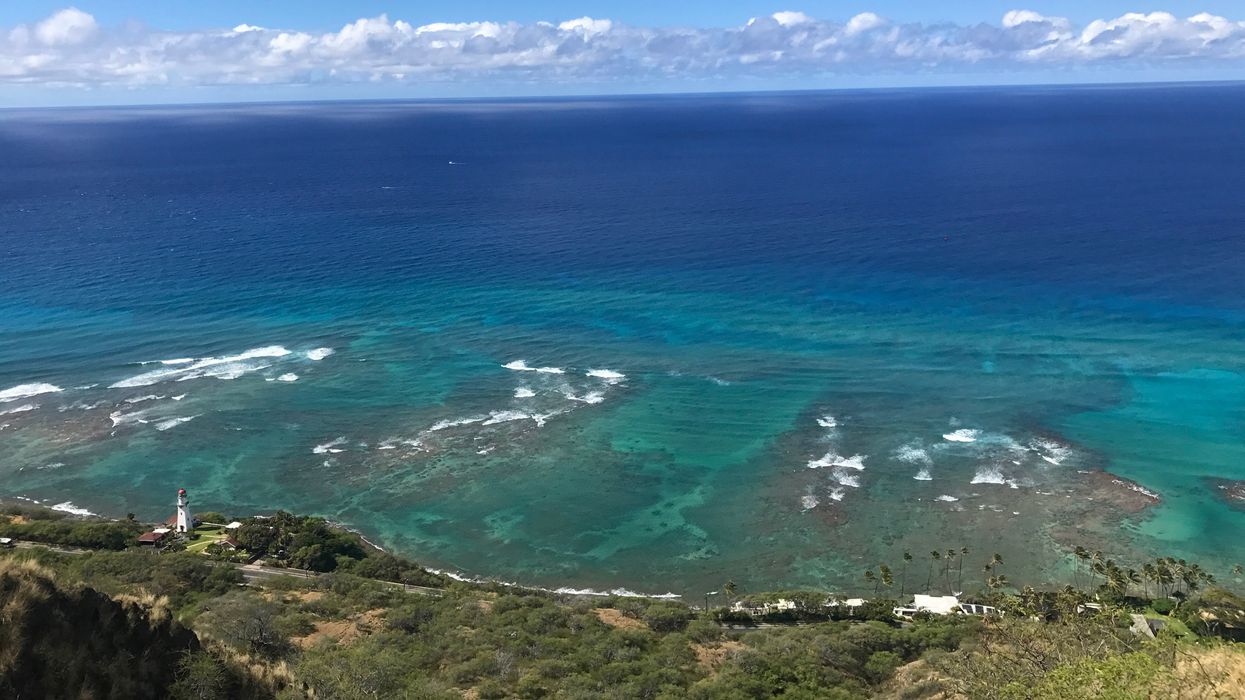 When I went to Hawaii this past summer, I texted my boyfriend a mirror selfie I took while wrapped in a bathrobe sitting on the edge of a marble tub, to which he texted me back: "What, are you on a honeymoon by yourself?"
When I told people I was going to Hawaii, the response was almost always something about how romantic it is. They raved about the walks on the beach and the candlelit dinners, touching on every possible cliché. But when they found out I was going with a group of strangers for work, and then spending a few days by myself, they didn't have a single comment about what I should do or look forward to. Regardless, I couldn't wait.
After arriving in Honolulu, I walked down the beach (alone), had an acai bowl (alone), and drank a strong mai tai (alone). The previous few months of my life had been incredibly stressful, and I couldn't think of a better way to relax and be with my own thoughts. So, in response to my boyfriend's question, I texted back, "Yeah, I guess I am." Don't we all deserve some time to celebrate ourselves?
If you're considering a trip to Hawaii—be it with friends, solo, or, yes, your honeymoon—here's what to do. (I can assure that the solo route is tons of fun.)
---
I rarely spend much time at my hotel when I travel, and I never understood why people would come back from a trip and rave about where they stayed. (Isn't the point of a trip to get out and do things?) But I after staying at The Laylow, Autograph Collection, I stand corrected. 
The hotel feels like a time warp to 1970s Hawaii—complete with art deco decor—and each room comes with a ukulele you can then take to the on-site fire pit for a lesson. And if, like me, you want to play Somewhere Over the Rainbow for your friends back home to really make them go, "WE GET IT, you went to Hawaii," you can purchase the instrument as a souvenir without having to set foot in a tchotchke shop.
The best view of Honolulu is from the Lijestrand House. Vladimir Ossipof designed it for the Lijestrands, a husband and wife who planned on living in China but instead settled in Hawaii to avoid political turmoil in 1930s China. Honolulu is very much a city (albeit one located on a beach), but the Lijestrand House feels remote, sitting on top of a hill at the end of a winding, tree-lined road. 
The house is an incredible demonstration of mid-twentieth-century Hawaiian modern architecture and is impossible not to appreciate even if you aren't into design. Every room is a room with a view. Open-beamed ceilings which make it spacious, but fireplaces that make it cozy. There's also a teardrop-shaped pool that that wraps around the house. The best time to take a tour and visit is late in the afternoon right before the sun sets. I'd recommend sitting in the living room with the floor-to-ceiling windows wide-open, on a chair from the 1930s, overlooking Honolulu with the buildings and the beach lit in the distance.
The Laylow Hotel is located just a couple blocks from Waikiki Beach, which made for an incredible walk every morning. If you're going to Hawaii, you might as well just give up on sleep entirely because the sun rises incredibly early and it's such a waste not to head straight to the beach. Waikiki is lined with high lines and resort hotels, but it manages to still be as beautiful and peaceful as any other beach in Hawaii.
Waikiki Beach was also instrumental in the popularization of surf, and it's where the legendary Duke Kahanamoku (full name Duke Paoa Kahinu Mokoe Hulikohola Kahanamoku) popularized the sport in the US. Half of the beach is still marked off just for surfers, and you can just walk up to one of the huts to set up a surfing lesson.
Being from New York City, hiking and anything remotely nature-related is not my thing. I was naturally skeptical about hiking Diamond Head, but everyone said I had to do it. Fortunately the hike isn't too challenging (it's paved with concrete), and there are a ton of people walking along with you. The view along the way is incredible, and there are tons of places to stop and overlook the ocean, greenery, and city view.
Getting an acai bowl in Hawaii is not negotiable. They taste completely different there, like a little bowl of berry magic. Da Cove is only a short walk from Diamond Head, so it's perfect for a pre- or post-hike snack. I'd recommend ordering a Mana Bowl, which is acai topped with granola, bananas, strawberries, blueberries, bee pollen, and honey. And don't even think about just getting a small; go for the large. Live!
Every city has a restaurant that all tourists stop by, and often that means they're overhyped, overcommercialized, and not very good at all. That isn't the case at all with Duke's, which was Duke Kahanamoku's home and sits right on the beach. It's a great place to grab lunch after tanning or surfing on the beach all morning. You can't go wrong with the ahi poke and a Hawaiian Time drink (strawberry basil lemonade with Absolut mandarin and kai lemongrass ginger shochu; it's as amazing as it sounds).