Noah Galvin Lost His Job and Ended Up on Broadway
The new star of Dear Evan Hansen tells us how he got the part.
Celebrity
You don't have to be an actor to realize that making your Broadway debut can be pretty nerve-racking. But when said Broadway debut is in Dear Evan Hansen, and you're taking over the title role, formerly played by the talented and Tony-winning Ben Platt? You have the right to be downright terrified. Noah Galvin admittedly is.
"I'm petrified," the actor tells me as we sit discussing the show at the restaurant The Spaniard. "More excited than nervous, though. I think it's a lovely mixture of all those emotions."
Galvin—whom you might recognize as Kenny from ABC's The Real O'Neals—will have an eight-week run before Taylor Trensch takes over. But between his talent, his real-life friendship with Platt, and a crazy encounter he had before seeing the show for the third time, it's almost as if it was all meant to be. Read on to get to know this fascinating actor, whom you can catch doing his thing from now through January.
---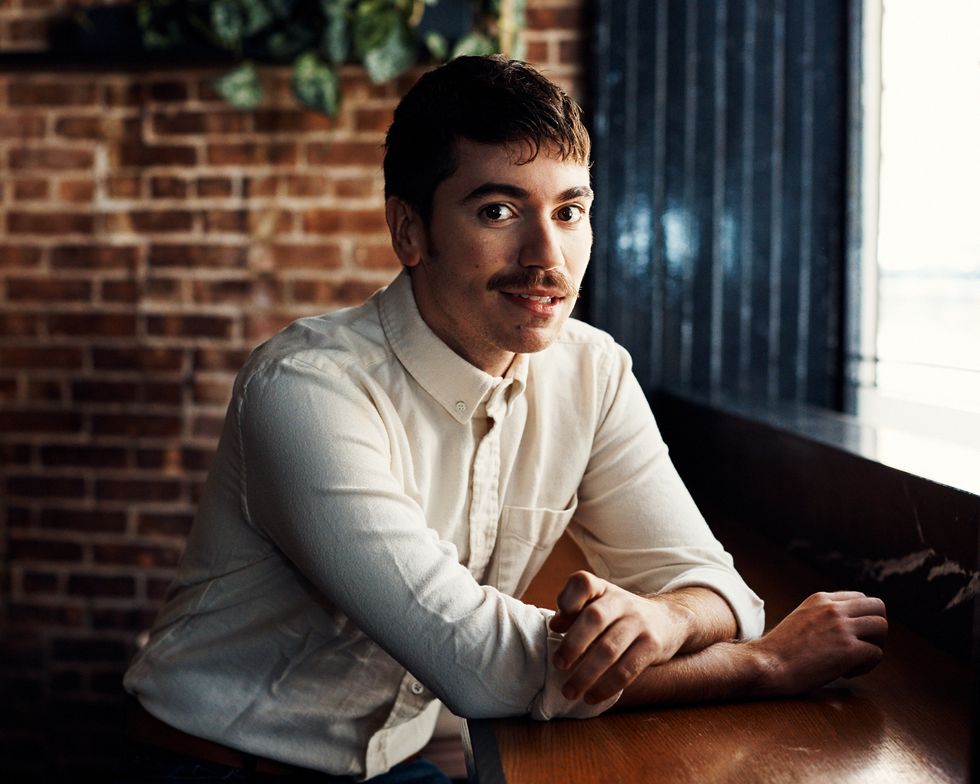 How did you get involved with Dear Evan Hansen? You're also friends with Ben Platt in real life, right?
"This show has sort of been in my life for a few years. My friend Molly Gordon and I wrote a web series that we cast Ben Platt in, so that's when I first met him. That was when he was sort of developing Dear Evan Hansen, and a few months later, when the show went to D.C., we went to see it because we wanted to support Ben. Then, I saw it at Second Stage [Theater] a year later. And then this year, when I saw it on Broadway, I got the call that my TV show, [The Real O'Neals], had been canceled as I was picking up my tickets. I went outside to have a conversation with [my] manager, and when I turned, David Schwimmer was standing right there. We've worked together before, so I was like, 'Yo, remember me?' And he was like 'Oh yeah, how are you doing?' I was like, 'Well, my TV show literally got canceled five minutes ago.' He gave me this wonderful pep talk, you know, having been on TV before [as Ross in Friends]. He was sort of a little magical gift from the universe for me in that moment. But I then got to watch the show, having just learned this information, and I think, for the first time ever, I really just let it... affect me as fully as it had the ability to. Because it really does have that ability. Afterwards, I went to Ben's dressing room, and we had a little sad talk about the show being canceled. But I think it was just beautiful timing, you know? And now I get to take over the role, which is so meaningful and special."
So how did you get from that point to auditioning?
"After that, I went back to L.A. and was just auditioning and being a normal, out-of-work actor. Then this audition came along. They initially asked, if I were to get the part, would I be willing to sign a year-long contract. But I didn't really want to do it for a year. I love variety within my career, and I had just come from a job—The Real O'Neals—that lasted like, two and half years, which was a long time to be doing one thing. But they were like, 'Well, why don't you come in anyway? We'll see what happens.' I flew to New York, and the audition packet was about 50 pages of material—like, three full songs and five to seven full scenes. It was very daunting. What ended up happening was this magical eight-week slot opened up. Taylor Trensch, who is playing the role after me, is in Hello, Dolly! right now, and his contract doesn't end until February. But Ben is leaving in November. There was this December/January slot that they didn't have anybody for, so they were like, 'Do you want to do it for eight weeks?' I was like, 'Hell yeah!'"
What's the story with your mustache?
"So me, Ben, and Taylor released a video as a little 'passing of the torch' thing. We're all in '70s vintage Gucci outfits. I'd had a hiatus beard and mustache, and I was like, 'What if I shave it into a mustache?' And they were like, 'Hell yeah. Seventies AF!' So I shaved some heavy-ass sideburns and mustache, and then Molly Gordon was like, 'I'm so attracted to you in this mustache. You have to keep it!' So I just decided to keep it, and now it's really full and I'm loving it. But a lot of...the feelings are mixed within the community."
Has it influenced your style at all?
"I did buy some boots that I felt went really well with the mustache. Definitely going for a whole new look. I also haven't gotten carded since I've had my mustache, and that is a first for me because I have a baby face. I usually bring the collective age of a group down 10 years, so like, everybody gets carded no matter what when they're with me."
You also have a film, too, Assassination Nation?
"That is also über, über dramatic. I don't want to give anything away. Basically it's about these four teenage girls and the effect of... How do I phrase this? The effect of a 'leak' on society. Like a social media leak. It's very dark. It's pretty bloody. I had a really good time, though. I wore all black and wore my hair down. I play a hacker, which is a part I've never really gotten to play before."
Want more stories like this?
It's Probably Time We Stop Calling Beanie Feldstein Jonah Hill's Sister
How One 17-Year-Old Went from Ivy League Hopeful to Ruling the Radio