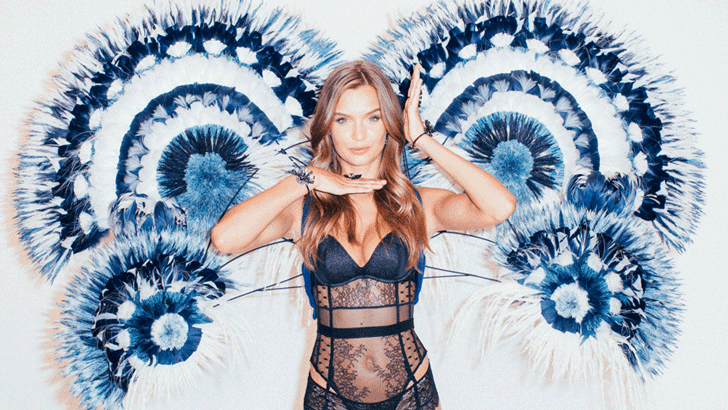 Models
Josephine Skriver Told Us the Code Word All VS Angels Hear before Getting Their Wings
Welcome to Victoria's Secret Wings 101.
Ben Ritter
At her Victoria's Secret Fashion Show fitting, Josephine Skriver is balancing her wings while wearing thigh-high boots that look like they're made of fine china. She effortlessly sways her hips and makes her mark at the end of an imaginary catwalk, beaming the entire time. Skriver manages to smize for almost the entirety of her first walk this year before bursting into a giddy laugh. "I never want to take these off!" 
This year's show in Shanghai marks Skriver's sixth Victoria's Secret show, but it is only her second one walking as an official Angel, with wings strapped onto her back. In the midst of her fitting excitement, she revealed that VS models are kept completely in the dark as to whether or not they'll have wings until the last possible minute.
"There's like...a code word," she explains (while still wearing her wings, which she didn't want to take off for the interview). "It's different for everyone, but for me it was 'belt.' They said, 'Oh, let me bring out the belt,' and I'm thinking, 'What do you mean? I don't need a belt with this outfit!' And then they came in with these wings. They love to trick and surprise you!"
Aside from revealing that every VS Angel hears a code word before receiving her wings, Skriver also gave us a rundown on everything we've ever wanted to know about what it's like to wear them. Let's just say we'd gladly get schooled on VS Angel 101 any day.
---
1. Every wing is handmade, and every angel appreciates the craftsmanship
"There is something, knowing what it takes to create these wings, that makes them extra special. [They're] handmade; every single feather is stitched in, there are different colors, [and they're] hand-twisted. Knowing other people have been working so hard to make something so pretty and to get to represent it to the world is such an honor."
2. Getting a pair of wings is every VS model's goal
"I don't think it ever gets old. It's the dream! Literally, it's every goal. Even when you become an angel, even just walking as a VS model, it's your dream to wear the wings."
3. They're heavy, but no one cares
"When you first feel that heavy weight on your shoulders, there is no better feeling. You don't want to feel light again, ever! You want to keep the wings on. It could be kinda impractical for flying on planes, but...we'll figure something out! I'll build a house with extra-wide doorways!"
4. Getting nervous is part of the job
"Of course you get nervous every time, but it's a good kind of nerves. I think it's important... The day you don't feel the butterflies is maybe the day you think of quitting."
5. Superstition and good luck charms are always welcome
"For good luck, the night before I'll write a note and put it in my back pocket with something I really want to happen. [The] first time I got the show, I had a note in my back pocket [that said,] 'Get into the show today.' It's just small things like that. Little reminders!"
6. A set of wings is an international icon in itself
"I was just here [in Shanghai] for the store opening, and the fans are incredible! They are literally so fun and so obsessed with VS. It was so cool meeting them. I had no idea I would have fans across the globe. It's like, 'I'm from little tiny Denmark, and you know who I am?!' It's really cool. I'm so excited!"