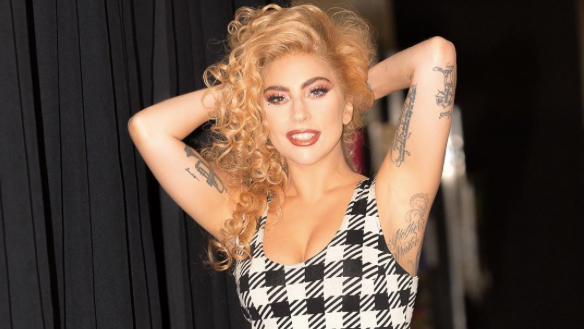 7 Outfits from the AMAs That We Would Actually Wear
Because we all deserve our own Lady Gaga or Diana Ross moment.
The AMAs happened last night, and every single celebrity imaginable did something truly incredible. Tracee Ellis Ross hosted the evening with 11 iconic outfit changes. Pink and her dancers scaled the side of the JW Marriott building in downtown L.A. as they danced on windows while suspended hundreds of feet in the air. Lady Gaga had the red carpet brought to her, performed live from her concert in D.C., and stole the show from thousands of miles away. Diana Ross received the Lifetime Achievement Award, performed "Ain't No Mountain High Enough," and had her family join her on stage (with her grandson dancing along). K-Pop Sensation BTS had fans actually crying in the audience before receiving a standing ovation.
That being said, a LOT happened, but is it any surprise we were—as always—pretty fixated on the clothing? Yes, we want to have a reason to wear 11 couture looks like Tracee Ellis Ross. Yes, we want to be as iconic as Diana Ross and wear a black tulle headpiece when we please. Yes, we'd love to rock bedazzled facial jewels with a matching ensemble like Lady Gaga. And yes, we would love to wear an insane couture gown or jumpsuit like essentially every other celebrity ever just because. But the reality is we will never really have a reason to wear something so outrageous or grand. Which is exactly why we scanned the red carpet and performances and BTS Instagrams for those outfits and style moments that felt realistic for us to actually pull off. Here are our seven outfit picks we feel confident we could wear every day, no AMA nomination needed.
Selena Gomez's all-leather Coach red carpet look
So Selena Gomez provided not just one, but three outfits for us to try to replicate. First, her Coach leather dress had us dreaming of altering our favorite leather jacket into a one-piece. Since that isn't exactly easy, we're dreaming of leather dresses or a nice leather jacket-and-skirt pairing.
And Selena Gomez's retro BTS look
Before Selena took the stage to perform "Wolves," artist and friend Petra Collins snapped some dreamy polaroids of her in a t-shirt that read "Seven Heavens" on the front and "Seven Hells" on the back, from emerging Australian brand DAISY. The old-school vibe has us wanting to buy the shirt immediately to pair with a great pair of faded jeans and classic Converse chucks.
Annnnd Selena Gomez's sultry sneaker stage look
OK, and finally, everyone has been talking about Selena's performance and whether or not she lip-synched. We won't comment on what we think happened, but we will say her look of a simple white lace slip with classic Puma kicks was sexy and casual and one we could wear forever. 
Hailee Steinfeld's dreamy Mugler suit
The singer proved that there is no wrong way to wear a suit. Her Mugler outfit made the case for classic trousers worn with exaggerated shoulders and a skimpy top. 
Yara Shahidi's preppy yet badass Prada look
Yara Shahidi kills it all the time, and of course she would look just as glam in shorts, high knee socks, and a trench coat as she would in a gown. But it also doesn't hurt that her whole outfit is Prada. Shahidi's look is also the perfect mix of preppy and edgy, thanks to the embroidered details of the shorts and her zebra-print collar. Oh, and the back of her jacket is pretty badass, too.
Lady Gaga's sartorial tribute to the late Azzedine Alaïa
The legendary late designer Azzedine Alaïa, who passed just a couple days ago, made clothing with women in mind. Lady Gaga no doubt made the conscious choice to wear this gingham Alaïa dress with him in mind, and of course she looked incredible. Nothing will beat an Alaïa dress, but we found some options that come kinda close.
Tracee Ellis Ross dressed like Diana Ross dressed like Michael Jackson 
Diana Ross iconically twinned with Michael Jackson in 1981, and Tracee Ellis Ross decided to pay tribute by twinning with her mom. The throwback look of course came complete with the original shimmery blouse that Ross found in her garage. Here's how to get the look when your mom, you know, isn't Diana freaking Ross.