Two Cocktail Recipes for When You're Really Missing Summer
We refuse to admit that winter is coming.
Cocktail Diy
Now that the temperatures are finally inching towards freezing (tear), we've been in search of a few different ways to reminisce about our carefree days in the sun. Cue the Broken Shaker at Freehand Hotel in downtown Los Angeles. From Bar Lab curators Gabe Orta and Elad Zvi, the new urban retreat is similar to its Miami outpost, with lush greenery, a rooftop pool, city views, and quintessential Cali vibes. The bar's signature cocktails are basically summer in a glass, thanks to their homemade elixirs, fresh herbs, and coastal produce—ingredients that we usually crave while lounging on the beach, but can now enjoy from the comfort of home. In case you weren't sure about the quality of the drinks, The Broken Shaker has been nominated for two James Beard awards and named one of the "The World's 50 Best Bars" for the past three years. In other words, they know how to make a mean drink.

Start mixing any of these two cocktails for some lucky guests (or yourself because you deserve it), and enjoy!
---
---
Shell Beach Caipirinha
---
Ingredients:
1 oz Atlantico Rum
1 oz Avua Cachaca
.25 oz St Germaine
1 oz lime juice
1 oz melon cordial
4 drops Sichuan tincture
Directions:
Combine ingredients in a tin, and shake with ice. Strain over fresh ice into your favorite poolside glass.
---
Bitch Don't Kill My Vibe
---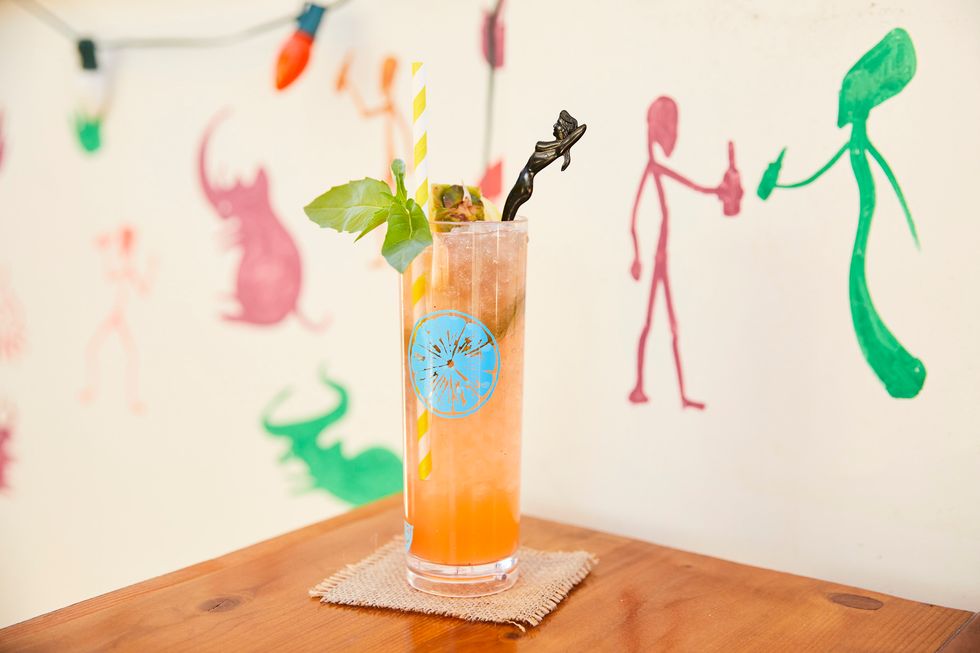 Ingredients:
1.5 oz Ketel One Vodka
.5 oz Aperol
.75 oz lemongrass syrup
.75 oz lemon juice
1 oz pineapple juice
2-3 basil leaves
Directions:
Combine ingredients into a tin, and shake with a small amount of crushed ice. Strain over crushed ice into a tall glass.
Bartenders: Melina Meza and Luke Mallery