Career
The award-winning journalist also shares her most valuable career advice.
Alec Kugler
While the conservative battle cry know as "fake news" continues to emanate from the White House since the election 12 months ago, there are many people who believe that the past year has witnessed a kind of journalistic resurgence. Well-researched, bipartisan coverage has uncovered a new base of readers and viewers who are hungry for facts outside of any political machine, Republican or otherwise. Norah O'Donnell, co-anchor of CBS This Morning, agrees. "I think 2017 will go down as a golden age of journalism," she proclaims as we sip coffee in her bright Manhattan living room. "I think the reporting that's going on, not only in newspapers, but on broadcast journalism [as well], has been top-notch."
The award-winning journalist is no stranger to the inner workings of Washington, having begun her career chasing down congressmen on Capitol Hill for Roll Call newspaper. "That was one of the best jobs I've ever had," she recalls candidly. "That pride when you first see your byline in a newspaper really was the beginning." Although originally a print reporter, O'Donnell eventually embraced broadcast journalism for its ability to break news quickly. "There's nothing more electric than a live broadcast. That's why morning television is really the crown jewel of broadcast journalism. Seven a.m. we get the first crack at the news, every day." She also cites the June shooting at a Congressional baseball game as an example of the medium's reporting capabilities. "We covered that live on the air and extended the broadcast into five hours. Trying to understand what's going on, and making sure that you don't say something that's inaccurate on the air, is an enormous kind of responsibility. You don't want to overhype what happened. You want to play it straight and get it right."
---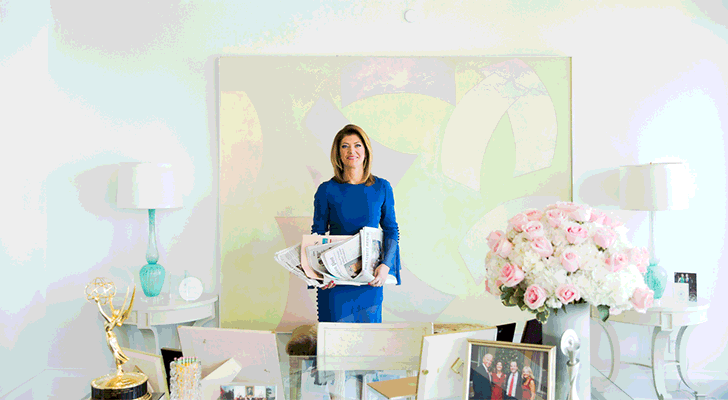 Since the desire for of-the-moment news is only growing, more and more people are opening their phones to Twitter rather than turning on a TV. This relatively new phenomenon—which many credit to the millennial generation—has left the future of traditional journalism somewhat hazy. "I think social media just amplifies the news, in a good way," O'Donnell says as we discuss the merits of 140-character coverage (she, too, has an active account). "My only concern is that I think the news cycle now is almost like sipping water from a fire hose. It's coming at us so quickly, in full force, and we miss the depth of reporting."
At the mention of Twitter, it's difficult to ignore the big Republican elephant in the room and his tumultuous relationship with the media. "Presidents and the press have historically had adversarial relationships," she explains carefully. "The White House has an agenda, and the press wants to highlight and expose that agenda. What's different about President Trump is that he and his advisors have called us 'enemies of the American people,' and that's a level of rhetoric—a political tactic—that has not been used before. If you paint the media as your political adversary—when they expose something that is unfavorable—then it's easier for the president or his supporters to just dismiss it as political, when in fact it might be factual."
While we consider the frankly alarming nature of this statement, the atmosphere in the otherwise sunny apartment momentarily darkens before O'Donnell quickly adds, "But I don't think that it has at all diminished the power of the press or their desire to keep doing what they're doing. I think the press seems as tough and as investigative as ever."
Now, having just passed the one-year anniversary of the election and the subsequent firestorm of political coverage it incited, the responsibilities of the media are only growing in importance. The co-anchor, who seems to be more optimistic than we ever anticipated, is looking towards the next generation of reporters with hope. "I would say, read as much of a paper as you can," she advises when we ask what she would say to aspiring journalists. "Everything you need to know is in a newspaper. Even if you were a bad student in college, you can make up for it by reading. If you want to be in finance, if you want to be in politics, just read, read, read. That means preparation. And preparation builds confidence. And confidence builds success." If the faint glimmer of O'Donnell's Emmy Award across the room is any indication, this is advice we'll most definitely be following.  
Want more stories like this?
We Couldn't Believe How Easy It Is to Run for Office
The Woman Who Got You a Date Is Ending Sexual Harassment in Business
Call Me a Nihilist, But I Saw Donald Trump's Election Coming Last Year
O'Donnell wears a dress by Prabal Gurung