Emmy Rossum Wants Us to Stop Measuring Ourselves Against Other Women
"Swim your own race."
Celebrity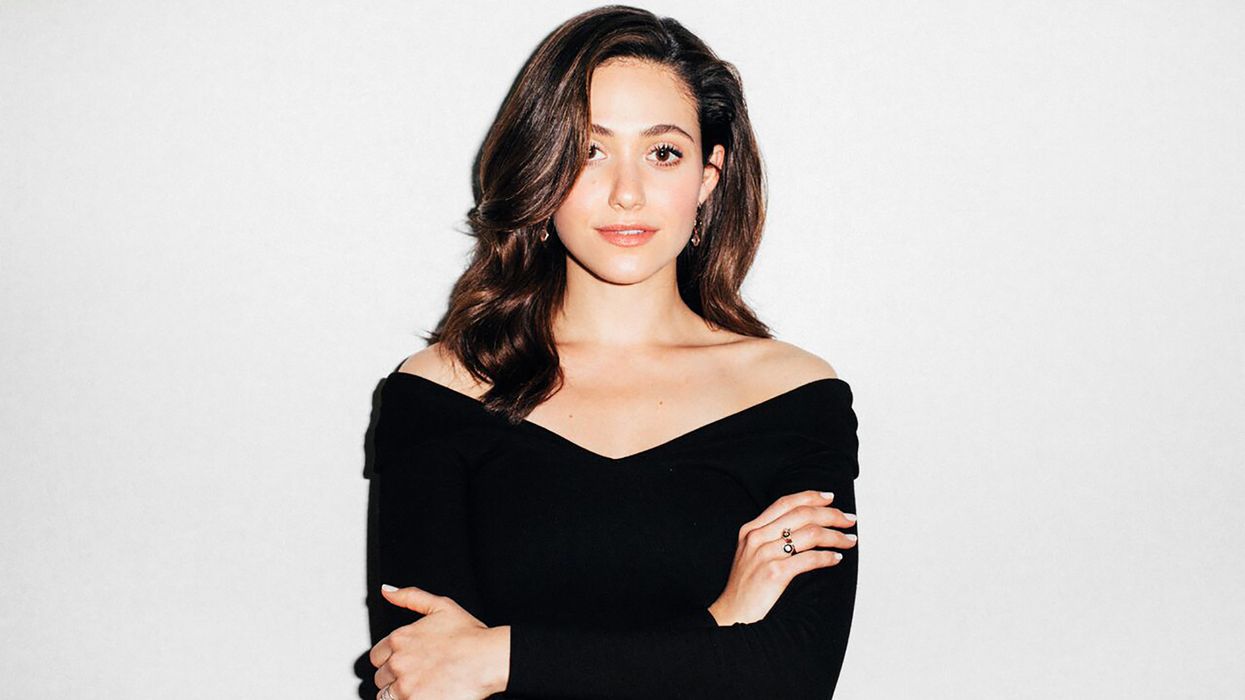 There's a lot to admire about Emmy Rossum—this much we've known for years. When she isn't showing off her acting chops as Fiona on Shameless, she's working as a director behind the scenes and, every once in a while, wows us with her singing voice. Then there's that classic style, her ability to pull off both glam *and* minimal makeup, and how she's vocal about things that truly matter to her. That's partly how she ended up as an ambassador for Burt's Bees: Rossum wants to understand what she puts on her body just as much as what she puts in her body, and is helping to spread the word about makeup ingredients with the brand's "I Am Not Synthetic" campaign for its new makeup line.
Still, sitting down with Emmy at the Mondrian Park Avenue hotel, we realized there was even more to love about her. The star got pretty honest with us, talking about the pressure to look a certain way, the rule she followed on her wedding day, and how she wasn't always so supportive of women. Read on for our full conversation, ahead.
---
Do you feel like you became more aware of ingredients as you got older?
"I worked with a makeup artist named Christy Coleman who, after her father died of ALS, became very involved in the natural beauty industry as a reaction to that. We are very focused on health and what we eat in our society, but the skin is the largest organ in our body. It's 10 percent of our body weight, so it's also important to look at what we're putting on our skin and on our bodies as well."
How would you define yourself?
"People are pretty quick to label you, so the fact that the women in the [Burt's Bees] campaign are shot in such a polished, beautiful, but natural way—bringing out their own individual beauty—is really empowering and refreshing, especially in this culture of overly airbrushed Instagram models. I think I'm still evolving, which is why I shy away from a label because it seems to limit, whereas I think we want to increase the boundaries of what we are capable of and our understandings of ourselves and beauty in general. I started as a singer, and then I became an actress, and then I sang, and now I direct and act. We are ever-evolving."
Do you feel pressured to wear a lot of makeup?
"No, especially because playing the character Fiona [on Shameless] has been quite liberating. People respond to her and find her very attractive, and that's the least makeup I've ever worn. But I'm still wearing some makeup. In fact, I've worn the tinted lip balm in Rose for years on the show. For me, especially if I go to an awards show and have a lot of makeup on, I make sure they really buff the foundation into my skin. My worst fear is like, kissing my husband on the red carpet and leaving makeup on his suit jacket. I hate when makeup feels or looks like makeup. I think we can have high-performing products that are still natural."
You're a newlywed, too! Was your goal to look natural on your wedding day?
"I wanted to look like myself. When I talked to other brides, they said that the one thing they regretted was going blonde for their wedding or getting a spray tan for their wedding or doing something that, when they look back at their pictures, it just doesn't look like them—losing too much weight for their wedding. I really just wanted to look like the best version of myself, so I put a lot of work into skin care and making sure that my dress fit me, not that I had to fit into my dress."
What has been the most valuable lesson you've learned on Shameless? 
"I admire Fiona's confidence in her own skin and her confidence in her body. I think that's something a lot of women struggle with, so she's an excellent role model in that way. I like seeing how far she's come in terms of pulling herself up out of a family that's economically really struggling. And pulling herself up out of poverty to now be the owner of her own apartment building—that won't come without its share of problems, being a landlord as she is this year. I like watching that journey. It's been really fun."
What advice would you give to women about supporting other women?
"Get past your own insecurity. Somebody else's success is, in part, your success, too. There is room for everybody to succeed. And swim your own race—stop looking over your shoulder to see what everyone else is doing and how they're succeeding. Don't measure yourself against other women. Measure yourself against yourself yesterday and see if you're better."
Have you always felt like that?
"Not at all. I think it's very easy [to feel the opposite], especially when you're somewhat in the public eye and people are comparing you to other actresses all the time. The most important thing is to swim your own race and focus on the things that you care about and throw yourself, with as much focused energy as possible, into a project, and leave the rest up to fate."
Emmy is wearing Rosetta Getty AW17.
Want more stories like this?
Someone Once Told Cate Blanchett Her Career Would Be Over By 32
Christie Brinkley Wants You to Stop Being Polite to Inappropriate Men
Gwyneth Paltrow Approves of Wearing Pajamas to the Grocery Store