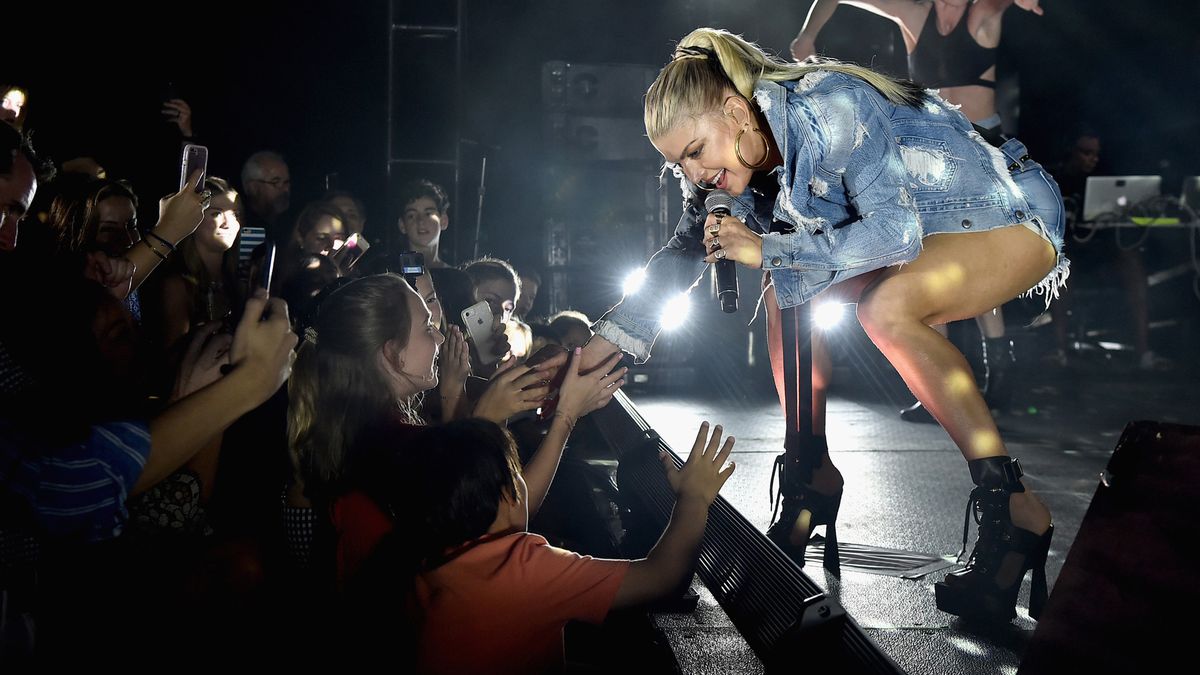 Celebrity
We caught up with the Double Dutchess artist this past weekend while dancing barefoot in the Bahamas.
A few weeks back an email slid into our inbox with an offer we couldn't ignore or refuse—it was an invitation to the Bahamas to see Fergie perform (yes, Fergie, as in the "Glamorous" and Black Eyed Peas Fergie). The occasion? The relaunch of The Cove Atlantis on Paradise Island. Aka, an all-suite luxury resort with private white-sand beaches, adult-only pools, and irresistible food.
To say that weekend was one for the books would be an understatement (check out our IG stories if you don't believe us). We soaked up some sun, sipped on cocktails, had an unreal barefoot dinner and party on the beach, all the while bumping shoulders with the likes of Brooke Shields, Drew Barrymore, Zosia Mamet, and Karolína Kurková. Fergie performed at the aforementioned barefoot beach party (chic), and prior to her unforgettable intimate show (she has the voice of an angel), we cozied up with the talented artist in a private cabana to chat about her new album, being a mom, and how she stays on top of her health and wellness.
---
"You never know with life—you make plans, and God laughs and leads you to where you need to be, so I am following."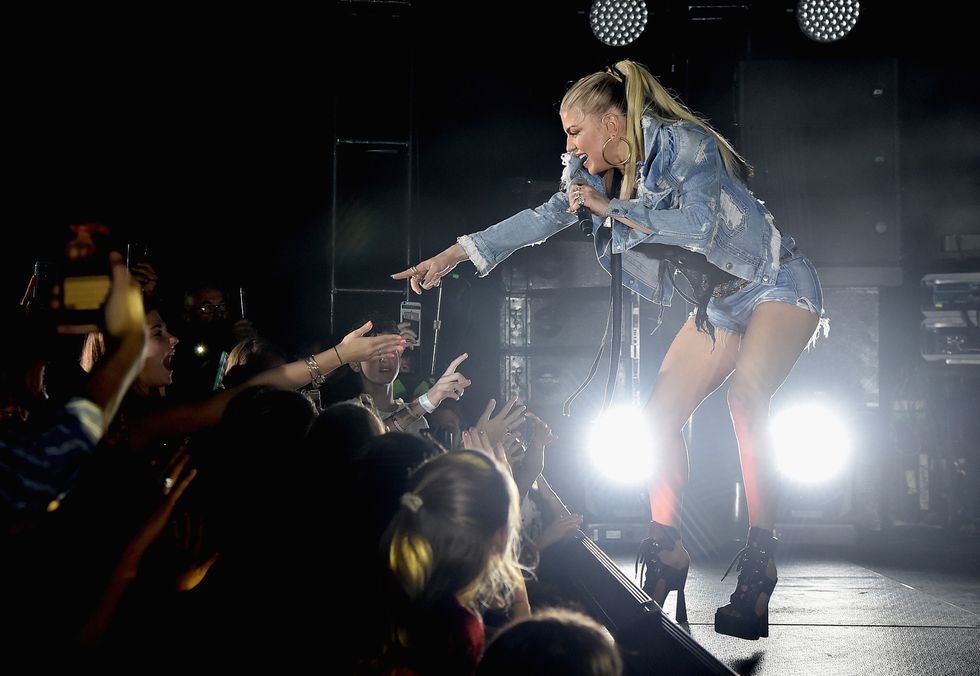 How she balances being an artist and a mom to her son, Axl:
"I'm a mom now, which makes a complete difference in my schedule. I'm the same person I've always been as an artist—I write the same, I perform the same—it's just the hours that I have in a day [are different]. Everything takes five times as long because I've got mommy duties. The time I would spend in the studio before in a big span now has to be broken up into three different days. Plus, weekends I do Axl stuff. There is no question, you just can't take a four-year-old away from their mommy. This is a four-day stint that I'm gone, and it's so hard—it's crazy. When I go home and see him, it's about Axl. It's like, don't call, don't email, don't write. We lock ourselves in the house and create these fantasy worlds—these ninja worlds, and imagine pirate ship boats sailing around. Then we will go to a different part of the house and decorate that—make a fort. It's really great, I love being a mom."
This trip was her time to relax and chill:
"I didn't bring Axl, which I am regretting because I am seeing all of the kids stuff you can do here—swim with the dolphins, and the water park—but I'm doing the show and hanging out at The Cove for the relaunch, which is so exciting. Since I'm kidless this time I am doing the after-party, and tomorrow I am going to take a day. It's my first day off in six months, so I am going to take one day for me. Here is the perfect place to do it."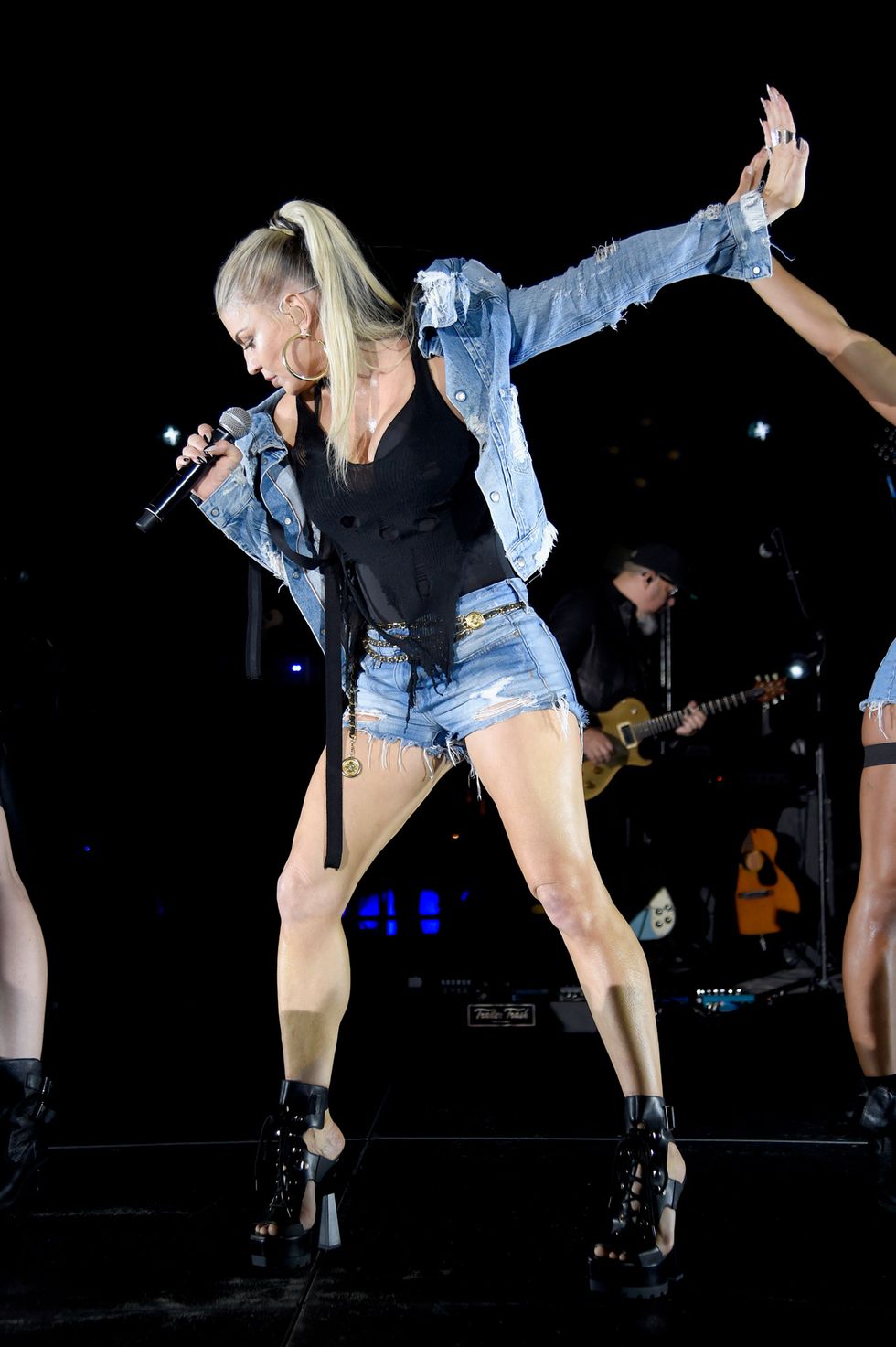 Meditation keeps her sane:
"Working out consistently really helps, and stretching. Stretching is way more important for me now than it used to be to keep the limbs healthy. I do meditations—I do the 21-day Oprah & Deepak meditations. They're really great because they are guided and they really help me to center. I have a therapist as well, and I do some hypnosis sometimes—whenever I get the chance."
A few of her serious songs helped victims of the Napa fires:
"It was like an artist compound—everybody brought their A game to the table [with Double Dutchess]. It was the biggest project that I ever undertook in my life, but it was so worth it and was so rewarding. It's so interesting because I feel that the songs that are more serious and a little deeper are the ones that are really connecting—especially with women. They'll be coming up to me saying things like, 'Oh my gosh, with "Save It Til Morning" I really had an ex that was like that, and it really got me through that situation'. With 'A Little Work,' I was just in Napa with the victims of the fires, and [the song is] about overcoming those tough times and getting through it—finding it within oneself to become that warrior. You think of all the firefighters who arrived first to the scene and are those brave soldiers for these people and these victims. People were coming up to me and telling me that that song has really touched them and gotten them through their loss of homes and things like that. It's interesting because people love [the up-tempo songs that I released first] and they jam to them, but the ones really touching people are the serious ones. You never know with life—you make plans, and God laughs and leads you to where you need to be, so I am following."
Photos: Getty
Want more stories like this?
Gwyneth Paltrow Approves of Wearing Pajamas to the Grocery Store
Christie Brinkley Wants You to Stop Being Polite to Inappropriate Men
Dianna Agron Was Once Bullied for Her Faith