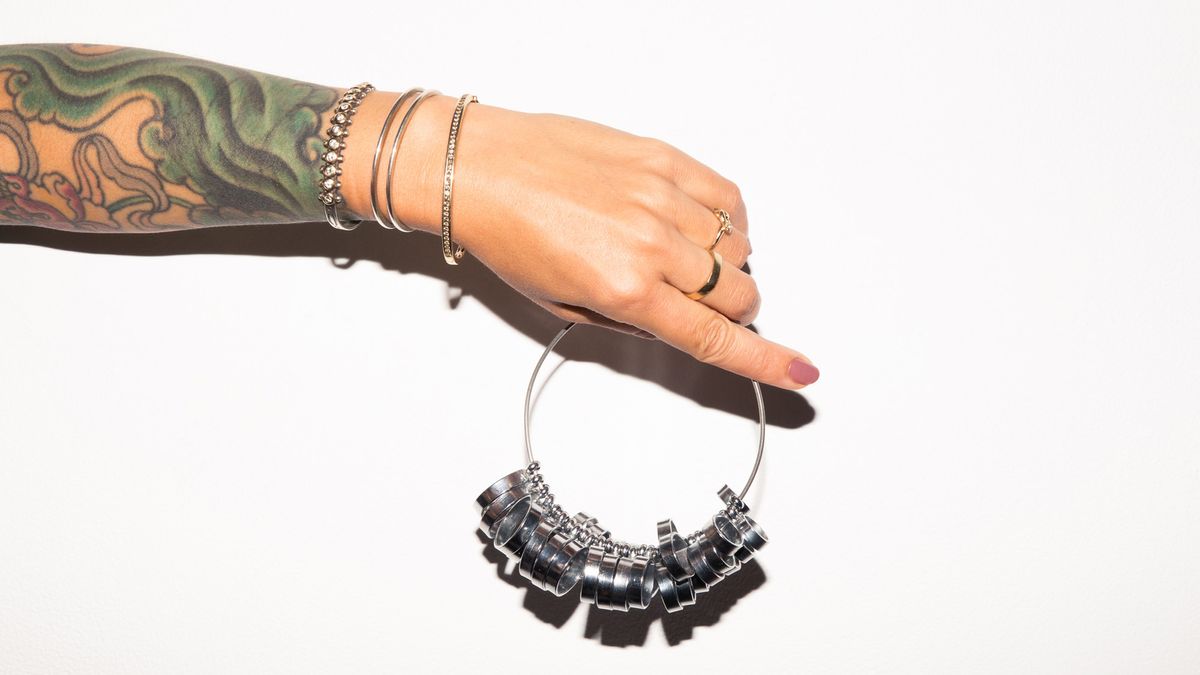 Designers
Jewelry designer Anna Sheffield lets us in on her process.
Alec Kugler
The dilemma that comes with picking out an engagement ring—especially if you're into fashion? How to find the perfect balance between something cool that fits your aesthetic, and something classic you won't be bored with years later. Thankfully, Anna Sheffield has figured it out. The jewelry designer created customizable stacks to go along with that standout diamond, allowing the wearer to switch things up when they want and find something that fits them to a T.
Of course, Sheffield—who started out as an artist and formed Bing Bang before branching off into her namesake brand—does true custom, as well. While at her store in NYC, she let us in on her pretty intense design process, the many places she finds inspiration, and why it's actually a positive thing that she didn't study fashion in school or work in fashion first.
---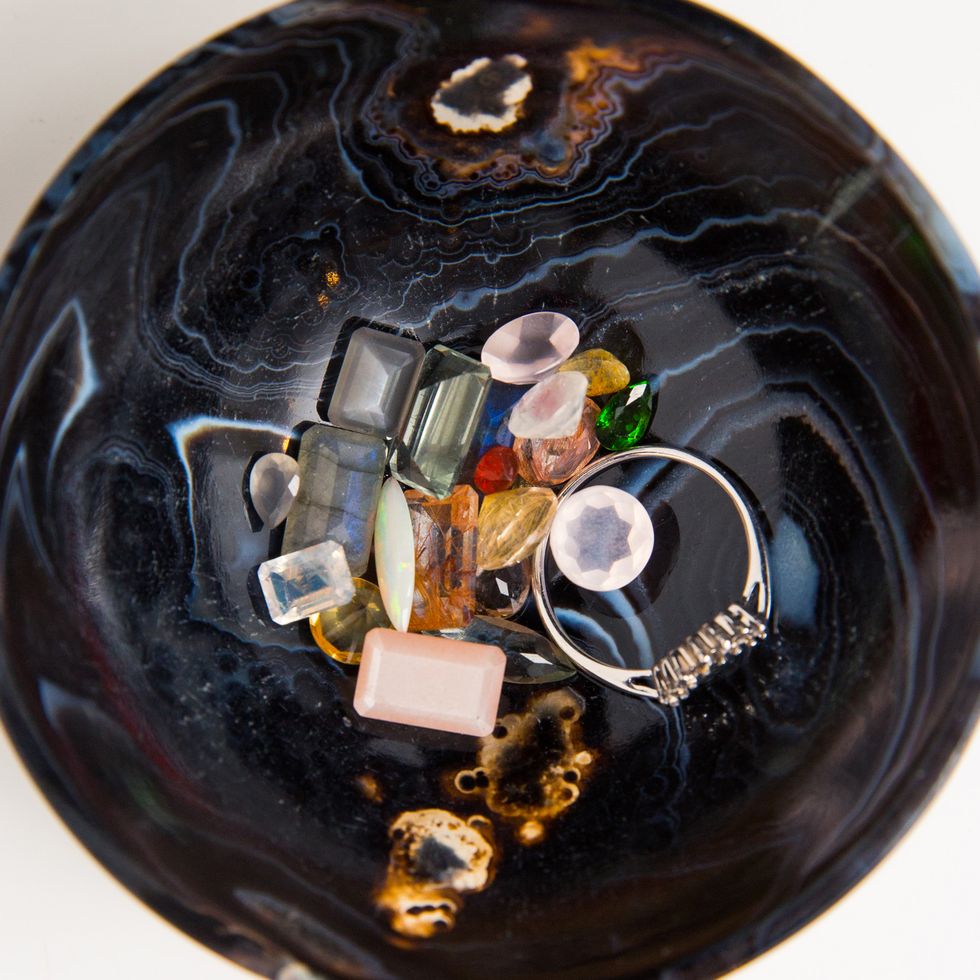 What she thinks about when designing:
"I think about wearability, particularly with rings. You can make an ostentatious, giant, beautiful ring, and some people might wear that every day. They might even sleep in it and brush their teeth in it. But daily wear for people is generally being able to reach into your pocket, run your hand through your hair, and all those teeny, tiny activities where having a crazy, cumbersome piece of jewelry might be anti-daily wear. I tend to take big ideas and try to make them as perfect as I can in a very distilled and simplified process, but still maintain a level of uniqueness. Like doing an ombre of diamonds instead of just white—dark gray to gray to white diamonds. It's not something you would notice at a glance, but when you look at it, it's like, 'Oh my god, there are like, fifty different diamond sizes in this thing, and they're all placed perfectly to make a little kaleidoscopic piece of jewelry.' There's function, there's integrity, but there's also a bit of simplicity paired with the extra effort."
Where she gets her inspiration:
"I take in so many things. I'll look at a leaf, like a variegated philodendron or something, and just be like, 'Whoa, that is so fantastic!' How things are not symmetrical, but still balanced. Or I look at art, because I studied sculpture, so I could stand in front of a Rothko for twenty minutes. I won't go home and make a rectangular piece of jewelry, but at the same time, something gets cycled through, like a little piece of beach glass. It starts out as one thing, and then you make it your own. I also write a lot too, so some ideas come as words first. I think about things in a broad way and then put them into 'notes to self'—mini personal essays that end up being jumping-off points for ideas. I will go from there and make sure those words and thoughts can be conveyed into the design."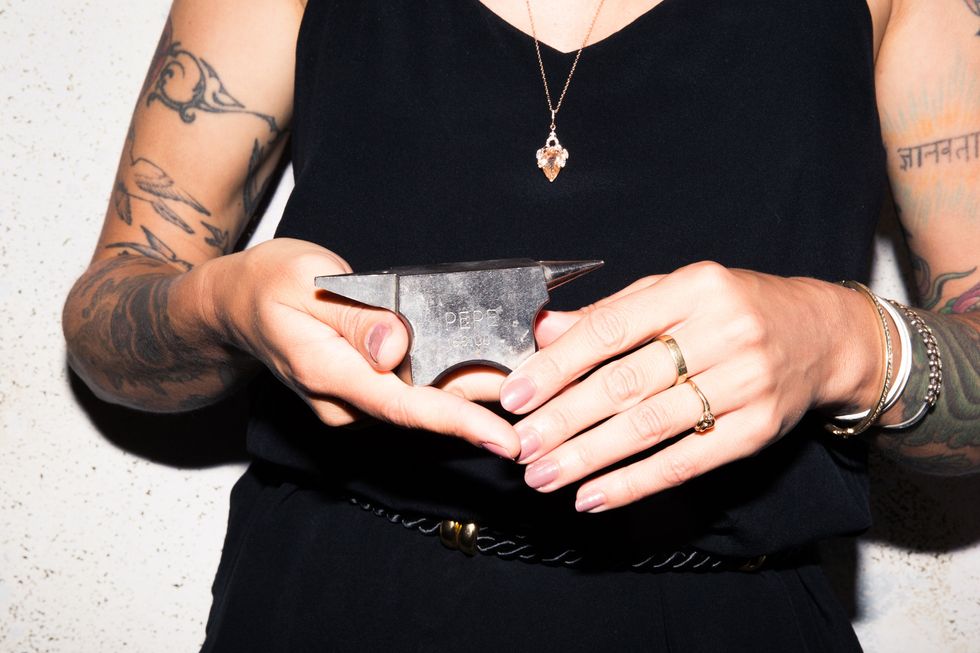 On never working in the fashion industry before starting her own company:
"I never worked anywhere. I worked in a tattoo shop, I started making jewelry, I branched out and sort of did the art thing a little. But I didn't work at a company. I feel like it's demonstrative of how [with] creativity, you can use it for the forces of good. You can use that artistic side of you that's like, 'Okay, I'm going to figure this out and make it up as I go along.' I applied that same ethos to building the company, and I still do because it's very intuitive. Not coming from fashion in many ways was a luxury, because it allowed me to make it up as I went along instead of feeling like, 'Oh, if I'm not here at this point I'm failing.' Or, 'If I don't do it this way, I'm doing it wrong.'"
Whether she's a perfectionist:
"I'm definitely a perfectionist, but in my own level of what I deem 'perfect,' which is the wabi-sabi—when something is just ever so slightly off to the left, the way that nature tends to design. I don't want a round bouquet. I want a branch with more little bloom at the farthest plank. Even my tattoos are like that. I didn't want [them to be] symmetrical, but I feel like they're balanced at the same time."
On creating custom jewelry:
"I obviously work with engagement rings and then wedding bands that go with them. But I also have a lot of clients that bring heirlooms to be remade. Everything from like, 'We've been married for twenty years and I just want a different engagement ring. Can you take these stones and do something different?' And then figuring out what that perfect 'different' is. But also, I've had clients that just brought me all kinds of stuff, and we take it all apart, see what we have, and then make some asymmetrical earrings. That kind of creative problem-solving is really fun too, because you're not just pulling from a giant net of anything—like, 'I can design anything.' It's like, no, you have to use these stones. There are four round ones, a marquise, you've got a couple of sapphires… It gives you a parameter."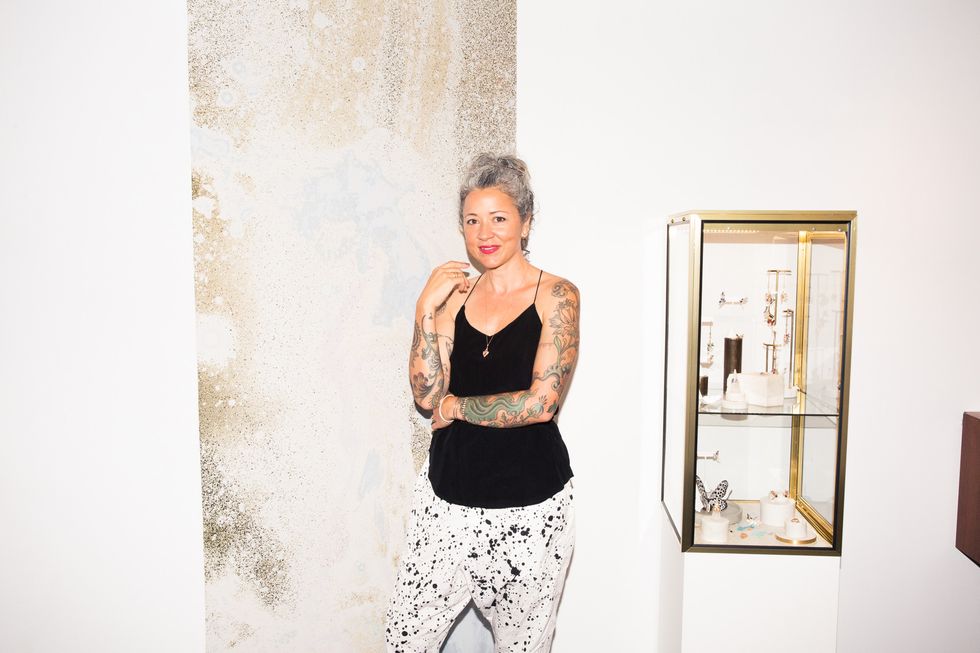 Where she gets the inspiration for custom pieces:
"It's hearing what they like and don't like, who they are, and how they came to be together, or how they came to be here, in front of me. Then trying to distill that into a piece of jewelry. It's not always as simple as 'I want three round stones next to each other and a gold band.' Sometimes it's like 'We met under a tree, and we're going to get married on a boat.' It's like these vast narratives, or 'He's a rocket scientist and I'm a....' Ok, how do we put all of that in this little token? Maybe I have a synesthesia thing, where a visual and a feeling come together."
Why she makes stackable jewelry:
"I was like, what if instead of it just being a noodle that bends, it could just be a crescent moon, and then you can make another crescent moon that fits on top of it so you could layer them? Then, oh, it could be moon-like, but there could also be just big round stones, or we could throw a marquise in there and then it becomes more elongated, or you could put a chevron shape. It just started as a teeny, tiny idea that rolled into this snowball of a thing where probably 90 percent of the collection [is] rings that fit together. Any person can walk in here and put together a completely different set because there are infinite possibilities on how you would combine them and the materials they would be made of. It's totally my ethos, but translated into a simple sort of concept that's multipliable."
Want more stories like this?
You'll Want to Wear This Engagement Ring Even If You're Single
What to Do If Your Engagement Ring Isn't...You
42 Engagement Rings for Every Type of Bride