Hair
Thanks to Studio Cim Mahony, all my hair dreams have come true.
Alec Kugler
For the past six months, I've been living as a full-fledged member of team blonde, and I have to admit, it's been extremely fun. Sure, it's high-maintenance and not exactly the cheapest color to preserve, but luckily there's nothing I love more than testing out dozens of products designed specifically for my shade. Still, once summer began to fade and with it my seasonal glow, I questioned whether to abandon my surfer-girl highlights. I needed something fresher and cooler—both literally and figuratively—to reinvigorate my blonde love.
So when I suddenly found myself preparing for a trip to Sweden, I had a light-bulb moment: trade in the bright, buttery blonde balayage I'd been happily sporting for the signature cool, pale blonde that is popular among Scandinavian women. There's something about the shade that feels like the camel coat of hair color. It fits with any color palette I might wear for fall and is undeniably expensive-looking. A handful of industry email exchanges later, I found that if I really wanted the premier blonde experience, I should travel about 50 minutes south to Copenhagen, where legendary hairdresser Cim Mahony and his eponymous studio reside.
---
Amazingly, the team at Cim Mahony Studio—aside from being the kindest and most accommodating people—brought my photographer and me to Denmark for the day so that my dreams of becoming a Nordic princess could come true. These are the types of people that insist on sitting down for a proper lunch, even when your hair is covered in 50 pounds of foil. Sure, it might be the most extra eight hours I've ever had in my life (seriously, I was the only client there, meaning my hair had true, undivided attention at all times), but I loved every single second I spent at Cim's gorgeous salon, which is also conveniently located at the heart of the city center. All the better for peering out of windows onto Copenhagen's busy Nyhavn canal with my crown of perfect champagne hair.
Nick Nørbo Jørgensen is the mastermind behind my transformation, who painstakingly painted what must have been 1,000 paper-thin layers of hair with a personalized shade of blonde. (Where is the thank-you card for that?) After I stopped hugging and gushing to him and Cim about my shiny new look, we sat down to chat about the enigmatic magic that goes into creating that perfect Scandinavian color.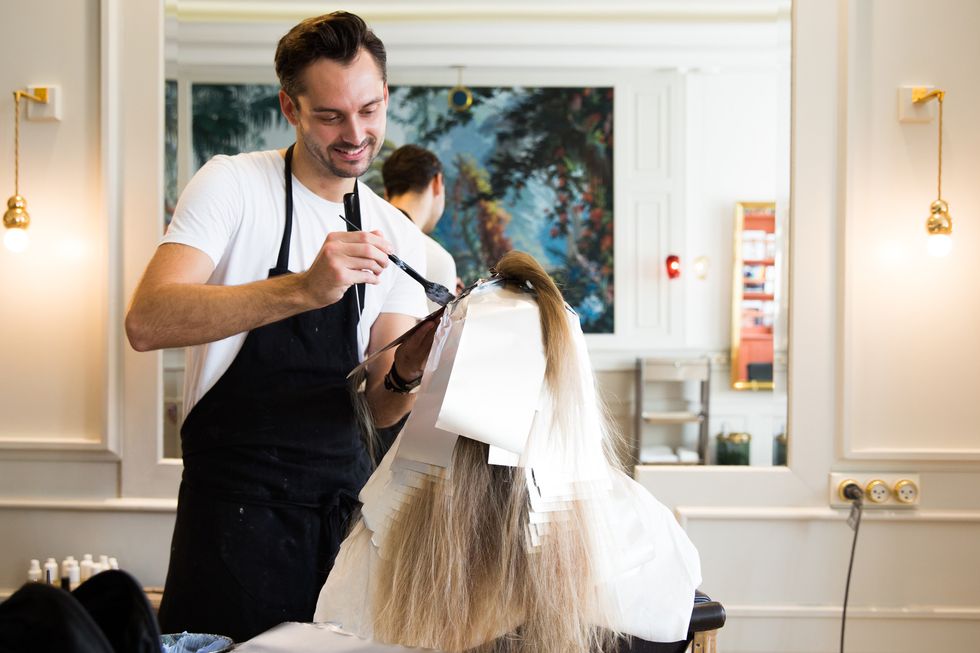 Hannah: "So, for the process of making me blonde, how did you go about mixing the colors, and how would you describe my shade?"
Nick: "You wanted to be like champagne. We took your roots a little more out and did some baby lights so they don't get too stripey—just more to get some difference in your hair."
H: "You said that you like having prominent roots in hair—why is that?"
N: "It's because it grows out softer, and when you put it up in a ponytail or something, it looks nice and more natural, like the sun has been on it."
H: "How would you describe the classic Scandinavian woman and what she wants to do to her hair?"
N: "Most of the women that come in here want to be light blonde. We have done [it] for a lot of years—very, very bleach-blonde hair. But now they want more [of a] look like beige and to gloss over the hair so it doesn't look so damaged. That is the [trend] now."
H: "So healthier hair and not as much maintenance?"
N: "Yes, but the thing is [Scandinavian] women will always be more blonde. I think they have that kind of look, the base is a little bit [of a] boring color in the roots, and they just want to have it a little bit blonder, like the sun has been on it."
H: "How would you recommend maintaining this color?"
N: "Use blue or violet shampoo and conditioner to hold on to the color. Also, do a treatment for your hair, because the sun can [make] it more yellow. When you wash it a couple times, it goes a little more gold—also if people are smoking or from the city."
H: "Do you get a lot of people flying into Copenhagen because they want to have that sort of Scandinavian look?"
N: "[They are] coming more and more, yes. After starting Studio Cim Mahony, there is a lot of flying in [because] they want to have that kind of color."