The Woman Who Got You a Date Is Ending Sexual Harassment in Business
Whitney Wolfe could have quit after revolutionizing the dating world with her app, Bumble. But she didn't. In collaboration with Bumble.
Career
The last time we met up with Whitney Wolfe, it was 2015. The tech whiz was coming off the success of her dating app, Bumble (there's a good chance you're one of the app's roughly 21 million users), and she was primed to revolutionize the dating world in a way that put women—women's interests, women's comfort levels, women's agency—first.
If you thought she'd stop there, oh how wrong you'd be. Wolfe, who just tied the knot herself in the wedding of the year, recently launched Bumble BFF and Bumble Bizz—both of which you'll read about shortly. But fame- or fortune-hungry, she is not (despite the fact that her products are wildly successful and you've likely seen her face grinning back at you from the cover of Wired); she's genuinely passionate about changing the most basic social interactions to be more female-focused. In a time when stories of workplace harassment seem to be the rule, not the exception, and hashtags like #myjobshouldnotincludeabuse and #metoo are taking over our feeds, we can't stress how badly this is needed. And on a lighter side, if there's anything that can help us make friends as an adult or make a move to a new city a little easier, that's a welcome blessing too.
Wolfe isn't just creating an empire; she's changing the world. All from her vibrantly yellow, fully custom-designed, brand-new headquarters in Austin, Texas. (More coming on that soon, too.)
Read on to hear about how she's innovating and the powerful ways she's making the digital age a better place.
---
"The same issues that exist in dating for women exist in networking."
Where the need for this came from:
"There's a lack of accountability online, and we spend all of our time digitally. That was something that really scared me after I was internet-bullied when I left the last company that I was at. It defined me for a while. I was so depressed by it, and I kind of had this like aha moment like, 'Why doesn't a positive social network exist?' I was going to do a female-only social network, and then I was approached by my now business partner. He convinced me to go back into dating, but then I was like, 'Why does dating always suck for me?' It was always that I couldn't make the first move. Guys would always think I was crazy, desperate, or forward. Society has completely programmed us to have this skewed and backwards vision of going into this whole dating world. It was a fusion of those two concepts that really turned into women making the first move on a dating platform, and now it goes beyond that with Bumble Bizz and Bumble BFF."
What exactly Bumble Bizz is:
"On Bumble Bizz, we focus more on your work credentials and your past work history than anything else. Everyone has to have a headline, and you have to be explicit—the headline is your elevator pitch, why you're here. 'Hi, I'm a CEO of a company, and we're looking to hire these three roles.' Or, 'Hi, I just left my job and I'm really interested in getting into photography. Looking for people that can show me the lay of the land!' It's more of a focus on past work experience than it is your photos.
"Women have to make the first move on Bumble Bizz. The reason we're doing that is trifold. One being this is what we're built on—women making the first move. Not only that, but the same issues that exist in dating for women exist in networking. Women get solicited by bad behavior and unwanted solicitations in dating, and it happens in networking too. When men are abusing the system of connecting for a professional reason, they can make unwanted advances towards women. We wanted to take what we've done to dating, where we weed out the creeps, and pull that into networking and professionalism."
"A man can't walk into a restaurant shirtless. Why would you think you can have a shirtless picture on Bumble?"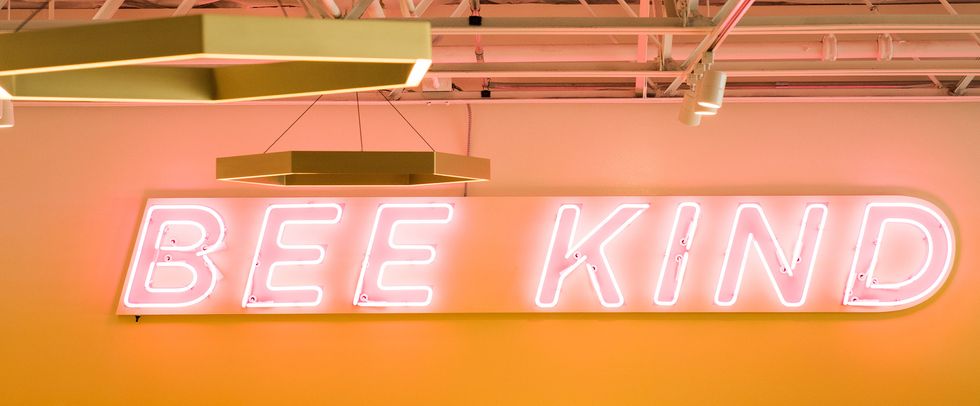 How they set a safe environment:
"We take harassment and sexist or bad behavior extremely seriously. We have a zero-tolerance policy for it. If somebody behaves in a way that is harassing, discriminatory, or hateful, they're gone. We try to emulate real life to the best of our ability, so nobody feels inappropriate. A man can't walk into a restaurant shirtless. Why would you think you can have a shirtless picture on Bumble?"
Bumble BFF started with the users:
"Our users [first] started using Bumble for [making friends]! We saw so many women being explicit in their bios saying, 'Not here to date! Just looking for a girlfriend!' Or, 'My husband or my boyfriend got a new job and we relocated to the city, and I don't know anyone,' 'Looking for someone to do girl's night out with,' 'Looking for wine night.' We really pay attention to our users, and when that feedback came in so frequently, we were like, 'We better do something about this!'"
"I stay out of most Silicon Valley events. I don't engage in that stuff. I say no to most conference requests."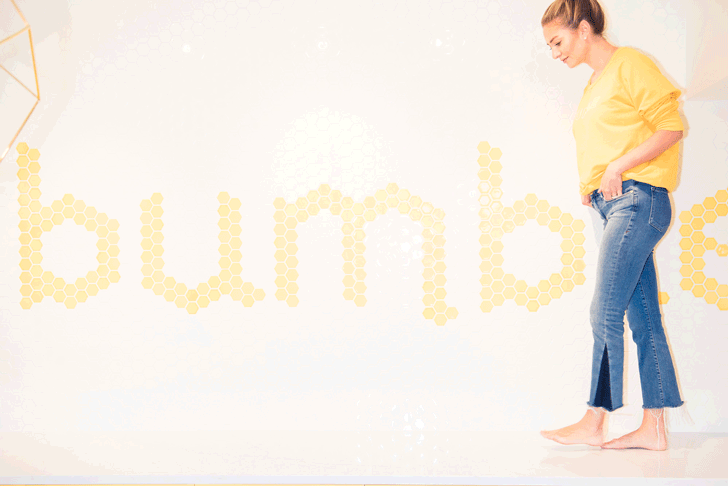 The sexist situations she still finds herself in:
"There's been so many times where I'm in a room with a bunch of men and they'll say, 'Enough with the female empowerment stuff! Get to the numbers!' I'm like, 'No, no, no! You don't get it! The only reason there are numbers is because we're doing something impactful that people care about!'
"I've chosen to surround myself with feminists. I avoid a lot of situations that I speculate would be the antithesis of that. I stay out of most Silicon Valley events. I say no to most conference requests. I say no to a lot of meeting requests when I feel like it might have a negative impact. I'm extremely affected by those things; I'm such a sensitive person that my only way of dealing with it is to quite frankly rise above it and stay away from it."
"Work backwards from a problem. Don't go out and try to create one."
How changing the world was always part of the plan:
"I would not be able to wake up in the morning and go to work for something that didn't have positive impact. I'd feel so empty. I don't think I could be doing something purely for profit.
"I always had this inkling that I needed to figure out how to prevent the [type of] relationships I had always been in. Like, 'How can I be a catalyst for change?' But I never foresaw it being this. Ever."