On Jordan: Jacket, John Elliot; Pants, Helmut Lang; Sneakers, Lanvin
On Majid: Jacket, Majid Jordan x Alpha Industries; Shirt, OVO; Pants, Larte; Sneakers, Nike; Hat, LIVMORE
Celebrity
Two talented musicians, one Nintendo Switch, and a whole lot of fashion.
Renée Rodenkirchen
Our shoot with Majid Jordanwas a few months in the making. We needed to find the *perfect* place and time. Sure, we could have met up with them in NYC or L.A., but where we really wanted to catch the two OVO artists was in Toronto, the city where it all started with Majid Al Maskati and Jordan Ullman making music in Jordan's basement studio. Things eventually fell into place—as they tend to do—and a few Fridays back we met up with the. at Toronto's go-to west end bar, Apt 200; it just felt right.
Both Majid and Jordan were in high spirits, and within minutes of walking into the bar, Majid set up his Nintendo Switch and started playing some music for us—a few tracks on his current rotation, all of which we compiled into a playlist at the bottom of this story (you're welcome). Their good moods weren't unwarranted. Not only had they just wrapped their fourth project together, The Space Between, set to release on October 27, but they're back in Toronto.
As we chatted, played some video games, and eventually set things up—pulling out their outfits and getting them styled by creative director, Jamie Webster—we couldn't help but notice the Majid and Jordan's brotherly-like bond. The two were finishing each other's sentences, and when The Space Between came up, you could feel their passion for the project in the room. We definitely became even bigger fans.
---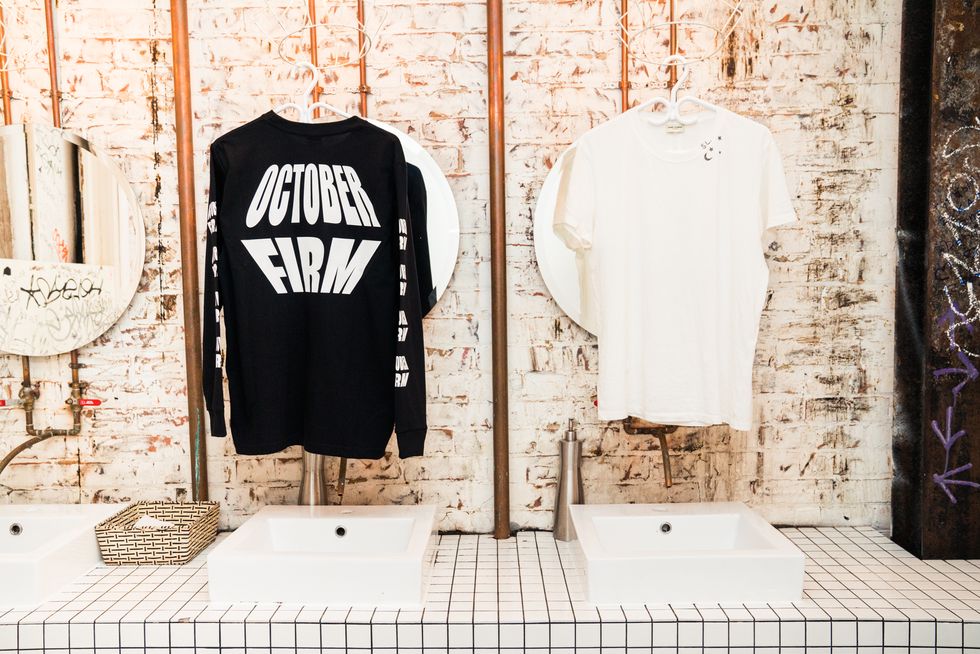 What went into The Space Between?
Majid Al Maskati: "We've been working on the album together pretty much for the whole year. We began working on music and it slowly became this idea of The Space Between—the name of the project. We went through different experiences over the years—the highs of traveling and feeling all that love from all those fans and then sort of coming down and being in Toronto again, trying get back on life track. Seeing the people that we love, that we care about, reconnecting with old friends, stuff like that"
Jordan Ullman: "We're really into these artists that are putting up pieces of work that have seamless transitions and take you through a journey—we really wanted to do that and always kept that in mind [with] The Space Between. The name really started to work organically. Some of the transitions are very seamless, some involve silence. Some are key related, some are lyric related, and the more you listen to this album, the more you're provoked to hear something new. [It's] like a movie almost. There's a plot, there's a definitive beginning and ending. You need those."
You guys mentioned you get pretty creative when it comes to studio setups?
MM: "When we go to L.A. we usually find a house that we can stay at and that a couple of friends can stay at, to create an atmosphere that's comfortable. We go to great lengths to build studios in places so that we don't actually have to go to real recording studios. Last house, we flipped a massive couch and put it on its side, built a fort, and it ended up becoming a vocal booth. Jordan brought a desk down and it became a den studio. That's where we finished the project. We're in a process of building a real studio in Toronto that would allow us to work whenever we want. We want to be set up in Toronto. This is the city that we love."
Let's talk about each of your personal styles:
JU: "I enjoy that process of just having fun with it and not taking it too seriously. I'm in preset mode—I like to have different presets. I think of those video game presets when you're trying to choose which outfit. I always loved that [and] had a fascination with that."
MM: "Building your character. Looking at it almost like a game."
JU: "Yeah, like if this hat goes with this sweater then let's get some crazy shoes to go with it and make that whole outfit. Then I'll wear that outfit a week after, too."
MM: "If I find a good one I hang it up in my room, pick it up in the morning, and just go on with my day."
Any favorite designers either of you gravitate towards?
MM: "I've always loved Marni—that's a brand that I've always fucked with. I'm wearing this Latre designer from Toronto—I really like his stuff, too. It's stuff that I'm really not used to wearing—bigger, baggier silhouettes."
JU: "I love that about fashion—you buy these pair of pants and be like, 'I'd never wear these,' and then they are your wardrobe for three months. That defines you as a person. Taking that risk. I wore these. I bought these. I really like Helmut Lang's stuff this year. Phillip Lim. I've always loved Gucci."
MM: "When we're in the studio it's cozy—slides, sweats, just comfortable all the time."
It's clear you're both becoming more involved with fashion. A good example is the song you created for the Louis Vuitton SS18 Paris runway show:
MM: "That song happened really quick. [Jordan] made that beat the night before and I came into the studio and just free styled. I had these lyrics for a little while and never really sang them. Then I got on that beat. I had the beginning of one verse and we kept going. We were actually asleep when the show happened—we were in L.A. We woke up and the song already had a name. Fans [named it] 'Gave Your Love Away.'"
JU: "Honestly, as much as we make music and we have these ideas—we want to get into film soundtrack and all these things—I never really thought about making music for a runway. It opened our eyes in a way like, this is completely new way to touch all these people in a very unique way."
You each brought a special piece to set with you today. Majid, your Rolex, and Jordan, your Gucci hat:
MM: "My grandfather, he worked 45 years in the same job for the government in Bahrain and as a retirement gift they gave him a [Rolex]. He gave that watch to my father, then my father gave it to me after I graduated university—it was around the same time I signed my record deal. He gave me a case for it [and] I take it on tour with me—it makes my room feel cozy."
JU: "I needed [this blue Gucci hat]—it matched my hair. It's a one-of-one piece [laughs], I love it. Yo, if I'm putting nice shoes on my feet and I'm going to put a $30 hat on my head, what am I doing?"
Alright, last question. What advice would you give to those looking to break into the music industry?
MM: "There is no industry."
JU: "As soon as you create that industry in your head it's game over."
MM: "Try to build what you want for yourself, for yourself. That's the most important thing because if you can do that and you feel good then you can give that feeling to other people. Music is a therapy. All of our albums are non-explicit. Every project that we put out is non-explicit. We made that decision. We wanted to reach out to as many people. It's not catering to people in a sense—it's almost like we're catering to ourselves. We want everybody to be able to hear."
Can't wait to see what you guys have in store for us next:
JU: "As Majid Jordan, where we're going—it's a beautiful place that we are in right now."