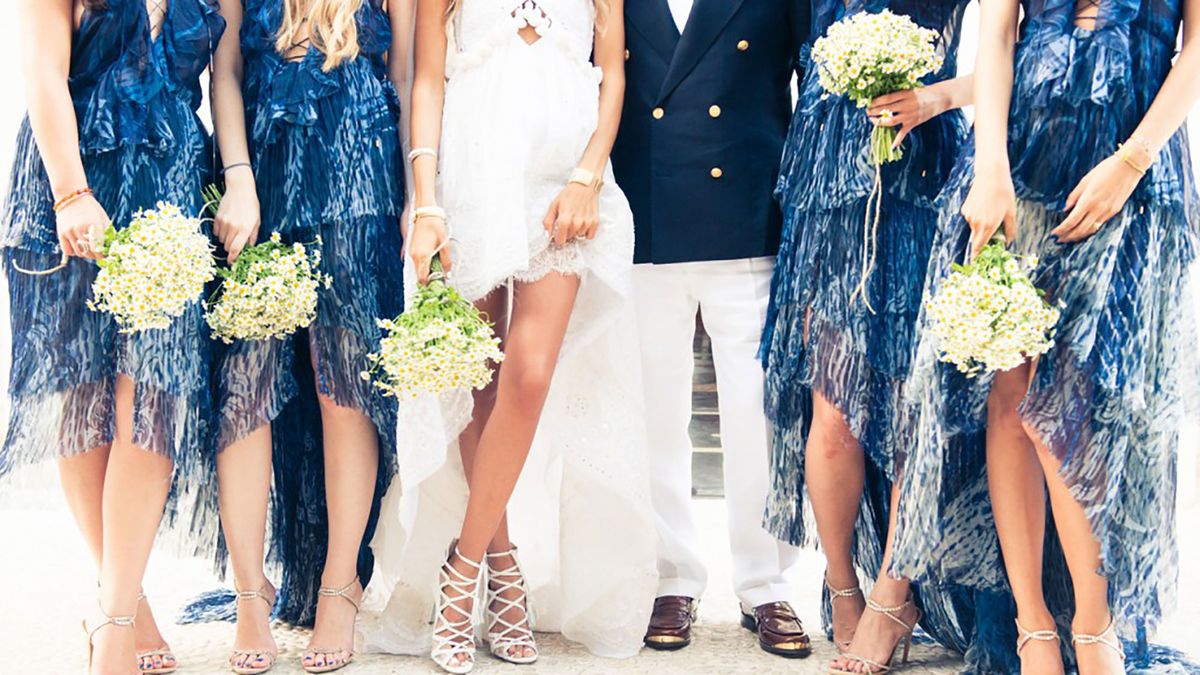 Weddings
A list in order of priority.
Here's the thing… For your wedding, you *could* book the band that was playing at the bar where you and your affianced met. You *could* have Dominique Ansel make you a custom cake that perfectly mixes the flavors you both love. You *could* hire Mary Katrantzou to make your bridesmaids custom dresses—and then invite her to the wedding (oh, wait, someone's already done that). Hell, you *could* commission Julian Schnabel to paint your portraits to be displayed during reception. You could also be a multi-millionaire, in which case the above might actually be something to consider. For the rest of us, however, throwing a wedding is often a matter of priorities—do we have the hand-drawn place settings and menus, or do we hire a DJ who doesn't insist on "My Girl" for the father-bride dance moment?
With that in mind, when it comes to achieving the wedding of your dreams, who should you hire first? We're the types who would drop the entire budget on five different dress "options," so we asked a real expert, Stefanie Cove, an event designer and producer, who regularly pulls off seriously major weddings all over the world. In other words, she's well aware of all the moving parts—the ones that are strict requirements, as well as those that are less, um, necessary, let's say. "A lot of this depends on a client's perspective," says Stefanie, which makes a lot of sense. "For example, if a wedding cake is MOST important to them…they may want to do that first. But in my process of planning, that is not how it works." Here's a basic guide for what comes first when it comes to wedding planning—and what you should be spending the most money on up front.
---
Planner. "A full-service planner should help with all of the first stages of the planning process, including the location or venue, which should be the number one task, as it determines the date, hotel lodging, etc. A planner should also help negotiate contracts for you in the beginning stages."
On-site planner. "Even if not full-service, I recommend you absolutely find an on-site planner for any destination wedding. They are most familiar with the vendors and contacts at the destination and will be invaluable to you!"
Photographer. "These are the memories you will have forever, so I suggest researching and selecting your photographer as soon as you have the wedding date. Not only should you be looking for talent, but also select someone who you are comfortable being around. They will be with you on your most emotionally charged day yet!"
Band. "Music is one of the most important elements to the evening! The best bands book fast, so I suggest working on this as soon as you have a date in stone."
DJ. "Even though it may be a bit easier to reserve the DJ of your choice than a band, if you are going this route, I suggest doing your research in the beginning and hiring your number one choice."
Event designer (if your planner isn't already handling it). "Whether it is your planner or a separate event designer, this will be important for the entire process of your wedding weekend. You really need someone that understands your taste and overall vibe that you want to translate to your guests for each event."
Florist. "This also ties into the event design/producer. A good planner should be able to refer the best florists for your aesthetic and personality."
Caterer. "For most of us, yummy food is a big-ticket item! Although it really depends on the venue and if it is already confirmed when you book your location (i.e., a hotel). Otherwise, selecting a caterer is very important, and I suggest checking out menu samples as well as asking questions about their staffing policies (for example, what the ratio of servers and bartenders is to the number of guests)."
Invitation designer/illustrator. "Since likely the first thing you will do after confirming a date and location is send a save-the-date (whether printed or electronic), you need a paper resource. Most invitation companies are now doing electronic invitations as well, so you can utilize their graphic designers for all paper-related items during the wedding process."
Videographer. "The videographer is an important aspect as well, and you should book early in the process to guarantee your date. There are many different styles of videographer, though (film vs. digital, incorporating speeches vs. not, etc.). Make sure you check out a few before making your final decision."
Baker. "Once you have your planner, location, photographer, and music, I suggest you begin talking about cake. Or, if you are not interested in a wedding cake, perhaps you will decide to use a variety of bakeries to create an amazing dessert display. This can happen further along in the planning process as it isn't quite as time-consuming (in most cases!)."