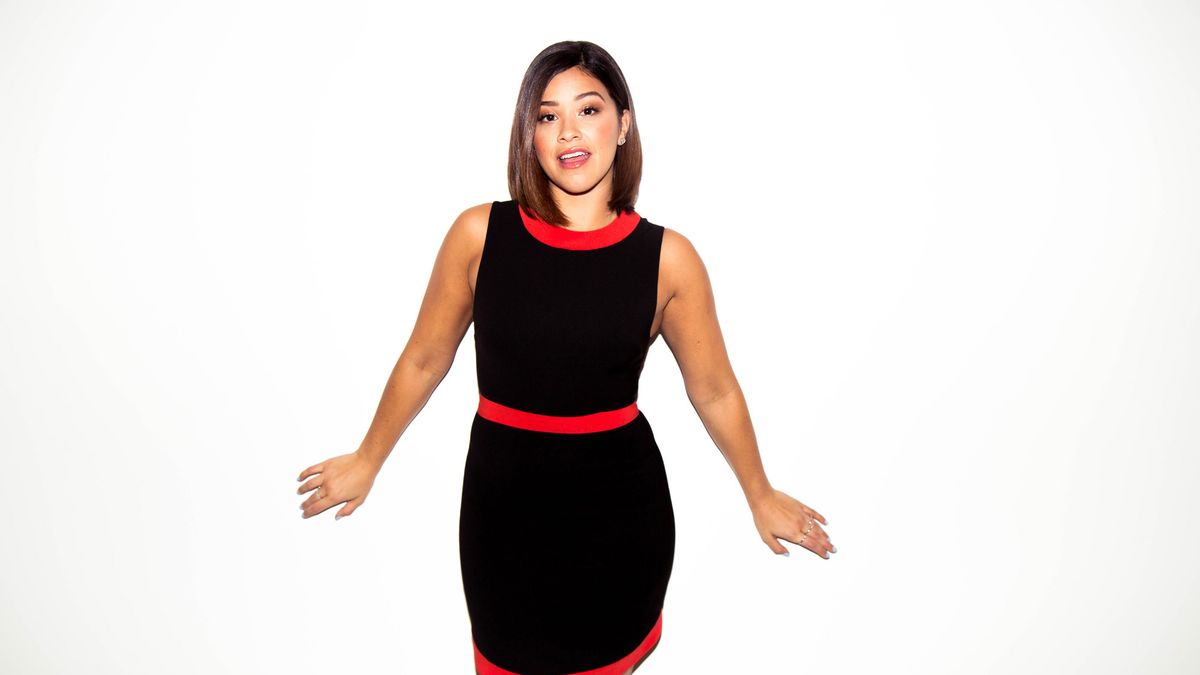 Celebrity
We chatted with the Jane the Virgin star about season 4, hosting get-togethers, and how she *really* got her start.
I always expected Gina Rodriguez to be nice, but speaking with her on the phone, I realize "nice" might be an understatement. She laughs along with my questions, admitting she's nervous for The Ellen Show and grateful for my support. Not that it's hard to support her; Rodriguez is sweet and talented, and her highly addictive show, Jane the Virgin, is one of my favorites. I've been a fan for a bit, and it's refreshing to know she's just as nice as she seems.
It's easy to see why Stella Artois chose to partner with Gina: Her warm, welcoming personality is that of the perfect host, and the video where she's having a get-together at her home, complete with some beer, seems authentic. Read on for our conversation about "hosting one to remember" (which happens to be the name of the ad series), as well as what's in store for Jane this year, women helping other women, and the interesting, not-often-talked-about beginning of Rodriguez's career.
---
The campaign seems very authentic, because I always see on Instagram that you're having people over. Do you enjoy hosting?
"I love having people at my house. Me and Joe [LoCicero] have become quite the hosts. We love catering to the people we'll have over—what kind of food they like, if they like a certain type of music. Is it our boxing fans that are coming in? Are we doing a barbecue? We like to host specific to our guests. And it kind of means a lot to people who love memories. Over anything else—possessions, anything you can buy—people love memories most. To me, that's the greatest gift you can give to me or to somebody. That's what we try to create—crossing of universes, and [introducing] new people that we think would be great to meet. That's my favorite thing, when two people meet that otherwise wouldn't have because of having a get-together at our house."
Jane the Virgin is now on season 4. What can we expect this year?
"Because I'm directing this year, I've been able to get in and watch a lot of the editing process and shadow all the other directors, so I feel like I'm involved now more than ever. And it is so good. It's sooo good. I love, love this season. There's just so much joy. There's so much family. There's so much heart. There's so much happiness. It's really the season where Jane kind of gets that joy back, because she's been going through a lot. So I'm excited for this year."
I also just spoke to DeWanda Wise (interview coming soon!), who credits you for helping start her career. She said you used to work at a management company and sometimes used to pitch yourself for parts. Is that true?
"A hundred percent. A hundred percent. I've known Dewanda since I was 17 years old and we were freshmen at NYU together. I mean, I'm quite the ambitious little, like, jackhammer—I've always known I wanted to be an artist, and I've always kind of gone after it any way I could. Interning at a management company, then working at a management company so that I would be able to understand the business side of the industry, was important to me. I did that, and then I just ended up signing all my girlfriends at NYU. All the girls who had it really tough, all the brown girls. We all had it really, really tough. The industry was not as inclusive as it is now, but that was our reality back then, in like, 2002 in New York City. Definitely DeWanda owes nothing to me because that woman is beyond talented, and she literally is like, a dream. I love her, and I love our journey this year. And it's never going to stop. We're all going to continue to help each other grow and get to where we need to go."
I love that you said helping each other, because the world needs more women helping each other.
"That's a cultural norm that needs to be shifted, because if you think about it, historically, for women, there was only one seat at the table. So culturally, we were like crab in the barrel—everybody's fighting for that one seat. But that's not the reality, nor should it ever have been. There are more opportunities. Instead of clawing our way to the top, we can ant-hill effect; we all help each other get to the ant hill, and then we all eat. We open the door and 'Run, girl! Get inside before they close it!' That's the world I want to live in. That's the world I live in. Period."
Can you tell me about your upcoming film, Annihilation? It's definitely not a comedy.
"No, it is a hardcore sci-fi psycho thriller. It's me and four other incredible badass women, and it is done by the genius of Alex Garland. Natalie Portman, Jennifer Jason Lee, Tuva Novotny, Tessa Thompson… I just feel so empowered by these women, and they're my friends, they're my loves. I'm really excited for the world to see it. It's very different. Very different. It is unlike anything anybody has ever seen. It is intense."