Shopping
These Jeans Look Good on Literally Everyone
Say hello to the dreamiest denim of the season. In collaboration with Gap.
Meagan Wilson
Bustle and Coveteur are working together to bring you the best mix of the season's fashion and beauty releases, shopping tips, and service stories in ways that are both inspirational, and attainable. Check The Fall Style Edit channel weekly to see what we're up to.
If you've ever experienced the life-changing moment of stepping into *the* perfect pair of jeans for your body, you know that it feels more or less like angels singing and rays of light beaming down on you—even if, in reality, you're in a poorly-lit fitting room. They hug you in all the right places, and most importantly, make you look like you've got legs for days. Who doesn't want that?
Similarly, if you've found *your pair*, you know that truly great denim isn't always the easiest to get into. Hands up if you've contorted your body in ways you didn't even know were possible while pulling on said perfect jeans? Yep, been there. That's why, when Gap announced their new Super Slimming Denim, we were more than a little intrigued by their premise: they use an innovative technology that ensures there's no stretch in what denim experts call the "weft" (aka left to right—and what typically leaves your jeans looking stretched out and saggy), but plenty of stretch in the "warp" (the fibers in the fabric that runs up and down). The result? An incredible pair of jeans that will leave you with longer, leaner legs, and just enough stretch to feel like a second skin.
Since we're always up for a challenge, we figured there was no better way to test Gap's Super Slimming Denim than to have two members of Team Cov, and two staffers from our friends over at Bustle, determine whether they are truly worth the wiggle. It's a small price to pay for jeans that make you feel like the absolute best version of yourself.
---
---
Stephanie Mark
Co-Founder, Head of Business Development and Partnerships, Coveteur
---
Her dream pair of denim:
"My ideal pair of jeans makes my butt look A+ (think: good curves and perky!), plus a high-rise."
Her denim icon:
"I love Gwen Stefani in the early '90s: baggy jeans and a crop top. For me, that's the ultimate inspiration."
Her body type:
"I'm definitely curvier on the bottom than I am on the top. Because of this, I usually look for pieces that accentuate my bottom, and that have a higher rise to frame the waist. I usually go for a lighter wash, but recently have been getting into darker washes, too."
Her first impression of Gap's Super Slimming Denim:
"I don't usually wear denim that's super tight, so it took me a couple of minutes to get used to the fit. By the end of the day, I was really into it.
"I have to say I loved how they made my thighs look! The only way to describe it is that they looked firmer. I loved the dark wash because it was something I don't usually wear, and was happy to know I could easily incorporate it into my wardrobe."
Time elapsed getting into her jeans:
"I would say it took me about 30-45 seconds to wiggle myself into the pants. Definitely worth it!"
How she'd style them:
"I would stick to the basics and wear with a solid t-shirt or tank top for day. For night, I would add a stiletto, but have the top be a bit more fun and colorful."
---
Jackie Bernstein
Director of Branded Content, Bustle
---
Her dream pair of denim:
"I live in skinny jeans, but a good pair is hard to find—especially when you're petite and have a butt. Often, I have to choose between (a) jeans that fit my butt and are loose in the waist, or (b) jeans that fit my waist but crease under my butt because they're a bit too tight.
"My holy grail is a medium-rise pair that fits perfectly at the waist (doesn't ride up or down), is crease-free in the thigh area, and has enough stretch for me to go about my business."
Her denim icon(s):
"Honestly, probably someone like Paul Newman or Steve McQueen. The style is bit rumpled, rugged, and effortless, but never sloppy. You throw on a white T-shirt and jeans, assemble a quick Canadian tuxedo, and go. The ideal vibe is that you haven't tried at all. You just happen to look incredibly cool.
"The other secret is that Newman & McQueen raced motorcycles and played outlaws in major motion pictures. I have done neither of those things. I am wholly convinced that being a movie star is one key way to make your jeans look amazing."
Her body type:
"Petite but with an athletic frame. I have some muscle to me, which can make finding jeans difficult."
 
"Honestly, I actually had a fine time getting into these! I didn't have to sit down and roll them up. They were true to size in that they fit my waist and my butt perfectly, and they didn't suffocate my calves/ankles. So it only took a few hops to pull them up—10 seconds, max."
Her first impression of Gap's Super Slimming Denim:
"The first thing I noticed was that they were super soft but held their shape (and mine) as I tried them on. In other words, they had a nice amount of stretch, but they felt like soft denim rather than a true 'jegging'.
"They fit my butt and waist perfectly, didn't crease, and didn't feel like they were constricting me."
Time elapsed getting into her jeans:
"Honestly, I actually had a fine time getting into these! I didn't have to sit down and roll them up. They were true to size in that they fit my waist and my butt perfectly, and they didn't suffocate my calves/ankles. So it only took a few hops to pull them up—10 seconds, max."
How she'd style them:
"Given that I plan my closet around a rotating cast of skinny jeans, I could see myself wearing these year-round. In cooler months, with perhaps an oversized sweater and boots, or in warmer weather with a simple tank or tee. and fun mules or platforms."
---
Lauren Gonzalez
Director of Production, Coveteur
---
Her dream pair of denim:
"My ideal pair of jeans elongate my legs and lift my bum. You know, like J.Lo."
Her denim icon:
"J. Lo, Lauren Hutton and Britney Spears and Justin Timberlake at the AMAs that one time. Anyone that can make denim work for the red carpet is my hero."
Her body type:
"I'm pretty petite (5'2 and 3/4" to be exact) and have a short torso, so anything that hits too high on the waist, or is too wide in the legs doesn't really work for me. I love a black jean or dark denim wash—easy to wear to work, and then out for drinks or on a date with my boyfriend."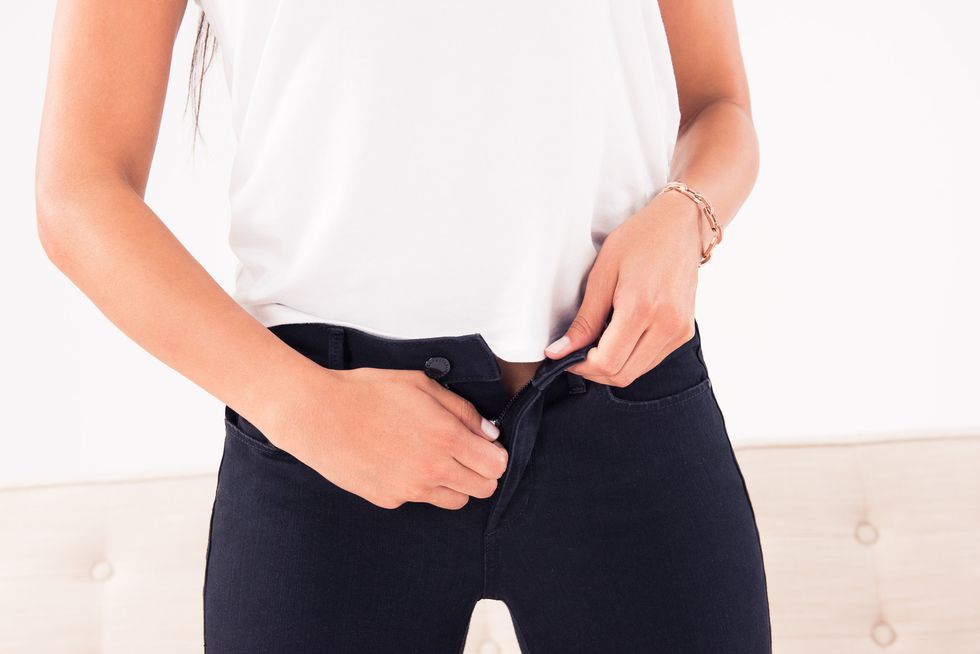 Her first impression of Gap's Super Slimming Denim:
"The first thing I thought was no muffin-top, which never happens in skinny jeans. They hugged and lifted me in all the right places. Like every other predictable New Yorker, I mostly wear black, so I naturally gravitated towards the darker wash. The super slimming jeans are so easy to incorporate into my wardrobe—they're super stretchy and comfortable so I look put together without sacrificing comfort."
Time elapsed getting into her jeans:
"I'm not going to lie, getting the jeans on was a bit of a struggle—there was a lot of lunging, kicking, squatting, jumping and definitely some wiggling. All in, it probably took a good 2-3 minutes to feel settled in them, but after having them on I felt (and looked) great."
How she'd style them:
"I'm always on my feet during the day, so comfort is key. For work, I'd probably throw on a t-shirt and loafers, or a pair of sneakers. For a night out, I wouldn't change much except maybe my shoes. I like to think I'm pretty low maintenance, so a swipe of eyeshadow and some booties and I'm ready to hit the town."
---
Melissa Louis-Jacques
Sales Planner, Bustle
---
Her dream pair of denim:
"My ideal jeans would be high waisted with a bit of stretch to them—I like the coverage, plus I have a small waist, so the style flatters my figure well, making my butt look nice and full. I love denim that can really show off a woman's shape."
Her denim icon:
"Anyone who can show their curves well in denim is an idol to me!"
Her body type:
"I have a pretty average body shape—but I like the minimal curves I have. I can look womanly when I'd like to, but can also pull off the boyish look. I always, always, always look for high-waisted, black, slim bottom with some stretch to it. No raw denim or light washes for me!"
Her first impression of Gap's Super Slimming Denim:
"I must admit that I like how they held me in and they were quick to form to my shape (granted I was jumping around in them quite a bit). The black ones were my go to. They looked tight but I felt supported and curvy, which I like. I felt like a woman; I felt good."
Time elapsed getting into her jeans:
"The Super Slimming Jeans were pretty slim—it took a me a couple minutes to 'wiggle in.'"
How she'd style them:
"For the shoot, I had the denim paired with a body suit, which was pretty sexy for me, but I felt like everything hugged my body in a good way. I felt comfortable! Usually I would pair with a loose romantic top. Denim to me is also very casual, so I would most likely wear a heel/wedge to dress it up."