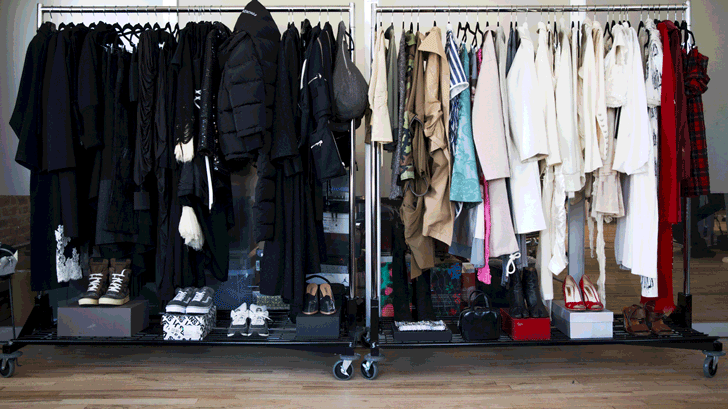 Fashion
A New Resale Site Has Everything We've Ever Regretted Not Buying
We can finally get that Comme des Garcons dress we saw at the MET.
Alec Kugler
The Soho office of the men's resell site Grailed is brimming with hard-to-find archival designer pieces, or "grails," as the staff tells me. Fashion enthusiasts like A$AP Rocky and Luka Sabbat frequently stop by to source designs they've been looking for. As I run my hands through the racks, the team tells me about the time A$AP Mob stopped by to find rare Raf Simons pieces for the video accompanying their aptly titled ode to the designer, "RAF."  One of the song's lyrics is "Please don't touch my Raf," which also describes the general attitude of Grailed's one million plus users. Many are so fashion-obsessed they're just as likely to wear what they buy from the site as they are to display it in their home like art. Today, that group of fanatics is set to expand with the launch of Heroine, the Grailed team's foray into womenswear. While at the office, I spot a vintage tulle caged Commes des Garçons dress that was displayed as part of the Metropolitan Museum of Art's Rei Kawakubo retrospective. Suffice it to say, the inventory is legit. 
---
Brand director Kristen Dempsey, who previously worked at Dover Street Market, chimes in every time I pull something off a hanger. I see a pair of jeans coated with flaky pink paper. "Margiela spring/summer 2010, look 13!" she says. "[That] collection was said to be about volume and texture. It wasn't well received, but [it] yielded some interesting pieces coated with real paper and foil." When I turn my attention to a black Alexander McQueen dress accented with white ruffles, her eyes grow wide. "This dress is something that he designed before his death," she says. "I have a photo of a woman with Sarah Jessica Parker who is wearing this exact dress at his funeral, but I can't figure out who it is."
The in-office archive is meant for the Heroine team to admire and pull from for online editorials and for VIP clients to shop, but it's also indicative of the types of pieces they want on the site. "A 'grail' is short for Holy Grail, which is an item that you're seeking for, that you're on a quest for, and when you find it, there's this kind of completeness," Dempsey says. "I wanted the women's site to have this same kind of mythology and feel like it was this almost larger-than-life journey or story."
In addition to giving fashion obsessives a platform to buy and sell from one another, Heroine provides historical editorial content to add context to its selection. The Heroine user, Dempsey says, is "interested in the full timeline of clothing rather than something that's immediate [and] trend-focused." Although not everyone has the encyclopedic fashion knowledge that Dempsey does, she'll hold everything on Heroine to that standard. "When I have writers and they're researching, I'm like, 'Okay, you read the Vogue article, but maybe go to the library and get a book out.'"
Last week as I scrolled through Heroine's beta site, I liked over 47 items in under 30 minutes. (Oops?) I found pieces I've only ever seen photographed on the runway, things I've always wanted but couldn't afford, and designers I've never heard of. The site is as much a shopping experience as it is a learning experience, and if Grailed is any example, Heroine is about to be fashion insiders' latest addiction.
As for the pieces Dempsey would have to buy if she found them listed on the site? "My number one is Miu Miu's spring/summer 2010 [collection]. It was these prints with swallows and cats and all this crystal work, and they're like, baby doll dresses. I can't think of a collection that's more perfect than that." She pauses before jumping up. "And not to be a stereotypical fashion girl, [who] in most ways I'm not, but if the yellow Dolce and Gabbana set Cher wears in Clueless [came in], I would buy it immediately. I wouldn't even have to think about it." That is, if she got to it first.
Want more stories like this?
A Fashion History Obsessive with a Closet of Archival Prada to Match
The 6 Stages of Understanding Comme des Garçons
Inside Fashion Unfiltered Katharine Zarrella's Closet