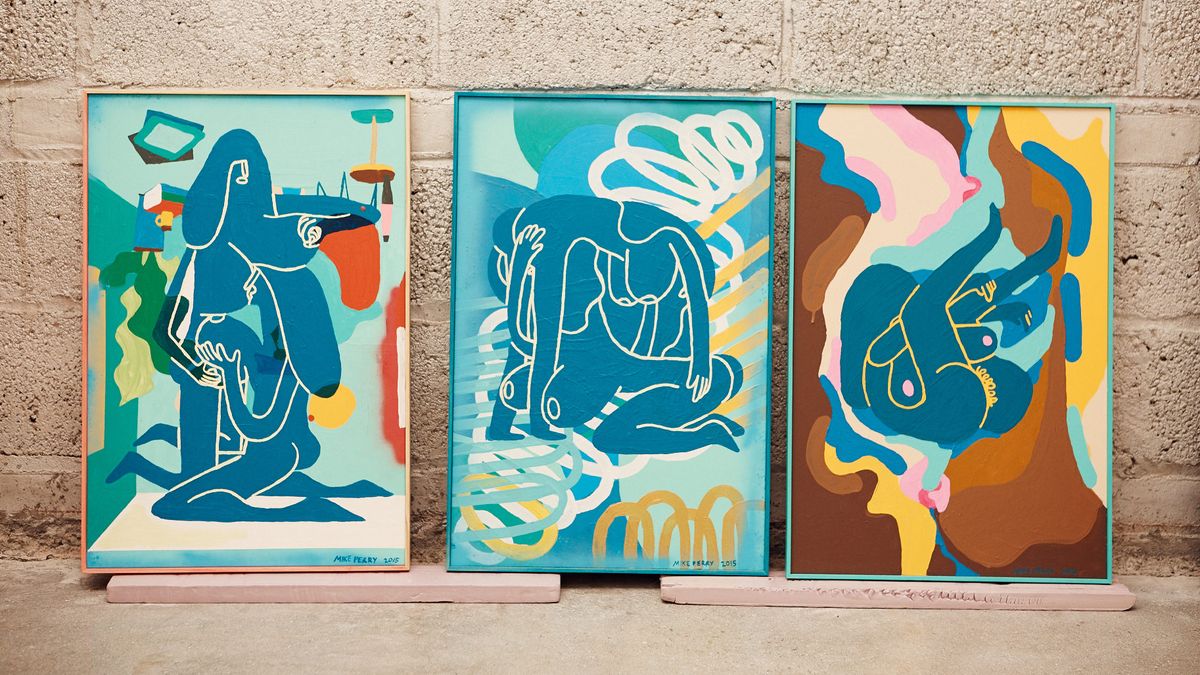 Culture
Take a peek inside artist Mike Perry's incredible Brooklyn studio.
Weston Wells
It takes a surprisingly brief amount of time after entering Mike Perry's studio to begin discussing the fourth dimension. "We've been thinking about [our work] in a dimensional sense," says the artist as we lounge inside his meticulously arranged Brooklyn office. Vibrant, abstract paintings of nude women cover the walls next to an array of wood carvings, sketches, paper chains, books, records, paint cans—the list goes on. It's a multicolor wonderland with nary a paintbrush out of place. He adjusts his signature black-frame glasses before elaborating, "Francis just joined the [Mike Perry Studio] team a few months ago. He's a writer, so he's our one-dimensional voice. I do mostly two-dimensional work. J does the three-dimensional pieces, and Isam is our animator in-house, so he does our fourth-dimension."
As he speaks, my brain is whirring; I'm fascinated. His dog Bass ("like the fish") lounges at my feet next to a custom plywood coffee table. The languid nature of both man and dog suggests they don't suspect my sudden revelation, and why should they? This is just an average Tuesday for one of NYC's most innovative artists.
Even if you're not familiar with Perry's name, you've likely seen his designs at some point over the last four years—the trippy, colorful graphics on Broad City are his handiwork. After one glimpse at the kaleidoscopic work space, his team's contributions to the show make perfect sense.
Check out our behind-the-scenes look at his Brooklyn studio and find out how Chuck Jones inspired his love of drawing, why he loves spending time alone, and how he first got connected with Abbi and Ilana.
---
1 / 28
"I was six, and my mother bought me this book called Chuck Amuck about Chuck Jones, the creator of the Looney Tunes, and a set of colored pencils. Those two things coming together at the same time made me think, 'I should maybe do drawings.' I spent the next year of my life just drawing every single one of those cartoons, page after page, in my own sketchbooks. The act of creation like osmosis, if you will. That was my first big epiphany of 'I like drawing. I can draw.'"