Living
4 Years After Cofounding Black Lives Matter, Patrisse Cullors Is Still Fighting "Like Hell"
We talked to the activist about her new memoir, motherhood, and being a leader of the resistance.
Tristan Kallas
A few weeks ago, when I got on the phone with Los Angeles-based Black Lives Matter co-founder Patrisse Cullors, I asked her a very loaded question: "How are you?"
Loaded not because I had reason to believe she wasn't doing well, but because, as a black woman also, I know that even on the very best days, society's disdain for black people and disregard for black lives is palpable—and that always weighs heavy. So when Cullors says that she's good and we continue to talk, it's apparent that she is fine in many ways, though I don't equate that with sweeping contentment. Four years after founding Black Lives Matter with Alicia Garza and Opal Tometi, there's still a lot of racism for Cullors to combat and a lot of work for her to do.
"Part of starting Black Lives Matter for myself, Alicia, and Opal was to talk about bringing anti-black racism to the forefront," Cullors says. "We were living in a country that was essentially saying we were post-racial because we had elected a black president, and black communities at large—poor, black communities in particular—black folks who were at the margins, who were formerly incarcerated, who'd been convicted, black women, single mothers, [and] black trans women [and men] knew that racism wasn't over."
---
Sparked by the acquittal of George Zimmerman over the killing of Trayvon Martin—and landing under a national spotlight during the tumult that erupted in Ferguson, Missouri, after Mike Brown was shot and killed by a police officer—what started with a Facebook post and a hashtag has grown to 40 Black Lives Matter chapters worldwide. The organization operates as part of The Movement for Black Lives—a broader network of 50-plus groups fighting for the rights and safety of black people. Recently, publications including BuzzFeed and The Root have questioned whether or not Black Lives Matter is still relevant, citing waning visibility over the past year. Cullors maintains that it is.
"Does our network have a national campaign at the moment? No, we don't," she says, "but there's brilliant work happening locally that has national implications. For the Boston anti-white-supremacist rally that happened the week after Charlottesville, that was our Black Lives Matter Boston and Cambridge chapters that came together with a large coalition of people on the ground." An estimated 30,000–40,000 counter protesters drowned out the Boston "Free Speech" Rally, prompting its alt-right organizers to cancel the additional 67 rallies they had planned across the country. "We steered the ship on that…[and] that's a huge victory—a victory for the local chapters and also the network at large."
Amid accusations from conservative pundits that Black Lives Matter is a hate group and terrorist organization (labels that Cullors laughs at when I bring them up), the network is collaborating with D.C.-based consulting firm Three Point Strategies on a framework for how to best support like-minded organizers, activists, and politicians in pursuit of elected office. Another priority? Making sure that everyone's efforts are recognized.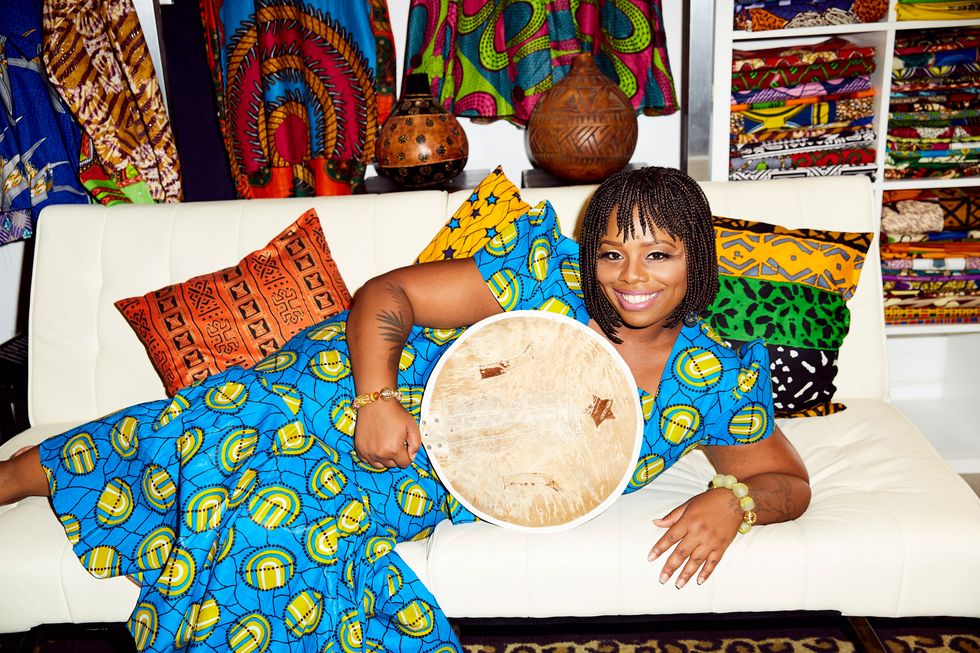 "Bayard Rustin was one of the lead strategists in the March on Washington, and yet he couldn't participate because he was openly gay," says Cullors, who came out as queer at 16. "So our work right now is about making the invisible visible, and reminding people that these are architects of this movement; these are strategists of this movement—queer and trans black people."
In January, Cullors will expound on her identity and background with the publication of her first book, When They Call You a Terrorist: A Black Lives Matter Memoir. The coming-of-age story charts her upbringing in southern California during the war on drugs, highlighting the impacts of racism, poverty, and mass incarceration. "The book goes through my life from nine years old to present time—really until the election of 45—and [tells] the very traumatic stories of growing up in a neighborhood that's over-policed and that relies on incarceration to deal with social ills. And I talk about when I decided to fight back, and how Black Lives Matter becomes this important moment for my work [and] also for the rest of the world."
Like many intent on resisting the current administration, Cullors refuses to call the president by his name, hence "45." "I think every moment to resist him and his administration, even the way we call who he is, is important," she says. "[These] are scary times… He's upholding torture, he's upholding terror, he sided with racists in Charlottesville, the list goes on... My goal [for] the next three years is to continue to build and empower black communities and marginalized communities to defeat him and to continue to move forward in making this country a healthier, safer place for black people to live."
Among those she wants to make the world safer for is her 18-month-old son, whom she's raising with her partner, fellow activist Janaya Khan. "It was hard to navigate bringing a child into this really painful climate, and this was even before 45 was elected," Cullors says. "Is it safe to raise a black child here? That's been something that I've been trying to reckon with a lot."
As passionate as Cullors is about her work, she admits that her role can be isolating, and striking a balance between caring for herself and advocating for others is a challenge. "How do I take care of myself and also fight like hell to save black people's lives?" The answer, she's found, is through exercise (she runs and lifts weights), therapy (she's been going regularly for over a decade), and prioritizing time with her family. Music is another source of respite, and her playlist is currently a mix of Solange, SZA, and Kimya Dawson.
Towards the end of my conversation with Cullors, I asked her where she thought it was most important for people to have conversations about racism and police brutality, and whether or not she believed individuals in the public eye—actors, athletes, musicians, etc.—should be drawing attention to the issues Black Lives Matter seeks to address. She left me with this:
"People should be having conversations at their family dinner table; if they're an educator, they should be talking to their students about this; people should be setting up house meetings to talk about the current moment... I think celebrities of all colors should be standing up for Black Lives Matter, and I think it should be a priority. This is sort of the age-old conversation in this country about black people—we've been having it for 500 years. So if you aren't talking about [it], then it actually presents a moral question to me."
Want more stories like this?
These Vice Anchors Are Changing the Way We Get the News
Meet the 26-Year-Old Shaping the Voice of NYC's Most Legendary Institution
One-on-One with Planned Parenthood's Cecile Richards