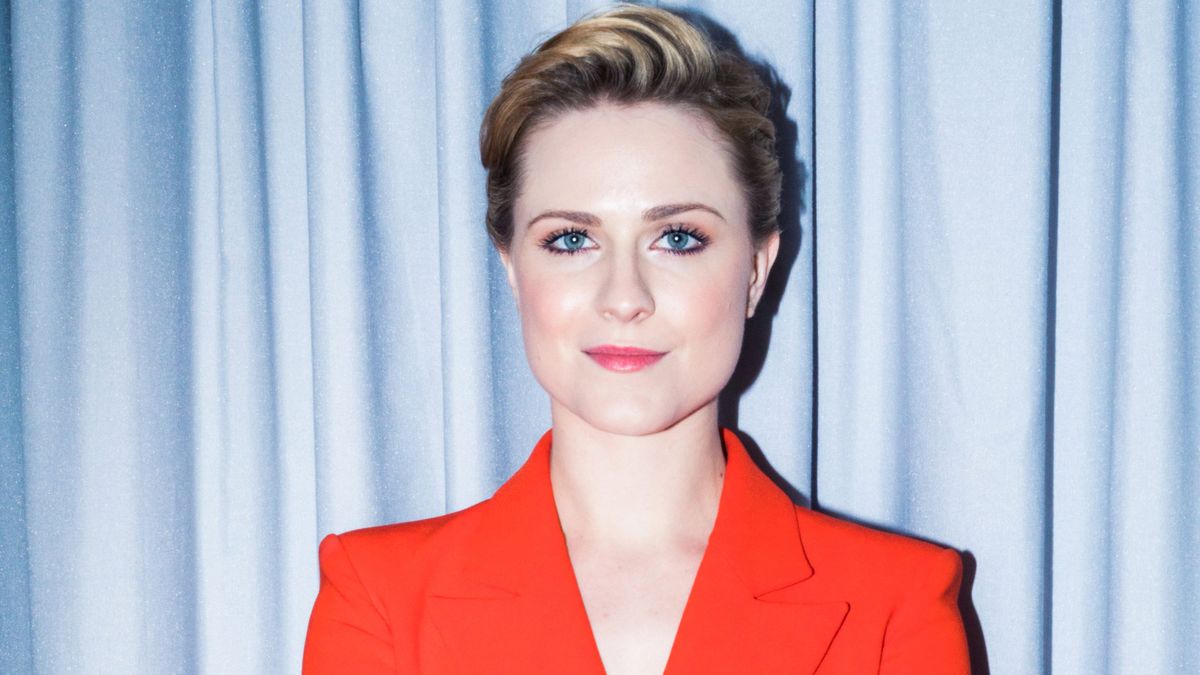 Celebrity
Evan Rachel Wood Says Season 2 of Westworld Is "Twice as Crazy"
Plus, she talks about her newest film role, which was originally written for a man.
Renée Rodenkirchen
I slowly opened the door to Evan Rachel Wood's hotel suite amidst a whirlwind Toronto International Film Festival schedule to find her decked in a fire-orange Altuzarra blazer, sequined Christian Louboutin booties, and skin as porcelain as my kitchen sink. The steady stream of editors and publicists weaving between rooms in the hall outside didn't faze her. Her space was peaceful—tranquil, even. But that, I'd come to learn, was Evan—soft-spoken and poised with a warm air about her. We sat down to talk about her newest role in the soon-to-be-released film A Worthy Companion, where she plays Laura Drake, a confused and troubled young woman who forges a strange and ultimately unhealthy relationship with a 16-year-old girl. A role which, Evan told me, was originally written to be played by a man.
But, what, do you think I would leave before a friendly interrogation on what's in store for season two of Westword—it's "twice as crazy," she says!—or a rapid-fire game (which you'll want to watch below)? Never.
---
Noah Lehava: What drew you to the role of Laura Drake in A Worthy Companion?
Evan Rachel Wood: "I was blown away by [the script]. My character was originally written for a man, and they had gender-swapped it. I was really excited about that, but dreaded it, too, because I knew I had to do it. I was really not looking forward to the experience because it was going to be really intense. I loved that I had never read a script on this subject matter, which was told in this way—from a woman's perspective, who is the predator. It really explored the psychology of abuse—not just this black-and-white, here's the victim and here's the monster. It delves into how [an individual] gets to that point and opens it up for a much larger discussion."
NL: Laura is really complex; did you find it challenging to play her?
ERW: "It was difficult for me to play an abuser because it's so unnatural for me. I was happy to know that it didn't come naturally [laughs]. She has so much emotional baggage, and is dealing with dissociation, manic episodes, and PTSD, so she has a cocktail of mental disturbances. The script was a really honest portrayal of somebody that's a prisoner of their own trauma. And when you don't have the help that you need, and don't have the means to get help after you have gone through what she's gone through, it manifests in all of these different ways. It was interesting to show the dichotomy of a person who is doing these horrible things and abusing this young girl, but, in her mind, really thinks she's saving her. I think she sees herself in this girl—there's no malice in what she's doing. She's really just not in control of her emotions and has no gauge as to what's normal and what's not. There's real tragedy in her, as well as in the young girl. It shows you how the abused can become the abuser if it's not dealt with in the right way. It took a long time to shake; this one took a lot out of me. I got really sick after [filming] was done, and it took about a month to feel normal again. It was a real roller coaster."
NL: How did you chill out?
ERW: "I live in Tennessee, so it was nice to get away, go to the country, and chill for a second."
NL: We have to talk about Westworld!
ERW: "Yes!"
NL: First off, tell me, how much did you have to work on your posture?
ERW: "I have to get work done on my back all the time because sitting there like that for six hours [is straining]. This season [the directors] were actually like, 'You can relax. It doesn't have to be that perfect.' But I'm the one who always insists on wearing the corset because I want to stand right."
NL: Can you give us a hint to next season?
ERW: "We're midseason right now, and it is twice as ambitious as the first one. Twice as crazy! I didn't think it could get bigger or crazier, and now we're halfway through, and I just can't even believe what we're doing. I'm on the show, and I'm still getting shocked and surprised at everything that they're throwing at me. [Doloris is] a very different character this season."
NL: Yeah, something clicked in her in the season finale. Are you scared of A.I. yourself?
ERW: "You know, no. I used to be, but the more research I did for the show and the more I learned about it and talked to futurists, the more I realized there's a lot of hope in A.I.. They're going to be better than us. It's sad because it also may mean that we're going to be obsolete—but at the same time, if they're going to be better and if the world's going to be better, then I'm weirdly supportive of it."
NL: I never thought about it that way...
ERW: "It is scary, and I think we are at a real kind of... It's a really strange time to be alive because I think technology is going to keep getting more advanced faster and faster. It's a great time for the show to really explore that and explore the nature of human beings and what really makes us human. I feel like humans are being held back a lot, kind of like the host in Westworld. Evolution is being held back a lot, and we could be way more advanced than we are, so we'll see. There will be much better problem-solvers, and we won't be burdened with a lot of the shit that our minds are."
NL: If you were a guest at Westworld, what fantasy do you think you would play out?
ERW: "At Comic Con this year, they had a Westworld installation, and they had these amazing actors come in and evaluate you, and tell you if you're going to be a White Hat or a Black Hat. It was scarily good. They had real personality tests, and at the end, they gave you a detailed overview of your personality—it was dead on. It was so creepy, and everybody that did it felt the same way. Some people came out [of it] emotional and with tears in their eyes. And I was like, 'Oh, what if I'm going to get a White Hat or a Black Hat,' and it ended with her saying, 'I think you need to choose.' I chose the Black Hat. It just felt more honest about it because I believe that every human is a Black Hat. And that doesn't mean I'd go and just like kill everybody and be a lunatic, but I do think it would be a bit naive to think that I would just be good the whole time. That's just [an] honest answer [laughs]."
NL: What's next for you?
ERW: "Well, my band Rebel and a Basketcase is actually no more, but I'm still making music. I'm doing some of my own now. It's very different, but I'm stocked. Rebel and a Basketcase was really fun, empowering, happy music, and I think my solo stuff is going to be a little more gritty and moody, and just a different side—my Black Hat side [laughs]."