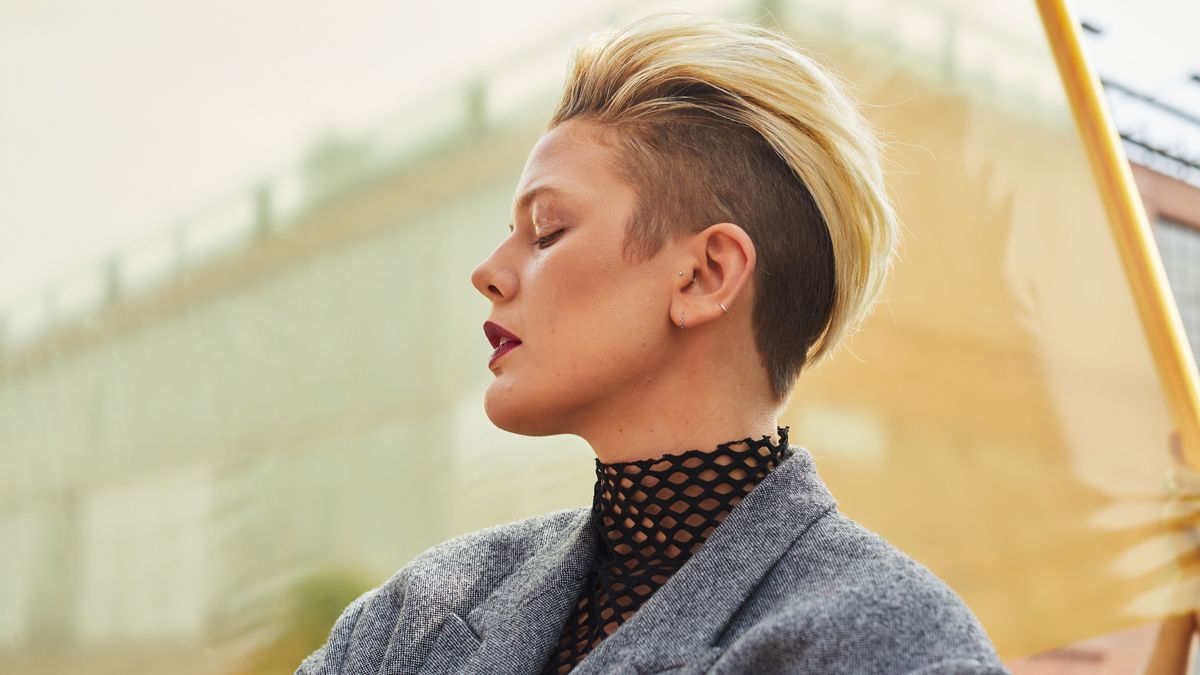 Trends
As demonstrated by Betty Who.
Bustle and Coveteur are working together to bring you the best mix of the season's fashion and beauty releases, shopping tips, and service stories in ways that are both inspirational and attainable. Check The Fall Style Edit channel weekly to see what we're up to.
Fall is officially upon us. Even though we've been "mourning" the end of summer and embracing cooler temps since the beginning of September, it's now legitimately the fall season. We can break out all of our autumnal wardrobe staples and not have to worry about people giving us that "too soon" side eye.
So with the official start of the season, the question is...how do we want to dress for fall? What are our style staples for the season? While autumn usually brings to mind outfits made of chunky knit sweaters, beanies, and scarves, designers gave us a new staple to work with during their fall/winter 2017 shows: pantsuits.
In the past, pantsuits racked up a reputation over the years for being something that could only exist in the professional space. But this is a little shortsighted considering the complex history of pantsuits and what they represent. Why should we restrict pantsuits to just the office when historically they have served as a symbol of defiance and power? Let's take this power dressing out of the boardroom and to the streets—and beyond.
With the trend taking off and so many options presented this season, you can't deny the power of the pantsuit and its versatility as a styling tool. So, we enlisted musician and model Betty Who to help us showcase all the cool ways to wear some of the best pantsuits out there for fall.
---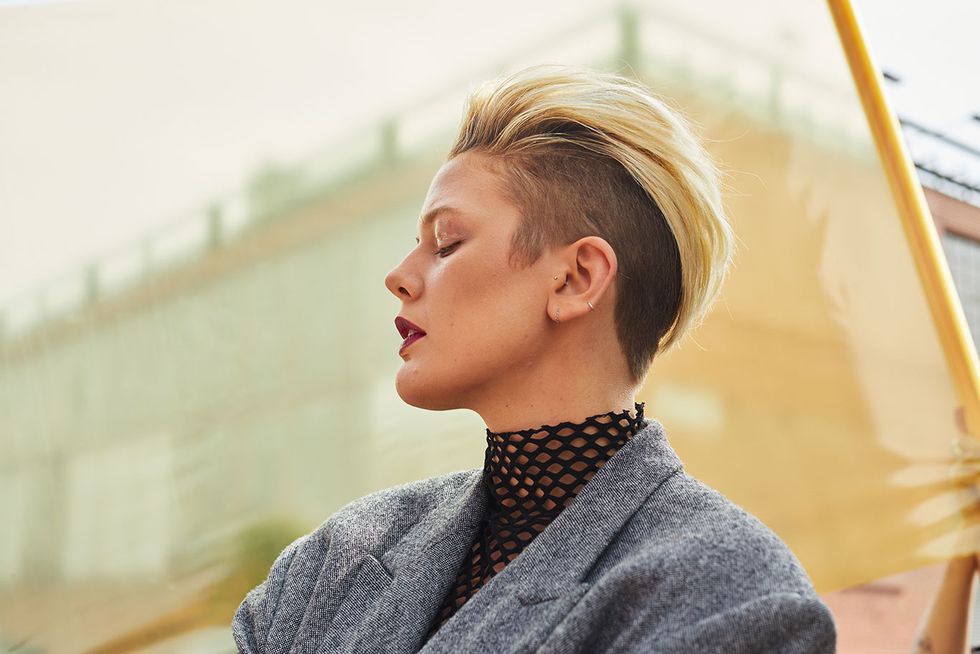 One of the best ways to shake up the conventional way of wearing a pantsuit is to reimagine it in a way that people conventionally wouldn't wear it. A mesh turtleneck under the blazer really brings the whole idea of the suit out of the office and into something you can wear every day. Oh right, and you can casually just not wear pants too, and we'll just agree to continue calling it a pantsuit anyway. Find an oversized blazer and grab a pair of hot pants or a mini skirt to achieve this look IRL.
Blazer: Pyer Moss. Mesh Shirt: Creatures of Comfort. Shoes: Jil Sander.
Dressing down and "messing up" a pantsuit with sneakers and a half-tucked shirt is a surefire way to make it more casual and wearable. A cropped pant updates the whole silhouette, making it less of the traditional look people associate with a pantsuit. You can also throw in a belt around your waist (but over the shirt) to up the chic factor of the whole look.
All Clothing and Accessories: Louis Vuitton.
If you're still stumped on how to get the pantsuit out of the boardroom, switch it up. As in literally wear the blazer backwards. It looks great from the back and gives you a really high neckline in the front that's a more unique silhouette. It's a new and fresher take on wearing a jacket, and the best part is you can use this trick outside of a pantsuit. Pair a backwards blazer with jeans for the same effect.
Blazer: Wildfang. Pants: Louis Vuitton.
Bold colors are always a way to make a statement and stand out, so why limit bold colors to accessories? Make your whole pantsuit a vibrant red. It garners all the attention you desire without compromising the essence of the pantsuit. Step away from the neutral colors and go wild.
All Clothing: Jil Sander; Sneakers: Nike.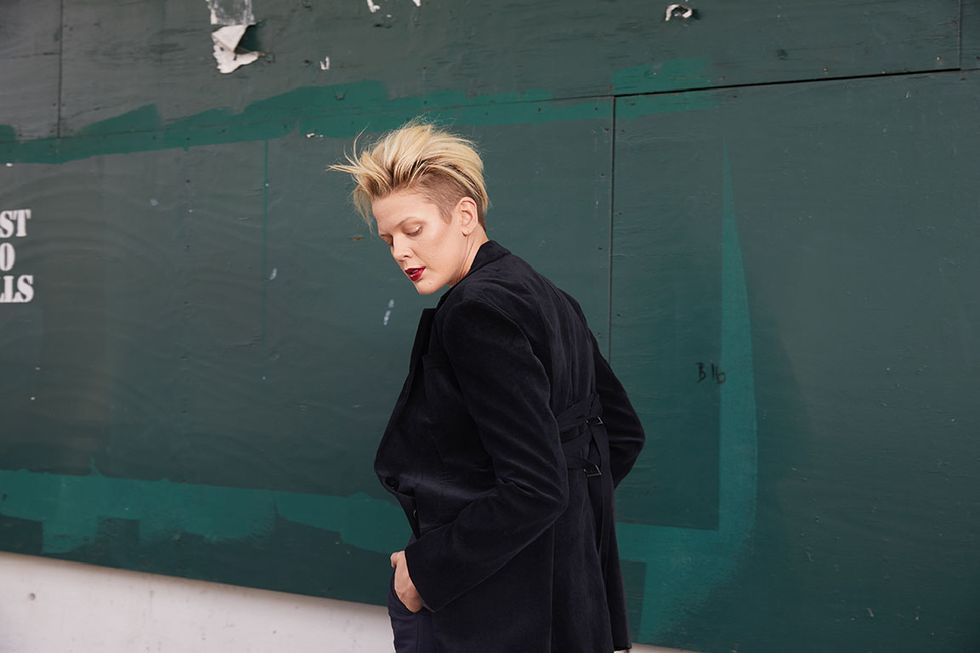 Texture is a really important factor that can easily add a lot of variety and dimension to a classic piece. Velvet looks super luxe and is perfect for those crisper fall temperatures. Details like the ties in the back of the blazer also help a classic black number stand out.
All Clothing: Tibi.
Sometimes sticking to something classic is a good thing. A pinstripe is a quintessential pantsuit pattern, but that doesn't mean the whole outfit has to look dated. Wear it with a half-buttoned shirt and an argyle sweater to prep it up but bring it down at the same time. Finish it off with some combat boots to tie it all together, and you have the perfect casually preppy look.
Blazer, Sweater, and Shirt: Gucci. Pants: Topshop. Boots: The Row.
As much as tailoring and a good-fitting pantsuit can make you feel unstoppable, sometimes something oversized that you can sink into is a winning outfit. Roll up the sleeves to let your arms free and make it more casual, and if you're feeling uninhibited, rock it without a shirt underneath. Sometimes you don't need a shirt (or pants). It's 2017!
Blazer: The Row.
Photos: Courtesy of Ashley Batz/Bustle
Hair: Sacha Harford for Bumble & bumble at Ray Brown Pro
Makeup: Samantha Trinh using Nars Cosmetics
Nails: Miss Pop
Bustle Team: Deputy Editor, Fashion & Beauty: Kara McGrath; Styling: Gabrielle Prescod; Booking/Production Manager: Guillermo Perez; Art Director: Bry Crasch; Junior Art Director: Brit Phillips; Photo Editor: Sepp Dasbach
Want more stories like this? Head to Bustle.com.