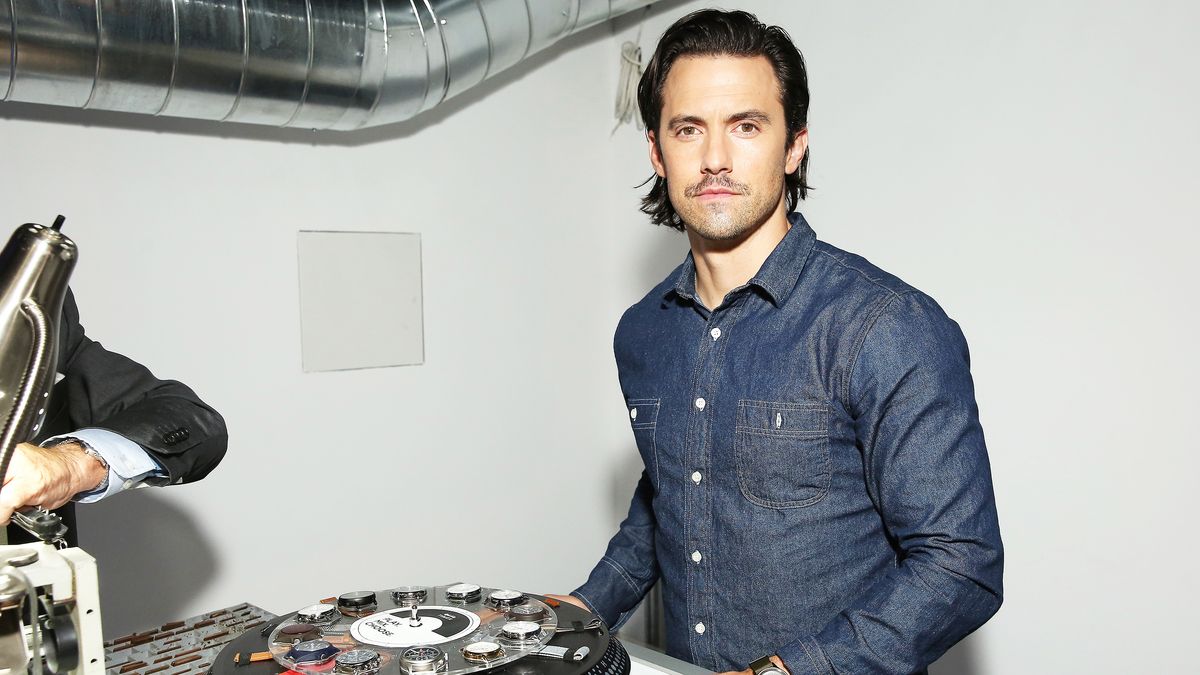 Monica Schipper/Getty Images for TIMEX
Celebrity
As in boots and everything. The This Is Us actor also filled us in on just how much we can expect to cry during season two.
It's crowded and dimly lit, and my bag is so heavy that I really wish I'd left it at the office. But what does that matter? I'm here, pushing past people at Timex's fall '17 event, in order to meet a major fan of the brand: *the* Milo Ventimiglia. Aka Jess from Gilmore Girls. Aka Jack from This Is Us. Aka the celebrity crush of pretty much every one of my friends (and ok, fine, maybe me, too).
As Milo addresses the crowd and reveals that one of his first real watches was a Timex, I decide it's best to stick to a time-related conversation. (Who doesn't love a good word association?!) But as I squeezed into a tiny dark corner for our chat—where Milo firmly shook my hand and complimented my checkered Vans (!!!)—I managed to bring up This Is Us, finding out how much he cries while reading scripts...and also while watching commercials.
---
Are you someone who is normally on time?
"I'm an early person. If I have to go somewhere in town, I'll usually get there early and wait in my car or on my motorcycle. I'd much rather get somewhere and relax than have to rush to get somewhere. Even like, walking in on time sometimes is late to me. It's more early, and then I wait, and then at the right time, then I walk in. I'll sit there and read, look around—something like that."
How many times do you snooze in the morning?
"Two. But what I do is, I set two alarms. My first alarm is just alerting me that the second one is coming two minutes later, and then that two-minute-later alarm gives me a 10-minute snooze that maybe I'll hit once. But after that, I'm up and at 'em, and I turn it off. Luckily, I sometimes wake up even before my alarm. There's an internal clock that's just always going."
Do you ever chill in your pajamas for a while before getting dressed?
"Not at all. I'm up and at 'em—get some food, shower, get dressed, get out of the house. Even coming home at night, I don't like taking my boots off until I'm ready to crawl into bed. I don't know if that's a level of preparedness or what. Usually I'm always like, ready to go."
How long does it take you to answer texts?
"I'm horrible nowadays. I feel like sometimes, people use texting as a means to forget about conversation—real conversation, human contact. I feel like texting should be information-based, as opposed to 'Hey, so how are you? How's it going?' Or 'Hey, I saw this post on social media, so I want to comment.' It's like, pick the phone up and be a human being."
Do you you ever pick up calls from numbers you don't recognize?
"I have picked up numbers that I don't recognize, not as myself but as someone else entirely. I just see what they say. If someone's asking for me, I'll be like, 'I'm sorry, you might have the wrong number—who's this?' Or I'll make up something."
If you got a wrong text message, would you pretend to be someone else?
"No. No, I kind of let things go. I feel like sometimes, in the digital world, people have a desire to know so many things, and they'll chase, and they'll chase, and they'll chase, as opposed to just you don't have to chase everything. It's ok. When things happen, they'll happen."
How much will we cry during season two of This Is Us?
"A lot. Just a lot."
I heard that the first few episodes are some of the best. Is that true?
"They're so great. I saw the first four episodes, and every single one of them was just remarkable. I mean, really, from the writing, to the acting, the production value, to the post...Everything about it—it's such a great show. I'm very proud of the group of people that put this whole thing together, and I'm happy to be one of them."
Do you cry reading the scripts?
"I still do. I don't count, I just accept that it happens."
Do you feel like you've gotten better with age?
"I like to hope so. The older I get, my bubble of perspective gets wider, and I understand more about the world and hopefully can be more compassionate and kinder and listen more. But also, because of that, I know who I am and what I can offer, just as a man, as a human being. I have gotten more emotional the older that I've gotten, which is interesting. Not like, commercials make me cry, but at the same time, I feel like I have a lot more compassion for humanity."
Photo: Getty
Want more stories like this?
Matthew Ramsey Dressed for the Job He Wanted—Now He's a Country Singer
I Rode on a Private Jet with Jamie Foxx and He Was Surprisingly Chill
Austin Stowell's Most Embarrassing Moment Involves Choking on a French Fry