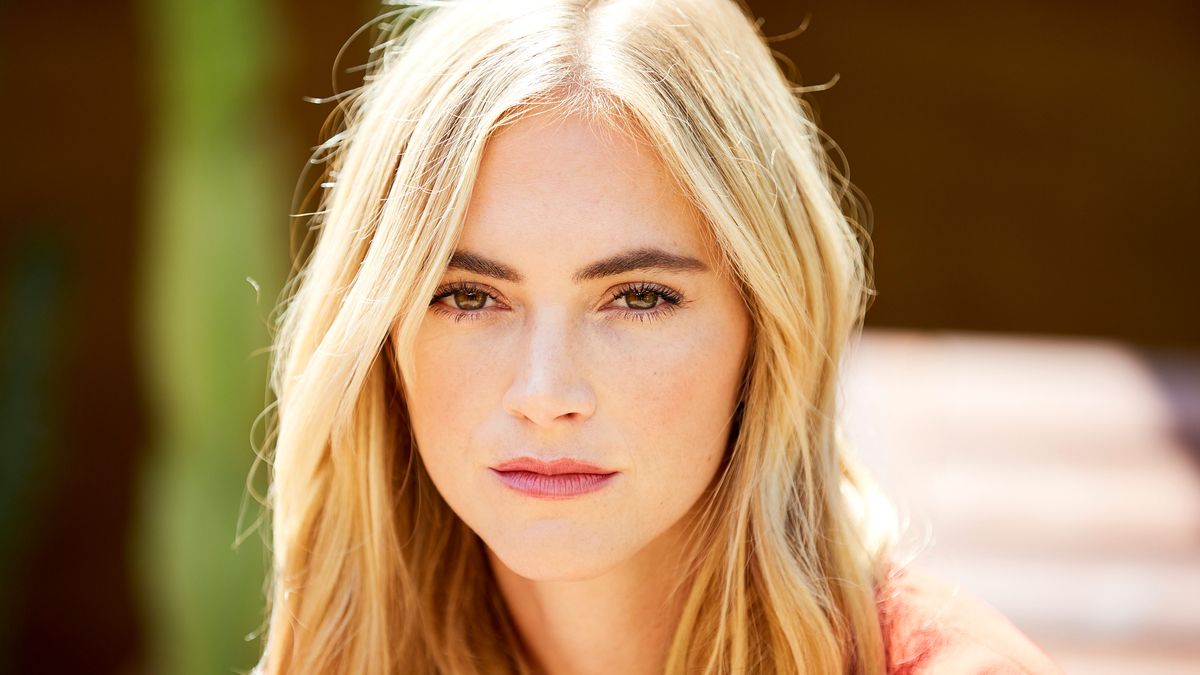 Celebrity
Here's how actress Emily Wickersham keeps them "feathery and full," plus her other off-camera beauty secrets.
Tristan Kallas
It's entirely possible that mid-NCIS binge, you've paused for a second and thought, "Wait, that girl has *really* great eyebrows!" If not, we present the evidence here. Emily Wickersham—who has been on the show for the past five years playing agent Eleanor Bishop—pulls off that light hair, bold, dark brow combo pretty perfectly…and we're dying to know her secrets.
So as the show kicks off its 15th (yes, 15th!) season, we got a chance to ask Emily to spill and list all the products she uses on a regular basis, plus how she managed to clear her adult acne.
---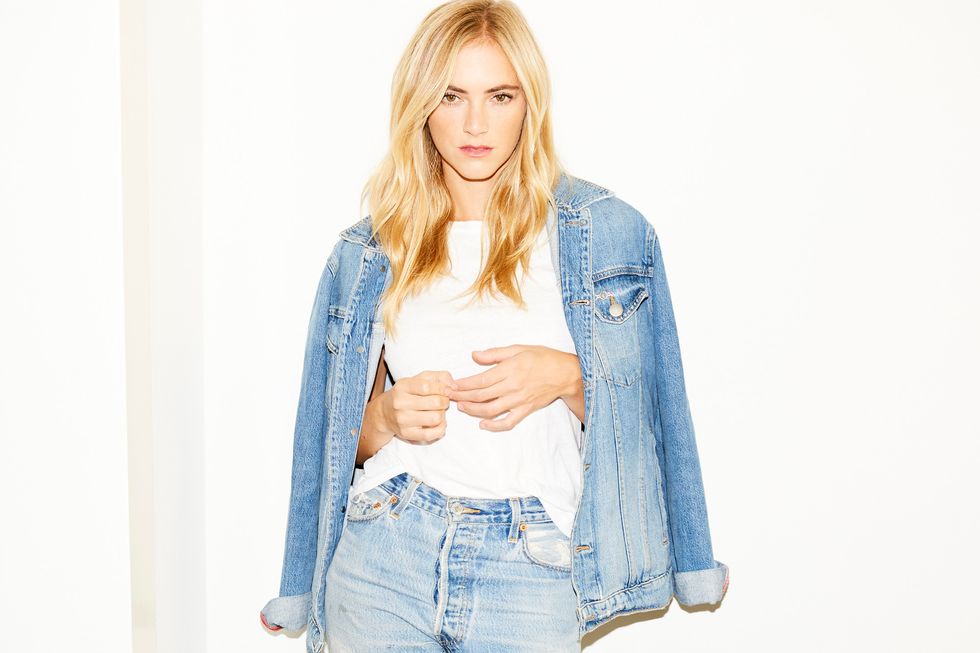 What's your brow routine like?
"I've always had pretty bold eyebrows. I've never had them done much, and then I met [brow expert] Kristie Streicher. She has amazing eyebrows, and she's so good at her job. Before I was going to her, I was going to someone else and [my eyebrows] were on the thinner side. Kristie was able to bring them back to what they [were] when [I was] younger. They're kind of wild now, and feathery and full, which is what I've been hoping they would get back to."
Were you an over-plucker when you were younger?
"When I was around 16 I was for sure. Looking back at pictures of people in the '90s, eyebrows were so tiny. There's something about an untouched brow; I feel like it just frames the face better. It makes your eyes pop, and it just overall looks more natural and complementary. I guess less is always more."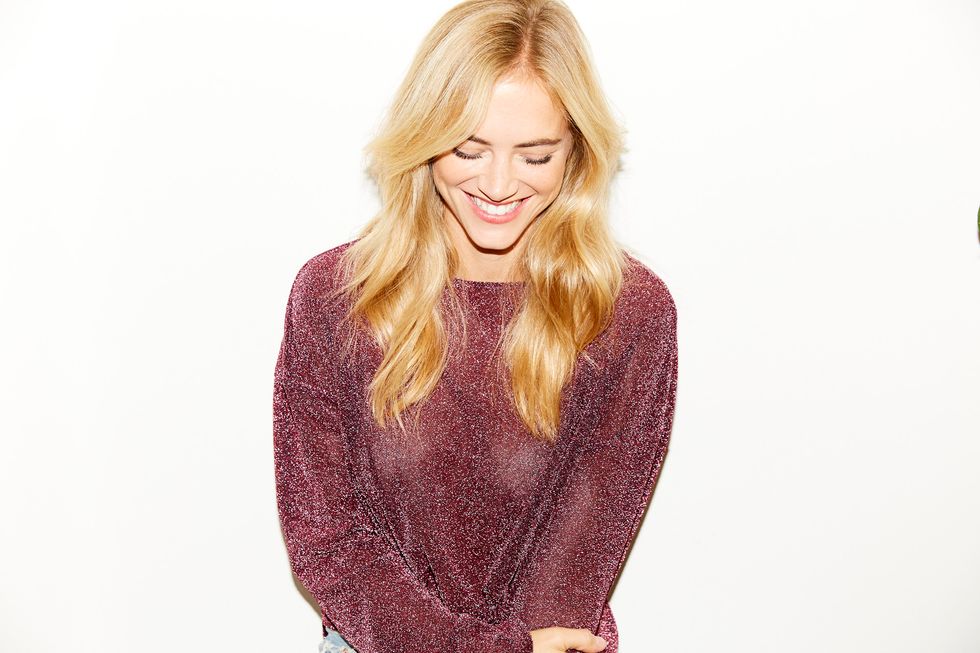 Did you ever hate your bold eyebrows?
"I'm a strawberry blonde, and I highlight my hair so that it'll be a little bit more blonde, but I always had light hair and dark eyebrows. I kind of enjoyed that, especially growing up. I feel like it's more common now—a lot of people have blonde hair and dark eyebrows—but growing up, I felt like it was a little more unique."
Do you fill them in at all?
"I love Glossier brow gel. It's tinted, so it just kind of fills in where it needs to. I'm not the best with makeup, so I stick to the little tinted brow gels."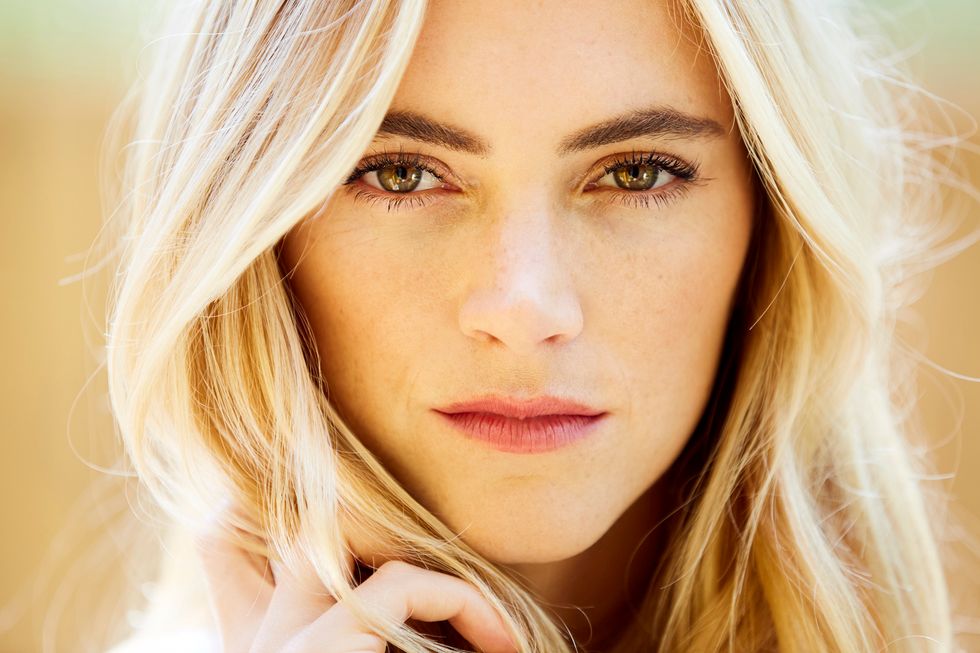 What's your skin-care routine like? Do you wear a lot of makeup off-screen?
"I would like to not wear any makeup, but I have uneven skin like everyone else—a little redness, and I have a little melasma above my lip. So I wear Laura Mercier tinted moisturizer pretty much every day, [which has] SPF in it, a little lip tint, and I'm also really into a lash lift. It's like a little perm for your eyelashes so you don't have to wear mascara, which is kind of amazing. But if I haven't done that, I usually just curl my lashes and go."
What would be the one beauty product you would run out and buy if you forgot it?
"Five years ago, I had acne; it just popped up. My skin is better now, but when little things pop up, I feel like it brings back those memories all over. So, I think coverup, like NARS creamy concealer, is my necessary beauty product to have around."
How did you get back to having acne-free skin? Did you change your diet at all?
"I'm a pretty clean eater, but at the time, that didn't help much. I think it's really connected to hormones. I went on medication for it, I even did a very light treatment of Accutane for a short period of time. After trying everything else, that was the thing that helped the most, and since then, I've been able to maintain it with topical treatments, or just being really diligent about cleaning my face and doing masks every week. I have breakouts, obviously, but a lot less.
"I'm pretty simple with my regimen because I also have this thing called perioral dermatitis, and it is aggravated by using too many types of products. I get a layer of patches on my face, and honestly, it's just very strange. I have a little topical medication that will take it down, but I didn't know what it was for so long. They're slightly elevated bumps, and they itch. I've been told it's from using too many products at one time on your face, so I keep very simple regimens."
Want more stories like this?
The Eyebrow Trick That Brooke Shields Swears By 
5 Eyebrow Trends Currently Taking Over the World
3 Steps to Growing Your Brows Back for Good