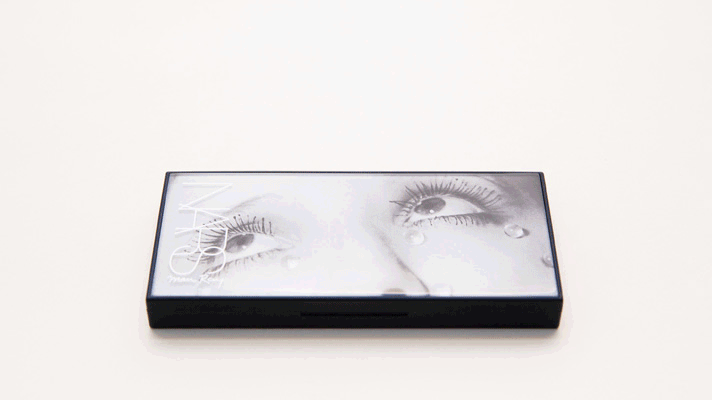 Makeup
He's "so excited!" about his brand's latest collaboration for holiday.
Alec Kugler
Every year, at just about this time (or October 6, to be exact), our favorite brands start rolling out their extra-special holiday collections. Everything gets a little glossier, sparklier, more pizzaz-y, and among the most pizzaz-y: beauty megabrand Nars.
The brand is massive; there are shops peppered throughout every neighborhood in every major city, and the excellent products are in every major makeup artist's kit—not to mention most of our makeup bags. The interesting thing about a phenomenon that huge is that it's still entirely helmed by one person: François Nars.
Mr. Nars, however, is not just a beauty entrepreneur or a makeup artist—he's a photographer and fine artist. He's considered more of a 360-degree creative than any one thing. He routinely collaborates with other creative powerhouses in the worlds of art and fashion—in the past, it's been everyone from Steven Klein to Sarah Moon, Charlotte Gainsbourg, and Andy Warhol.
Which brings me back to the first point: holiday collections.
This year, Mr. Nars took inspiration from legendary surreal artist Man Ray, collaborating with the Man Ray Foundation on a collection of limited-edition palettes, powders, lipsticks, and pencils all with ties back to Man Ray. The products are gorgeous, the finishes are luxurious, and using the collection makes you feel like one of Man Ray's moody surreal goddesses.
To celebrate the collection, which goes on sale at NarsCosmetics.com on October 6, we sat down with the elusive Mr. Nars to hear all about his inspiration, and why Man Ray.
---
How these collaborations come about:
"You know it's almost always the same the process [with these collaborations]. They're always with people that inspire me either since I was a kid or for many, many years. I really pick them randomly, it's pure attraction. I just think, 'Why don't we do a collaboration with Man Ray?' It's really people that have been influencing me a lot in my work, in my photography, in whatever I do. And people who I really love what they do. It's very pure and simple.
"It's also usually people that are in a way connected through makeup. Man Ray, in a very direct way, was very connected to makeup because he photographed so many women. He actually almost created beauty/fashion photography before anybody else. Even nowadays, I think almost everybody is, or was, in some way influenced by Man Ray.
"I'm very proud of [this collection] because having my name associated with Man Ray is amazing. If I had been alive in the years that Man Ray worked, I would have loved meeting him and maybe working with him in any way—he was such a rule-breaker. His work is so incredibly modern today and so relevant. I'm so excited—I never thought the Man Ray Foundation would agree to [collaborate]. I really thought, 'Would they agree to link Man Ray's work to a cosmetic line?' I really was very doubtful about whether or not they'd go for it. I was so excited when I got the news."
Man Ray's influence on his photography:
"I always loved his portraits. That was something I kept in mind. My photography background influence is quite wide, but he had a very distinctive eye on photography and the way you photograph people. The lighting, the abstract feeling in his photographs, sometimes it became more like a painting—there was so much poetry. The poetic aspect in his photos is so interesting. So yes, it definitely influenced me a lot in my photography—more than colors because Man Ray's art was more black-and-white in a way, especially his photography."
The artists he's most inspired by now:
"I love Marina Abramovic. I would love to do something one day with her. She's a great friend. She would be quite an inspiration. [But the spark is very] random, like I said; it's artists, it's designers, it's painters, it's sculptors. I can't tell you too much, of course. We are working far ahead, and we already have a huge collaboration coming out next year. Huge! It's completely different from Man Ray. We move from people that are not with us anymore, to people that are more active today or younger, older... It's very interesting, and that part I really love.
"But still, I think there are always people who have a lot of audacity. I love people that are very out-there in their time or today. I think that's always something that links all of them together no matter what, even if they're so far away from each other, but it's always that very strong sense of newness, the visionary part, the audacity. I love people with guts. That's what I'm attracted to. People that are not afraid of saying things, creating things, and breaking rules. No matter what. That's what I love."
Want more stories like this?
Dior Makeup's Peter Philips Gets Just as Excited about Makeup as You Do
This Celebrity Hairstylist Wants You to Embrace Your Natural Hair
Inside SB Skin with the Facialist Every Influencer's Obsessed With