Fashion
Angel & Dren's cool, sexy style will single-handedly convince you to buy thigh-high boots this season. In collaboration with Stuart Weitzman.
Renée Rodenkirchen
Bianca Bailey, Meagan Wilson
Renée Rodenkirchen
Graphics
Elana Sasson, Kate Versch
When we first met Angel and Dren, it hardly surprised us to hear that the sartorially-inclined siblings had spent a sizeable amount of time growing up chasing down stolen—fine, borrowed—pieces from one another. (They still do it but we saw that coming, too). Pilfered closet pieces aside, we have to imagine that there's nothing to keep you perpetually pushing the boundaries of your own personal style quite like an equally fashion-obsessed sister. It's certainly true of both Angel and Dren, whose style (equal parts sexy, cool, and sophisticated) manages to never feel too matchy-matchy, but just kind of…works together. You see, rather than outright matching, they'll instead play with subtly coordinating details, like similar fabrics or complementary hues.
And so when we had the chance to dress both girls in a series of styles from Stuart Weitzman's new fall range, we knew there was no one better to bring to life the cohesion of the collection, while still making every single look their own. After our shoot (and in between the girls' nonstop traveling and endless gigs), we caught up with them via iMessage interview to *really* get a sense of their dynamic (and ask all of the tough questions).
---
Coveteur: First things first: What does a day in your shoes look like?
Angel: "An average day is a lot. There's running in the morning, meetings in the afternoon, gigs at night. We stay on our feet."
Coveteur: First thing you do in the A.M.?
Angel: "I've been going running first thing in the morning. Coffee is essential too."
Dren: "I'm on the same schedule as Angel!"
Coveteur: Dren—who is Angel's style icon?
Dren: "Naomi Campbell."
Coveteur: How do your best nights out start?
Angel: "Sometimes I like to start my nights in Harlem and work my way downtown."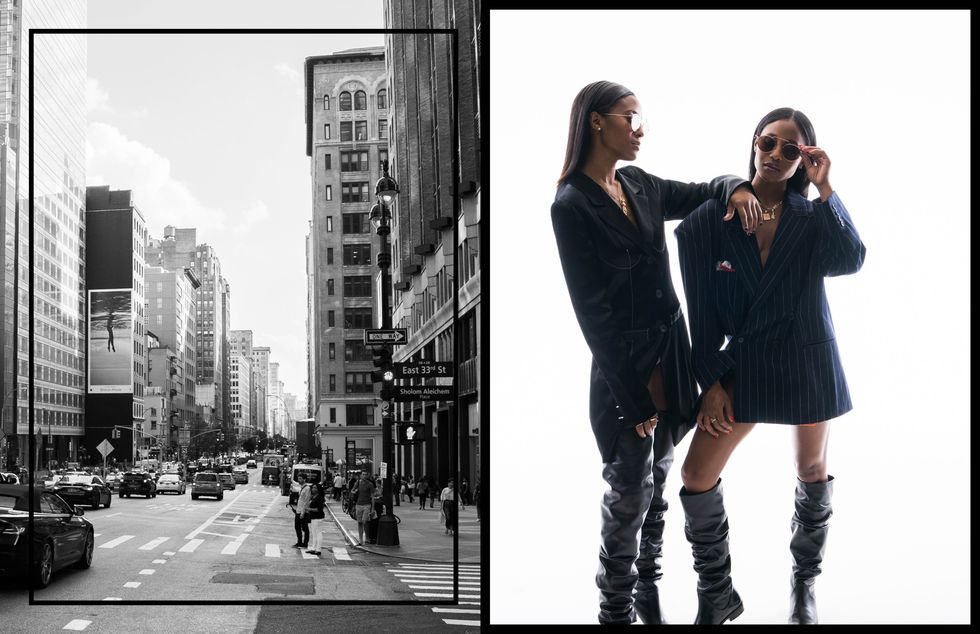 On Angel: Boots, Stuart Weitzman; Coat, Beaufille; Sunglasses, Illesteva; Ring, EFVA Attling.
On Dren: Boots, Stuart Weitzman; Jacket, Snow Xue Gao; Sunglasses, Illesteva; Ring, Zoe Chicco.
We get it, tall, slouchy, black leather boots can be all types of intimidating. To add a little structure and toughness to the silhouette, we love anything tailored with a suiting feel—whether that's a boxy men's-fit blazer worn as a dress (on Dren), or a silky, structured trench (on Angel).
Coveteur: Night out essentials. Discuss.
Angel: "I'm the girl who always has a change of shoes in her bag. I like options, so I'll bring a big bag, and spare shoes. I don't know where the night will take me, but I like to be prepared!"
Dren: "I LOVE the red thigh-high and patent white Stuart Weitzman boots."
Coveteur: Angel— what would your sister's last meal be?
Angel: "Jamaican food. She'd go straight to the Bronx to get it."
Coveteur: Favorite hidden gem in NYC? Tell us everything.
Angel: "I like Miss Favela a lot. I'll go there for good Brazilian food, and stay to dance samba and forró."
Dren: "Adoro Lei. Best pizza, hands down."
Coveteur: Dren—what song best describes your sister?
Dren: ""Matrix' by A.Chal. Edgy and vibe-y."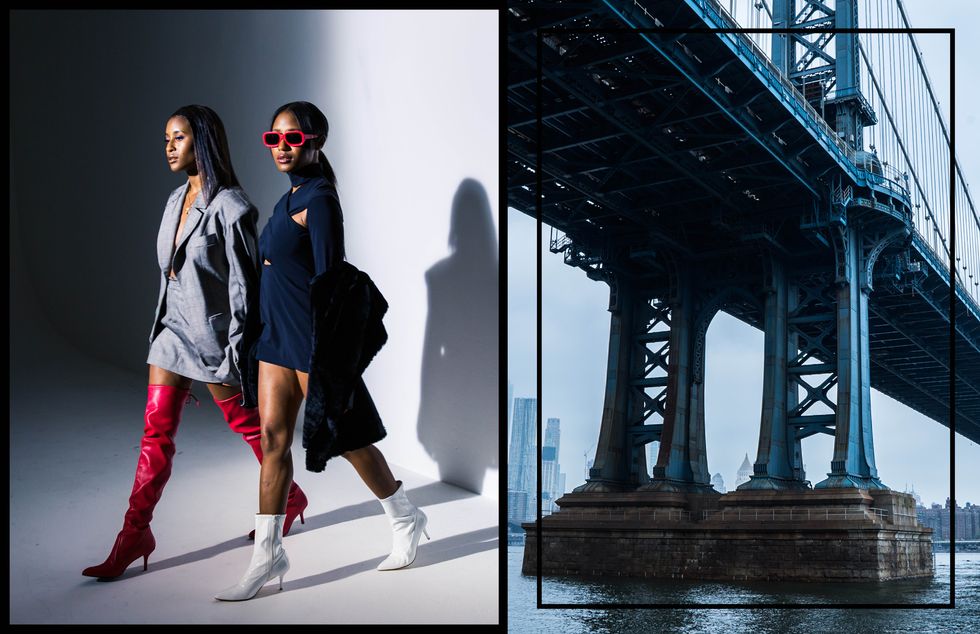 On Angel: Shoes, Stuart Weitzman; Jacket, Ice Tees; Skirt, Ice Tees; Ring, EFVA Attling.
On Dren: Shoes, Stuart Weitzman; Coat, L'Agence; Top (worn as dress), Beaufille; Sunglasses, Illesteva; Ring, Zoe Chicco.
Fire-engine red thigh-high boots aren't for the faint of heart. Neither is a mini-skirt suit, but the jacket's almost-deconstructed silhouette keeps the look in check, without feeling too revealing. A snow-white pair of sleek, pointy ankle boots (like Stuart Weitzman's classic Clinger shape) are the single coolest item you can add to your wardrobe this season.
Coveteur: New York style; how do you describe it?
Angel: "NYC style is sharp and cool, but it's a lot about personality. People are always dressed like their coolest selves. I love it."
Coveteur: Dren—when were you most proud of your sister?
Dren: "When she left her marketing job to pursue DJ'ing full time."
Coveteur: Favorite iconic NYC movie. Go!
Dren: "A Bronx Tale. I love where I'm from, and love that movie."
Coveteur: Angel—what was the last thing you texted your sister?
Angel: "No lie, I texted 'secure the bag.' I won't give any context, lol."
Coveteur: How do you describe the Stuart Weitzman woman?
Dren: "Strong, confident, and sexy."
Coveteur: Subway line?
Angel: "2 train. We've literally lived along the 2 line our whole lives."
Coveteur: You get the aux in the Uber. What do you put on?
Dren: "I usually let whatever station is playing when I get in continue. I have my sets to play selector!"
Coveteur: You just arrived home in New York. What are you most excited about?
Angel: "I usually just miss the people and the hustle. New Yorkers are a rare and interesting breed."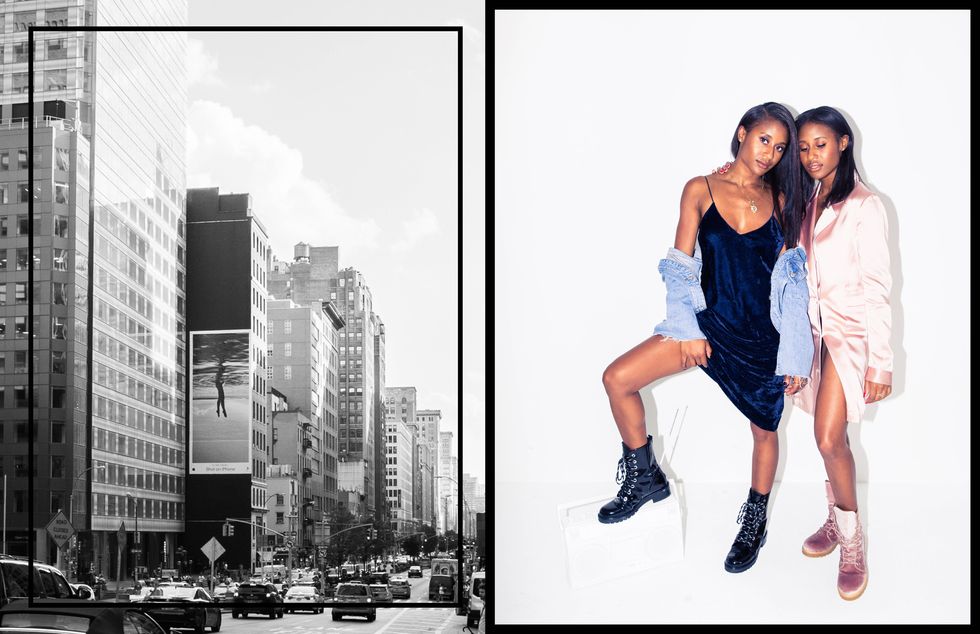 On Dren: Shoes, Stuart Weitzman; Dress, Nili Lotan; Jacket, Topshop.
On Angel: Shoes, Stuart Weitzman; Dress, Fleur du Mal; Jacket, Frame Denim
Velvety dusty-pink work boots might just be the most unexpected item on your list of must-haves for fall. A silky blazer dress in a bubblegum hue and burnt red faux fur coat over top add a much-needed hit of texture without seeming like you tried too hard. Patent black combat boots require equal parts polish and cool to pull them off. A slinky, midnight blue velvet slip dress and off-the-shoulder denim jacket achieve just that.
Coveteur: Where are you dying to visit that you've never been before?
Angel: "I really, really want to go to Japan and Ethiopia."
Dren: "Berlin and Lagos."
Coveteur: Late nights or early mornings?
Angel: "Late night. No contest."
Dren: "Late night—I like to work when no one else is up. No interruptions."
Coveteur: Battle of the classic NY eats: pizza or bagel?
Angel: "I can't choose! I'm from NY—I love a bagel and a pizza pie. Best slice is from the Bronx at Nicky's Pizza."
Dren: "Pizza from Adoro Lei."
Coveteur: Cocktail or wine?
Angel: "Red wine always and forever."
Dren: "Agreed! Red wine over everything."