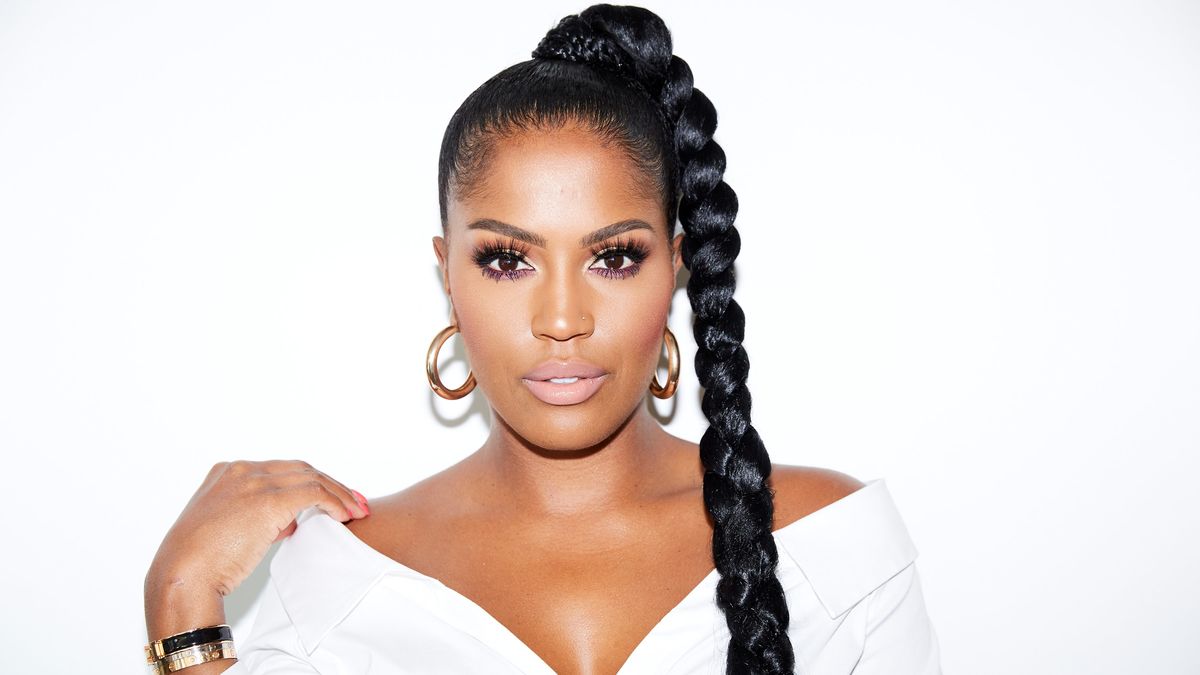 Makeup
Shayla Mitchell has the most incredibly-organized beauty stash we've ever seen.
Tristan Kallas
Shayla Mitchell is probably best known as Makeupshayla, which is her handle on Instagram where she has 2.5 million followers and the name of her YouTube channel which has nearly half a million followers. Mitchell is one of the most powerful beauty influencers in social media, thanks to her regular makeup tutorials and flawless selfies. (For the record, she literally looks airbrushed in person.) But when you walk into her headquarters—a penthouse condo in downtown L.A.—you do not see a small army keeping up the operation as you might expect. Instead, her sprawling, impeccably-clean home is quiet and calm—decked out in perfectly matching dusty purple, gray, and silver. Mitchell and her cousin, Kayla, who is helping out for the day, are the only ones there. In a tucked-away second bedroom is an office with a camera, makeup cabinets, and a rainbow of backdrops on hangers. Beyoncé is playing, divine selfie-perfect sunlight is streaming into the living room, and everyone is immediately offered a bottle of Fiji water.
Something else you might not expect? "I wasn't allowed to wear makeup until I went to junior prom," she says. "How old were you at junior prom? Sixteen? My mom just never let me wear makeup. She always told me 'You're beautiful without makeup! You don't need it!'"
While that is undeniably true, makeup ended up serving Mitchell in unimaginable ways. She started her career working at MAC while in college, and, while trying to make a name for herself for freelance work right around the time Instagram started, turned herself into a viral phenomenon. Last month she celebrated the launch of her collaboration with Maybelline New York, for which she created three custom shades of The Colossal Big Shot Mascara and a six-shade The City Mini eyeshadow palette sold around the country.
"We worked on the collaboration for a year," she says. "I was thinking, 'OK, let's do it! But I'm not going to tell anyone about this because I don't want to jinx it.' When I went to the Maybelline labs, and that's when I knew. I think that's when I broke down in tears, too. And all the chemists were all female, by the way, which is really cool."
Empowerment, hard work, fitness, and body positivity are some of the other themes that run through Shayla's extremely popular content. To find out more about her beginnings—including a period of time she was completely broke—we curled up on her couch with a huge fuzzy sheepskin. And then forced her to show us her epic collections of makeup, Chanel, Gucci, and Christian Louboutin. See, mom? Makeup paid off. See it all below.
---
1 / 19
On her beginnings in makeup: "In college at Arizona State, I was working full-time at MAC, then I was doing freelance on the side, and brides during the weekend. And I was still in school! I would sleep—like 5-6 hours—but I worked a lot. Once I graduated, I transferred with MAC to Santa Monica. And I had no freelance work. No clients. I basically started over. I was so poor. I was so broke. I don't even know how I survived! I look back and am like 'How did I even put gas in my car?!' It was bad. But that's when Instagram first started. My manager said, 'Start posting your stuff, maybe you'll get freelance work.'"