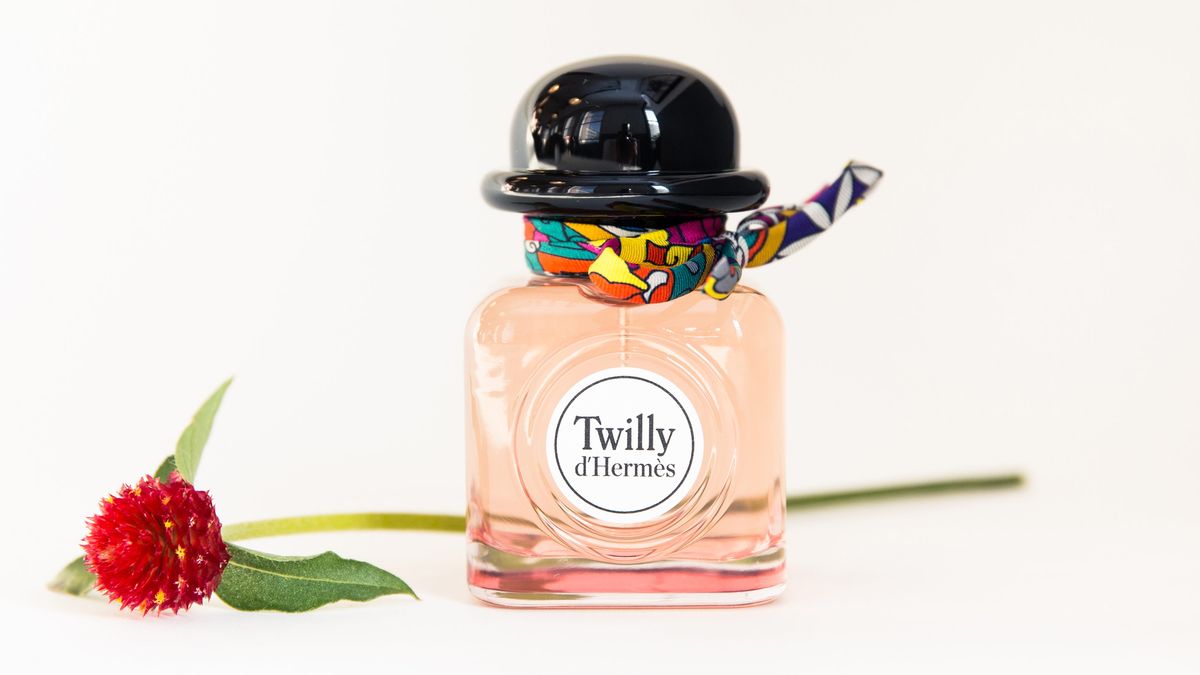 Beauty
This coming from a woman who is professionally tasked with creating them.
Alec Kugler
We may have grown a bit weary of the millennial talk these days (just us?) and, to be honest, figured it was on its way out of the beauty marketing playbook, which is why we were intrigued by an invitation from Hermès proudly and openly touting their new fragrance for millennials. But when it's Hermès, one goes. And we're glad we did.
This month the gods of French chic launched their newest eau de parfum, Twilly de Hermès, named after their small, skinny style of scarf—the one you might see wrapped around the handles of a Birkin. But even though they're openly aiming this new product at a younger generation (after all, high-end fashion houses consider their fragrances the gateway drug into brand loyalty), we wouldn't call this a junior fragrance at all. Neither would the nose who created the perfume, Christine Nagel, who is a legend in the perfume world, known for designing blends for Giorgio Armani and Dior, and no less than 26 Jo Malone perfumes. She's also the first female perfumer for the House of Hermès. "What is offered to young people is very often perfumes that are kind of sweet, kind of easy-tasting, and I wanted to give them a choice—it is not a perfume that is made for them, but rather inspired by them," she says as we sit on the top floor of Manhattan's Hermès boutique on Madison Avenue. "What I realized going around to big cities in Europe, Tokyo, Seoul, or Mexico City, is women appropriate these clothes from Hermès, maybe something they inherited from their mother, but they are twisting it in a sense that they won't wear the traditional scarf around the neck, but they would wear it around their breast or as a belt, and I thought that was interesting, that little twist." In fact, Nagel started having dreams about Twilly while she was working on it, involving a group of young women sorting through a mound of twilly scarves inventing new ways to use them alongside, for whatever reason, Iris Apfel. (Sounds like our dreams, too!)
In the blend itself, Nagel says the twist comes from three notes: ginger, tuberose, and sandalwood. "I was looking for some specific ginger that would allow me to use it as a fragrance, but the issue is if you use too much of it, it starts to smell like soap," she explains. "One day [I came across] a ginger from Africa, and the peculiar thing about it is that usually the root is taken out dry, but this one is taken out still wet. Because of that quality of freshness, it allowed me to use ginger in a quantity that hasn't been done before. At a certain point it has almost a burning quality to it. For me, that was a little twist, the green ginger."
Another twist we can't get over: the bowler hat. Try to tell us you won't be doing a little Charlie Chaplin dance alone in your room every time you uncap this bottle, because we won't believe you. And we both know you'll be Instagramming the crap out of your updated vanity, too. But transparent marketing tactics aside, we do love this fragrance. It's distinct and addictive, and even though those other youthful sweet scents will always sell like hot cakes, we find the thoughtful, spicy warmth of Twilly more delicious. We're also going to go revisit our silk scarf collection ASAP.
Finally, while we had Nagel captive, we had to ask: What's your pro advice for finding one's signature fragrance?
1. Follow the 5/2 Rule
"First of all, you should not smell more than five perfumes at once. Pick two, then put each on either arm and smell the perfume on your skin before buying. You need to smell it on your own body."
2. You Do You
"Importantly, you have to trust yourself and not listen to your girlfriends. We all have been offered perfume, what's fashionable and in at the time, but those ones stay in the background. What we really choose to use on our body is what makes us feel good."