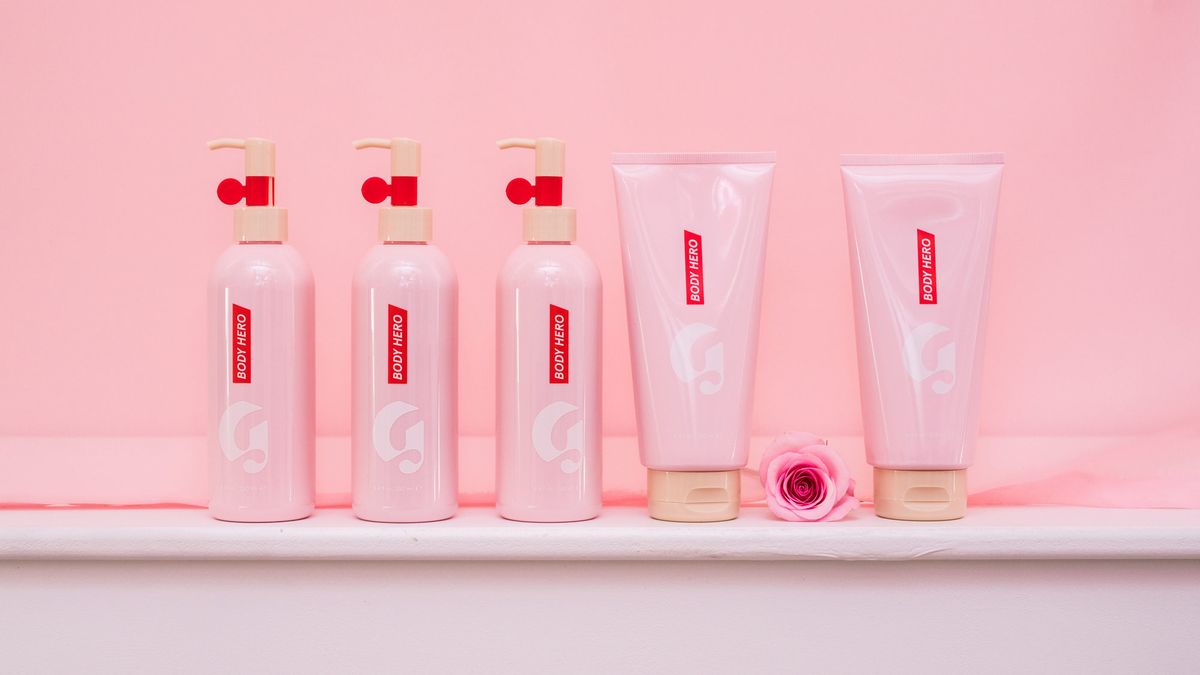 Career
CEO Emily Weiss on why their "Body Hero" line can do what no other lotion can.
Renée Rodenkirchen
Glossier has become the posterchild for what it means to run a successful lifestyle retail brand in 2017. Month after month they launch cult-y and zeitgeist-y products, all led and celebrated by fashion It-girl and Into the Gloss blogger-turned-CEO Emily Weiss.
When we last caught up with Weiss, it was more than two years ago and she had just launched Glossier's "Summer Fridays" series, wherein they invited loyal customers to shop and hang at their New York office. This time, we met her on a Monday morning at Glossier's Toronto pop-up, a week-and-a-half-long activation that boasted lines out the door—not bad for a company that only started shipping to Canada two months ago. The New York showroom is now open seven days a week (and a recent Entrepreneur article claims it sells more per square foot than the average Apple store). Suffice it to say, Weiss is doing all right.
Today, Glossier launches their Phase Three products (One was skincare and Two was makeup) with two body care items: Daily Oil Wash and Daily Perfecting Cream, both encased in that signature millennial pink. We're predicting a lot of #shelfies in the near future. 
We talked to Weiss about those new-new products, the new habit that she thinks helps her lead her more than 100 employees, and why she calls her consumers co-creators of Glossier.
---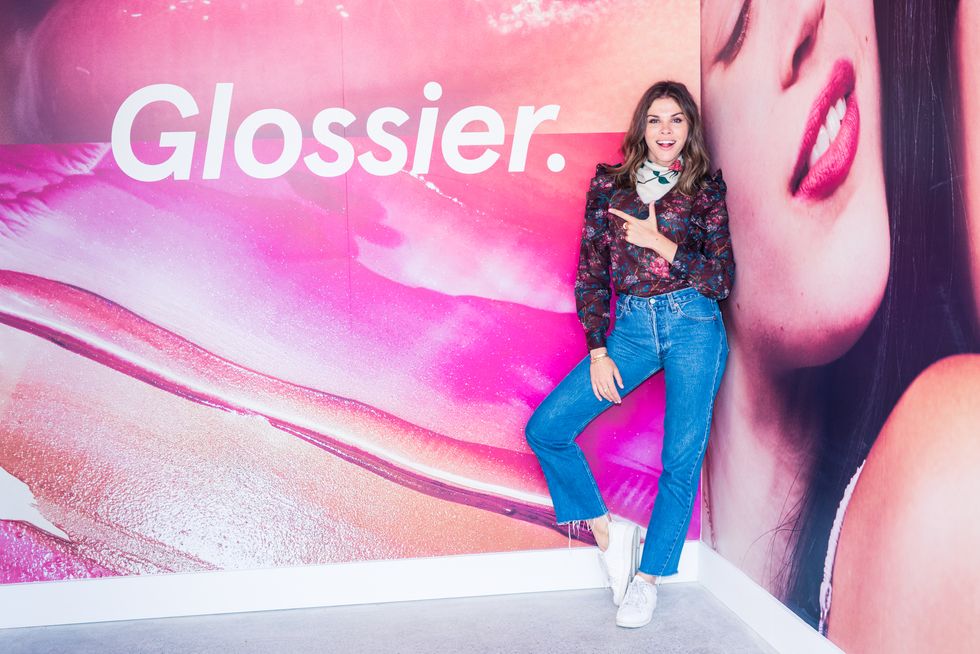 How Glossier is thinking about body care products:
"We have a content background as beauty editors and are fanatical about quality and not putting anything into the world that isn't better than what was previously on our top shelf. It's really an art and a science. Sometimes it's one idea from one customer who walks up to me at one activation; sometimes it's a result of a thousand comments on an Into the Gloss post on what our candle scent should be; and sometimes it's in response to the collective knowledge the comes from interviewing the most stylish and influential women around the world. With body, we wanted to think about the neck down, as opposed to from the neck up, and how we deliver the same glowy, dewy finish that has become synonymous with our brand."
Get ready for Daily Oil Wash—like an oil cleanser for your body:
"We've developed an oil wash, which is comprised of seven oils and no water—it has a really high concentration and reminds me of those HD washing machines where you're only supposed to use a little bit of detergent. It's a really high-concentration body cleanser that is very gentle, but super effective. It's like an oil wash for your face that removes makeup really well but leaves your skin super soft—that's what it does for your body. It has this incredible orange neroli scent that was inspired by French baby products. The oil wash won't strip your skin or disturb your pH and is a really unique formula compared to the traditional soapy lathering formulas, which are actually quite harsh. This one has actually been gynecologist tested. And it'll turn your shower into this oasis as well because it smells so good."
The Daily Perfecting Cream does something no other body lotion will do for you:
"The Perfecting Cream for body is in this really user-friendly tube and is a very rich cream, but dries down immediately, so you can get dressed right away. It's got the finest light-reflecting particles on the market in gold and pink that give you this sheen. It's not wet or sticky, it's just this nice sheen that makes your skin look like you're J.Lo in Miami. It's not chunky glitter or anything like that, which I'm really averse to, but it gives you a nice skin finish, which I think a lot of creams don't think about. The look your skin gets is an afterthought for a lot of drugstore creams, it's more about the moisture it delivers. For us, of course you have to have superior moisture, but what's the finish it's leaving on your arms, your collar bone, your legs."
Glossier is expanding internationally, now in Canada, next to the UK, and then France. But to Weiss, it's always been global:
"The Glossier brand is global, and it has been since day one of our Instagram account—if you're on Instagram, you're a global brand. I think that's incredible; what a time to be alive, as they say. In terms of us expanding internationally, we want to continue to be direct-to-consumer; we're direct-to-consumer so that we can have a one-to-one relationship with every single person, so we can speak to her and engage her and have her as a co-creator of our company."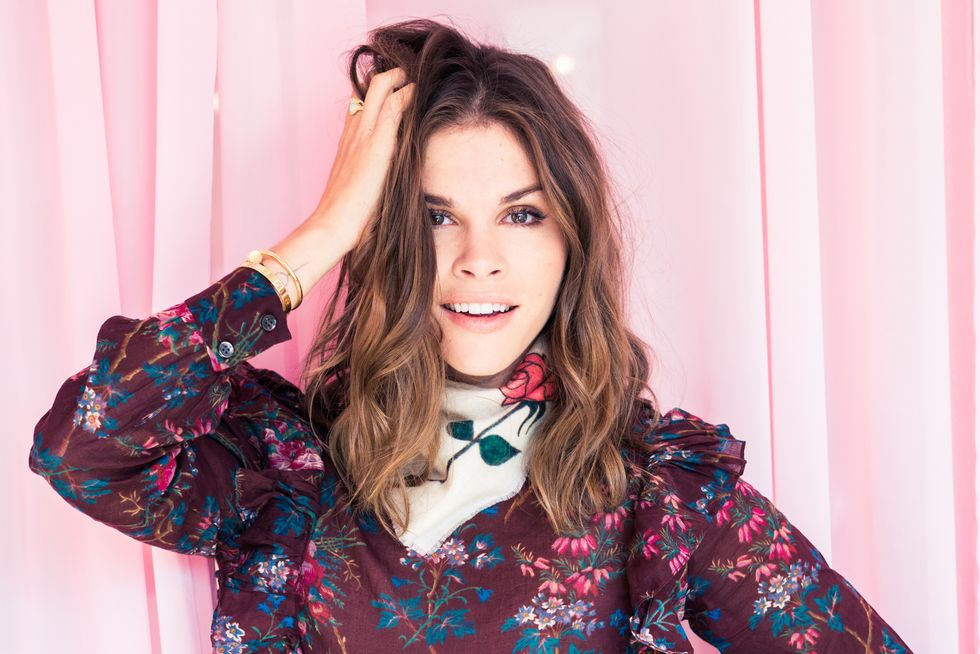 What Weiss does to keep her head in the game:
"I take wellness pretty seriously. It's obviously very easy for any of us in today's world to get stressed or burn out. In order for Glossier to become what I believe it's becoming, it's really important for not just me, but everyone on our team, to take care of themselves. For me that looks like meditation; I do vedic meditation at least once, if not twice a day for 20 minutes each time—I try. It helps me to slow down a little bit. And being present and appreciating every milestone and moment that we have [is really important]—the fact that we're here in Toronto with hundreds and hundreds of women lining up outside to experience the brand and engage with us is such a proud moment and so rewarding and inspiring. I try to appreciate every setback, struggle, meeting, coffee… Everything that is happening is happening so fast."
Why she's given up on being a morning person:
"What I've realized as I've gotten older, the things I struggled against in the past, I lean into. So, for example, I'm not a morning person and so rather than struggling against that and trying to become one, I just moved very, very close to my work, so now I'm one to two blocks away from my office, which has made my life infinitely easier. Realizing what you can change and what you can't change is one of those maturing rites of passage."
How she feels about being a leading—and highly visible—female CEO:
"I think doing is the best example you can set. I've always been more focused on the work and letting that speak for itself than talking about the work. I think the more female-led businesses and CEOs that are created and the more wins there are for those businesses, the better. I've always been really focused on building an incredible team at Glossier and building things of high integrity that make people happy and let the work speak for itself."