Celebrity
The Deuce's Margarita Levieva Used to Be a Wu-Tang Clan Groupie
Now she works with Method Man.
Alec Kugler
When my boyfriend asked if I wanted to watch the pilot for HBO's new show, The Deuce, my first answer, to be honest, was no. He'd described it as "something about prostitution and the rise of the porn industry," and while it did star Maggie Gyllenhaal and *two* James Francos (he plays twins), it didn't really sound like anything I'd like. But alas, I caved…and after about 10 minutes of watching, I was hooked.
"Yeah, because when you pitch it to people, they're like, 'Oh you're on a porn show'" Margarita Levieva told me when I shared this story with her at Bubby's. The actress—who you might recognize from shows like Revenge and Adventureland—plays Abby Parker: a college student in the '70s who, according to Margarita, is sexually alive and free. "It's like, yes, you're producing that time of history and how it all came about," she continued. "But it's not just a porn show."
Without the ability to binge-watch (why, HBO, why?!), I was dying to know anything and everything, and asked Margarita to spill as we shared some fries in our booth. So we chatted about the series and its spectacular cast, and even got into her own life story, including her intense gymnastics background and why she enjoys dancing like no one's watching (even if everyone is).
---
On her new show, The Deuce:
"The thing that I find the most fascinating and love about it is that it's really introducing the world of New York City, 1971, and what it was like for all kinds of people, from all walks of life to live in the time. Yes, it's about prostitutes. Yes, it's about porn actresses coming in for the first time. But it's also about the cops of the time, and what the government was like, what having a business in New York was like, and— especially for my character—what being a young woman at the time was like. I feel like it really does a great job just painting a picture and taking us back."
What it's like playing a college student at 37:
"I mean, it's amazing. My friends are like, 'Good for you, kid, that you could pull it off.' I'm obviously not college age at all. But it's terrifying because it brings out insecurities and fears of what if I don't get her voice right, what if I come off too mature or too knowing? The thing that helps is that Abby's character is so intelligent, she's so wise beyond her years. In a way, it felt right to pass as someone older. But it was fun…and scary. That's usually the best combination: fun and scary."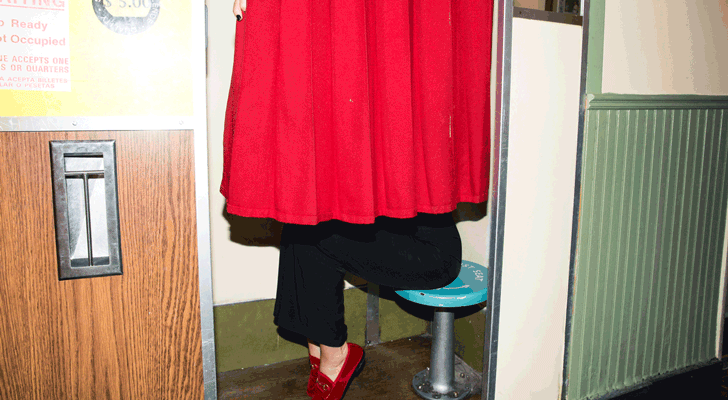 The costar she was most excited to work with:
"When I walked into the table read, I had James Franco, who I adore. I had Maggie Gyllenhaal, who I look up to and respect so much as an actress—she's extraordinary. Yet, the person I was most excited to see was Method Man. I grew up in Sheepshead Brooklyn; the Wu-Tang Clan were like our heroes. I remember we used to drive out to Bed-Stuy because we heard a rumor that they played underground shows there. I don't even know if they ever did, but that was the rumor, so we would just drive out and see if they were there. I've always said they never made rap as good since the early '90s. I love him, and he's such a character—a classy, classy man."
About her upcoming movie, Future World:
"I actually did a movie with James [Franco], because after we shot the pilot, we had some time while we were figuring out if we were getting picked up or not. He directed a film called Future World that I had so much fun with, and I can't wait for it to come out. It's this really crazy, whacky story in the future with a female robot—a mechanically created female. James is in the movie, Lucy Liu is in the movie, Mila Jovovich, and Suki Waterhouse. I play a gay mechanic in the future who falls in love with the robot and saves her. I'm all about the collaborative process—I feel like I would've done really well in the days of the traveling circus. I love avant-garde art, I'm a dancer, I paint, so I love just creating stuff with people, and that's what that experience was like. It was just like, let's just go as far as we possibly can. You might fail, but hey, at least we tried."
How her strict gymnastics background affected her acting career:
"Back in the day in Russia, hitting kids is part of the training. [It] was very common. It was the way that you trained an athlete, and my team was owned by the government so, whatever it took. I never felt like a victim. I never looked at it as something that was done to me that was necessarily bad. And I came to America and won all of these competitions, so I was grateful for the way I was trained. But, as I started to act, I realized that so much of my training actually worked against being in the arts. So much of being an actor is coming in and trying things and allowing yourself to fail and making mistakes. There is no perfect score, and there is no right way to do it. The training I came from, it was all about getting the perfect score and getting it right and being perfect and not showing your feelings. If you are nervous before competition, you have to suck it up and get out there and present yourself as a strong, capable athlete. Whereas if you show up to a scene, if nervous is what you're feeling, then you feel it fully. You allow yourself to be wherever you are and not controlling yourself and not hide it. It's all about the transparency and allowing the audience in. That took many years to undo, and it was not easy at first." 
 On dancing in public:
"I'm usually the weirdo with ear buds, dancing on the west side highway. [laughs] It's always part of my run. People videotape me and I try to face the bush or something, because I'm not going to stop dancing. I was at a Fleetwood Mac concert with my friends recently and we had such a crazy dance off. These girls were videotaping us and laughing—we were all in these long dresses—and I was like 'You know what? If they're enjoying themselves, good for them.' When I used to dance in the streets and people would videotape me, I'd be like, 'Oh man, I'm an actress, what if someone puts it out there?' Then I was like, you know what? If it brings someone some joy and they're like, 'Oh look at that crazy lazy!' then good! I don't do this for anyone but myself."