Get Your Shit Together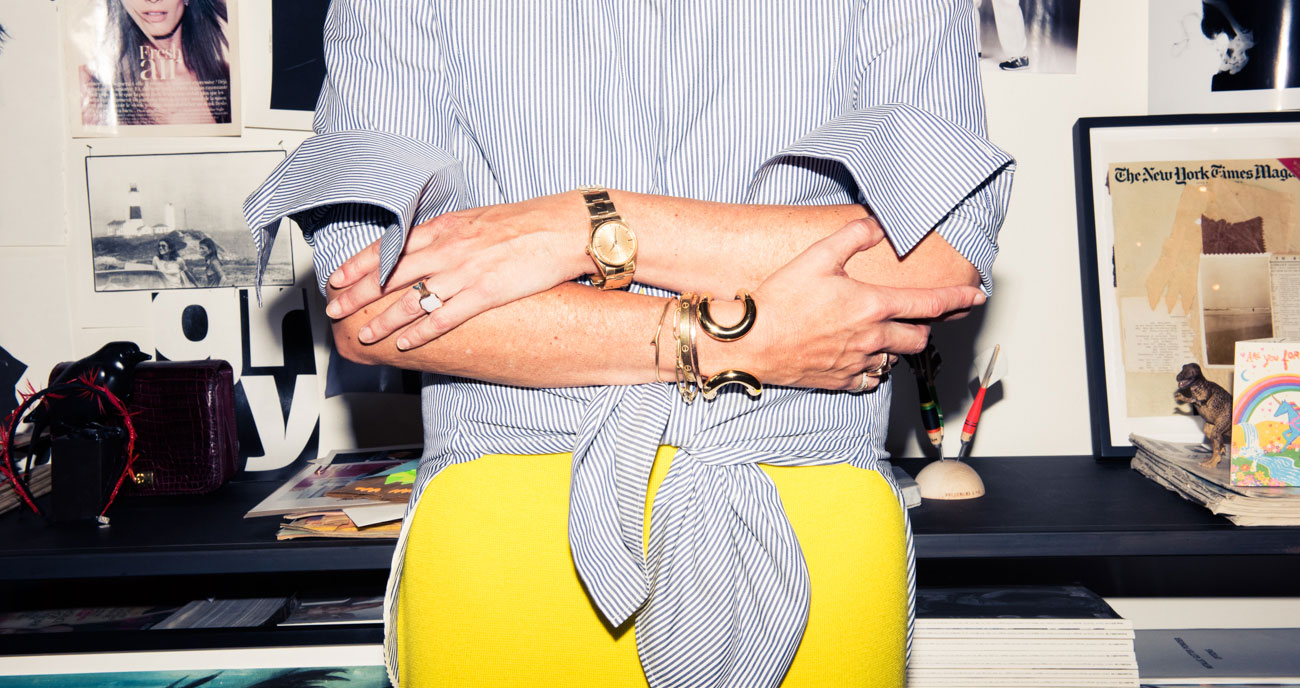 6 Ways to Look More Expensive
When your credit card statement screams outlet instead of Acne.
Blame it on our fashion-y jobs or the fact that we're never not shopping online. But around 3PM we play a dangerously fun game wherein we fill our digital shopping carts with all the dresses and embellished flats we've fallen for that week, and then make a game-time decision to either check out or exit tab immediately and pat ourselves on the back for being so fiscally responsible.
We've mentioned it before (and it's pretty much why we started this 60 Seconds series in the first place), but most of us at The Cov HQ are short on time and funds. Champagne tastes on a beer budget, if you will. So what do you do when you're lacking in both time and resources? Well, you follow our easy guide to looking a lot more put-together, even when your account balance is nearly negative, you're having a bad hair day, and you have post-work drinks with college friends (who, yeah, you admittedly want to impress). We promise you'll look fancy AF in no time.
---
We have some good news: The key to looking put-together (and therefore more expensive) isn't really about clothing; it's about accessories. Especially in the form of bags, sunglasses (significantly less expensive items) and shoes. And we're not talking massive Fendi totes either. A sleek leather bag from your favorite high-street store, or a well-made pair of shoes will do wonders for a fast-fashion wardrobe *and* you'll get a million wears out of them. Or purchase a significantly less expensive clutch and use that as your handbag during the day. Because expensive means not lugging around fifteen different work bags.
Some of our favorite places to shop: The Real Real, The Outnet, Barneys Warehouse, Off Saks Fifth Avenue. Plus consignment stores, vintage shops, and good old eBay (where one of our own editors scores Gucci and Ferragamo loafers on the regular).
Appearance is everything
While we're the biggest supporters of wash-and-go hair, if you want to look put-together, there's nothing better than a really good blow-dry. Head to Drybar to feel pampered while you drink champagne and have your hair waved and fluffed to silky perfection or go DIY at home. Bonus points for putting your hair in rollers, which makes you feel extra fancy during and after. And if all else fails (or if a blowout is not an option), grab some hair oil and slick it all back into a low bun. Chic.
Looking like a hot mess is not luxurious, so the same goes for sloppy makeup. It's better to have a freshly scrubbed face with a classic lip color than an overly made-up face. Skincare plays a big difference here, too. We're all busy and sleep-deprived, but investing time and $$ in your face pays off, so follow the cardinal rules of skincare (aka taking off your makeup nightly, moisturizing) closely.
---
Paint your nails
The ultimate goal is having the time and/or funds to commit to weekly manicures or bi-weekly gels. It's one thing you can do to look put-together when every other part of your life/appearance feels like a mess. When it comes to color, stick to the OGs—red (OPI Big Apple Red) and neutrals (Essie Ballet Slippers). And if you don't have time to go to the salon, for the love of god, remove chipped polish. You've heard it from your mother and pretty much every interviewer out there: There's absolutely nothing worse than chipped nails.
---
Wear jewelry all the time
Rather than buying tons of trendy costume jewelry, invest in delicate pieces you can wear all the time and never, ever take off. Covering yourself in dainty gold earrings, necklaces and rings is a simple way to look like you have your shit together. OR head to your local Claire's for serious '90s teenybopper vibes and stock up on cubic zirconia studs. Go for a round cut and no bigger than 1.5 carats (you want them to be believable, guys).
---
Embrace a uniform
It may sound silly but just look at Jacqueline Onassis, Jenna Lyons, or Emmanuelle Alt (or any Parisian for that matter). They are proof that a cropped pant, blazer and loafer will never, ever not look chic and therefore expensive as hell. When it comes to vacationing, a one-piece bathing suit, oversized white shirt, and oversized shades will make you feel infinitely more luxurious than the budget Airbnb you booked. You can also go the tailoring route with nondescript, inexpensive pieces to make them fit and look 10x better.
---
Grab something green
When all else fails: Buy a sixteen-dollar Juice Press smoothie or matcha (kiss your credit card sorry) and carry it around all day long.