Career
Power duo Stephen & Erica Malbon are here to change the way you look at golf.
Golf isn't traditionally the most sought after sport. More people pick up a football, basketball or hockey stick than they do a golf club. It's a stat. But why is it that some sports are seen as more fashionable and "cool" than others? Cov-alums Stephen and Erica Malbon set out to change that because they recognized the lack of interest in a sport that they both love. Being successful entrepreneurs—Stephen is the brains behind media company Frank151, and Erica is the prophetic genius who founded chic The Now massage boutique—they decided to do something about it.
That's how Malbon Golf, a brick and mortar store located on Fairfax Avenue in L.A. set to promote golf as not only a sport, but a lifestyle, came to be. The  Malbons are encouraging  youth to get involved and fall in love with golf byway of design and programming. The store features a putting green smack dab in the middle, a private simulator training room where you can be trained by a PGA professional, and sells everything from Malbon Golf products to Nike footwear (for children, men, and women!), a vintage MCM golf bag, and their exclusive Nike collaborations. It's good, friends. We chatted with Stephen and Erica about why it's so important for the youth to be inspired by golf, how they're helping celebrities perfect their game, and why golf can be harder for women.
---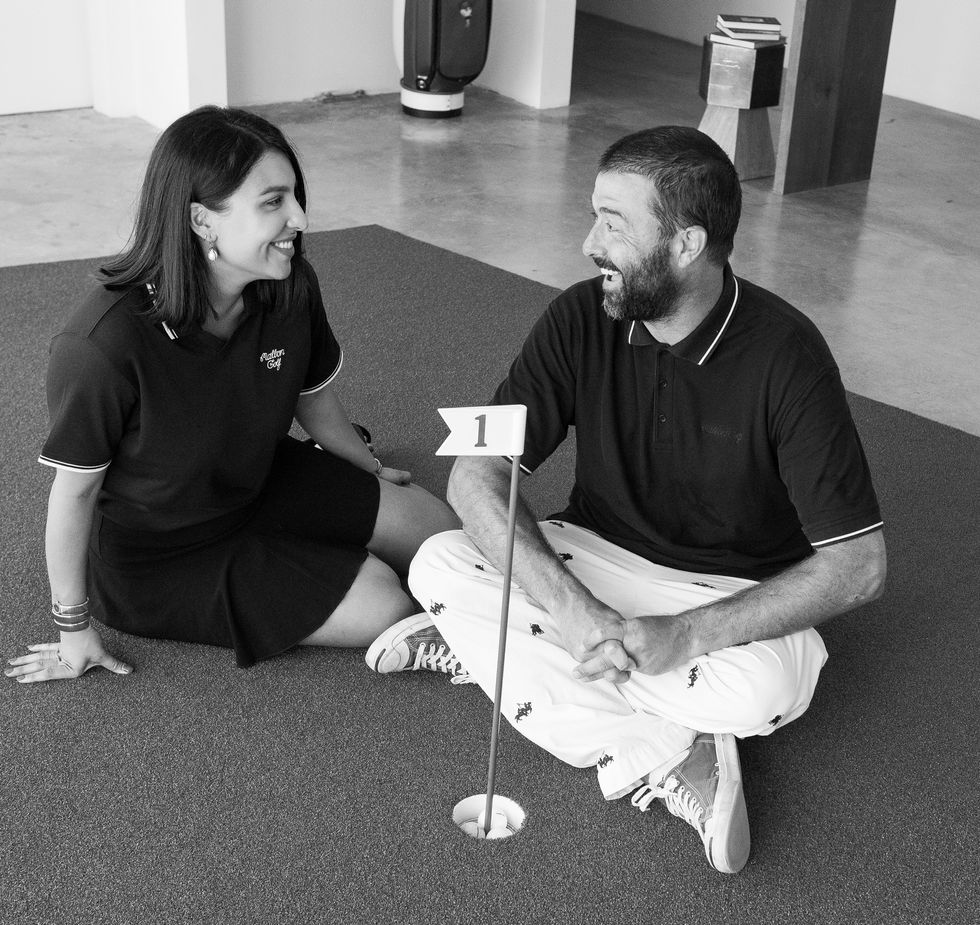 It started as a passion project:
Stephen: "I grew up golfing, but stopped multiple times in my life. I was doing the ad agency guy [thing] in New York. [Golf] wasn't top of mind. Then Erica was pregnant with our second child, Remington, and my life was changing, so I needed a new outlet, instead of being at nightclubs or going into country clubs. The next thing you know I was playing every single day. I started putting up too many photos of golf on my personal Instagram, but all of the people who followed [me wanted] to see photos of my family and street art. So I started a new Instagram just to nerd out and follow like 1,000 golf companies. I started it as more of a mood board, knowing that one day it'll turn into something, but I had no idea what it was going to turn into."
Erica: "It built a community of golfers who are not just into traditional golf, and wanted something that had a little bit more thoughtfulness and appeal. We saw the need for these people that were reaching out to us about making product and creating a space and brand that spoke to this new age of golfers. So Stephen and I decided together that we wanted to create a facility and a pro-shop where people could come to get a curated product selection of golf apparel and train indoors. It's obviously difficult to learn how to golf if you're in the middle of a city, so Malbon Golf was created."
There is a reason kids are quitting the sport at a young age:
Stephen: "I got really good at golf by the time I was 15 or 16, but then I wanted girls and fun things. Golf is good at getting young people to play golf, but then by the time they're 16 or 17, they stop or they try to go pro. Our goal at [Malbon Golf] is to try to get young, cool influencer type people, skaters, fashion people, artists, etc. to golf. If those people get addicted to golf, and they wave the golf flag then [kids like my son] Remington won't quit golf when they're 16."
Erica: "Interesting enough, Justin Bieber is a golfer, but nobody knows that. So if you can tell those stories and put that out there, then it'll influence other people to play."
Which is why Malbon Golf is providing a private space for beginners (and celebrities) to learn the sport:
Erica: "We have PGA Professional instructors who come in twice a week: on Tuesdays and Fridays by appointment. That's expanding—they'll be available five days a week in the upcoming months. You can take lessons indoors using situation technology, which is beneficial because it gives you feedback."
Stephen: "There are people like Drake and Travis Scott—they all want to play. There is a big desire to do a rich, amazing thing. Rappers in New York City used to wear Chanel goggles in the subways in New York because it's rich. It becomes fashion. So now these fashion, Fairfax Street kids are wearing our golf gloves at the nightclub, holding their drinks because it's like, swag. People like Pharrell or Drake, they want to be involved with golf, but it's so hard for them to go and practice at a shitty municipal public driving range where everyone knows them [and] everyone's putting them on blast. By having a private training room in Hollywood, that's air-conditioned, where they're not intimidated and we're not judging them based off of having tattoos or wearing their own clothes like a country club would, then they can get good enough at golf where they get addicted to golf."
They also want more women to get involved:
Erica: "We have been doing events here at the space to get people in and introduce them to the sport. We're doing a lot of cool things with weekly events and contests—just engaging with people in a very entertaining way to introduce them to the sport. We have a lot of girls that come in for lessons, younger girls. We're working on doing more events to get more women here. We learn that when people come in here, they actually like it. So it's really just about getting them introduced to it and then once they're here [they] get sucked into the sport and how fun it is."
Because, truthfully, the sport can be harder for women:
Stephen: "For the LPGA, they just put these ten rules [for women] that you can't have a shirt that goes [low], you cannot wear cutoff sleeves—basically they're making them wear long sleeves, high collar, no cleavage. Young, [confident] ladies are playing golf and they're cool with the way they look and they want to wear aerobic pants with a little skirt on top and tank tops and you know, they're dying their hair pink and purple. There's different people who are really helping the sport, and then golf is so traditional and old school that they're like, 'Stop this now!'. Why? What's the big deal? Look how they dress in tennis!"
Erica: "I feel like what we're doing is we are paying homage to the traditional aesthetic of a country club and what the regulations are, but we are doing it in a fun way that we can speak to younger people through. With golf there are rules about what you can wear on the course so we are not being disrespectful, we are obeying by the rules, but just adding playful elements to make those items more fun."
Next to the clothing, there is still *a lot* to know:
Stephen: "The pop people want to get to the country clubs, the country club people aren't quite sure if they want the pop people there or not. You know? In order to get the people to the Bel Air country club, they have to be cultured a little bit—they have to learn the history of golf, they have to learn the mannerism of golf—what's appropriate and what's not. What to wear, what not. Where to stand, not to talk—there's so many little rules. It's overwhelming and the intimidation factor in golf is very real."
What's next? Keep yours eyes open for Malbon Golf x Buscemi $6,000 golf bag:
Stephen: "We're doing collaborations with HUF, we're doing projects with Nike Golf, Cobra Golf Clubs, we're making a really cool golf bag with Jon Buscemi—like a $6,000 golf bag that's over-the-top with gold buckles, you could imagine what it is, that's being made in Italy right now."