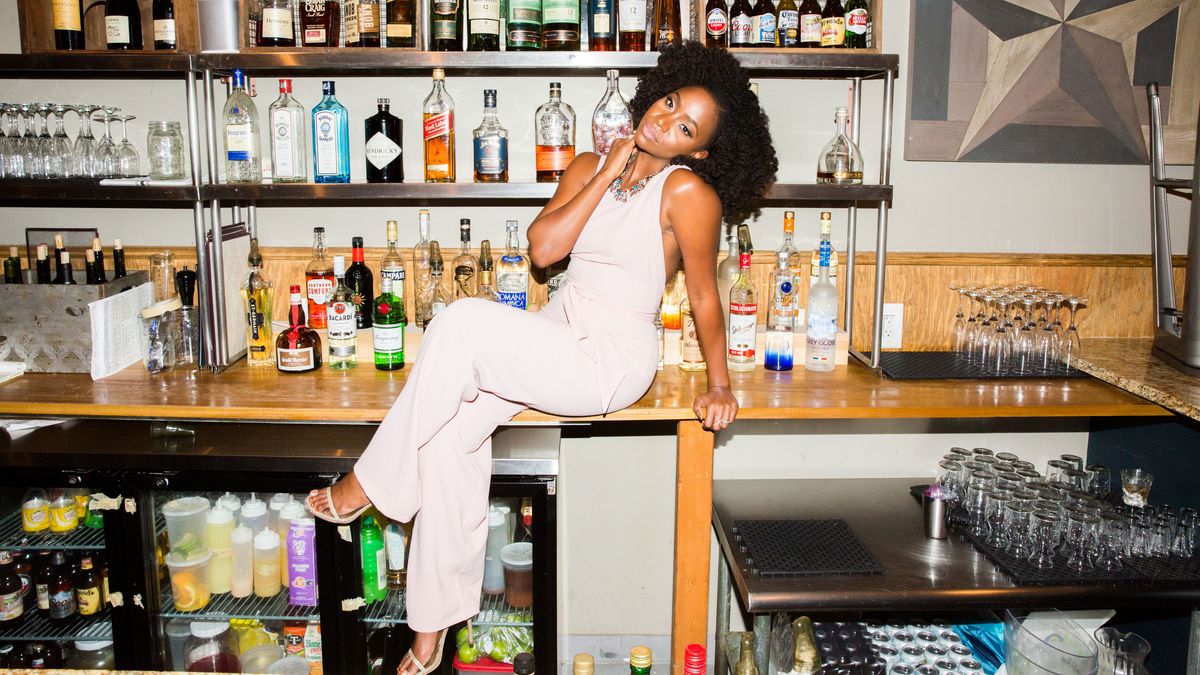 Celebrity
The Survivor's Remorse actress talks beauty, philanthropy, and the love of her life: food.
Alec Kugler
We can only take so much credit for our recent interview and shoot with Teyonah Parris. In a very un-Hollywood-like move, the actress picked the location (her favorite Harlem restaurant, Blujeen), brought along her makeup artist (Regina Little), and arrived early, dressed to the nines in a jumpsuit that she picked out herself (no stylist to name check here). Over the course of our discussion with the Survivor's Remorse star, we learned that she grew up competing in pageants, dedicates much of her time to mentoring young black women and girls, and always asks the same question before going to an event: Are they going to have food? (Same.) We spent a lot of time talking beauty too, because hair and makeup as glorious as Parris's must be addressed.
---
What's it like living in New York and filming in Atlanta?
"I went to [Juilliard], moved to L.A. for five years, and came back to New York two years ago. I'm so happy to be be back. [L.A.] was great for that time, but all of my close friends are here, so it just feels like home. And I love Atlanta. I'm from South Carolina so being in Atlanta, I get to be close to home but still working. It's a win-win for me."
What drew you to your Survivor's Remorse character, Missy Vaughn?
"When I read the script I loved that right away you knew she was educated, you knew she was ambitious—she was just unhappy with the changes that were happening in her life. And also the fact that she was in a very healthy and committed relationship with a black man. So it's a representation of two black people who are very different but who are in a very committed and loving relationship, and I think that that is such an important image for [black people] to see; to see themselves represented in a positive light. When you think about the scope of what's on television right now, you don't see [other] successful, committed relationships between two young black people."
Did you always want to be an actress?
"Pretty much. I started by doing pageants in South Carolina. [First] the school pageants and then the ones at the local mall. It was so expensive though. So my mom would do my makeup, and I would wear some of her clothes. We made it work. It [wasn't] like what you see on TV where people are spending thousands of dollars to compete. That wasn't us; we didn't have it like that. But it was fun and I enjoyed the competition of it all. I loved it until I realized I can't talk! So I quickly found the drama club in middle school and that's pretty much where my love for acting blossomed."
What performers did you look up to growing up?
"I loved Angela Bassett and Halle Berry. Whenever I did a school play my mom and dad would be like, 'You look like Angela Bassett up there! You go girl!' just hyping me up. I'm sure I looked nothing like Ms. Bassett, but her and Halle were certainly two of my role models. And I loved Christina Aguilera. I absolutely adored her. Such an eclectic mix, now that I think about it."
Tell us about your work with the Uniquely You Summit:
"They reached out to me to come and speak to their young women, and I just loved everything they were doing and everything that they represent. It's empowering, and supportive and educational, and preparing our young black girls for their future. That just warmed every part of my being, and I said, 'I want to be a part of this in a larger way than just stopping by to speak.' So we became a partnership."
Your hair is beautiful and you're a Dark and Lovely brand ambassador. Can you walk us through your hair care routine?
"I co-wash and then I spray it with [a mix of] water with conditioner. Afterwards I use a leave-in moisturizer and then an oil from Khamit Kinks. I love their oil. Afterwards I twist it up with my Dark & Lovely Easy Twist Gel N Butter, then I'll just pin it and go to sleep. If I'm not doing press, I'll try to leave it like that and wear head wraps or hats so I don't have to take my hair out and deal with it! I also like to keep it in low-maintenance, protective styles, so I'll do Havana twists, or I'll do braids. When we see all these elaborate styles on the carpet, somebody else did that for me!"
What are some of your favorite beauty products?
"I absolutely cannot live without my Skinn Orchid Gel Primer. It's the most amazing primer ever. It's a little expensive, but you don't need a lot. My other favorite is from the drugstore—L'Oréal Paris Infallible Setting Spray. And the Unique Face Options Special Clay Masque. Every time I'm finished using it I'm like, 'wow, my skin is poppin'!' So I try to do that at least once a week. I wear so much makeup [on set], so it's important to have a great cleanser. I use Bioré Charcoal Cleanser."
And what about makeup?
"Lancôme has great foundation; they have lots of shades for brown girls. For lips, I like Urban Decay and Stila. Stila has a great matte line that doesn't feel too dry, but looks super matte. I have so many lipsticks. I have bags at the house."
Do you have a fitness routine?
"I love food, so I eat it. And fitness? No—I don't stick to anybody's fitness plan. Because of that, I try to be more mindful about how much and how often I'm eating, but I like to eat and that's just what it is. I'm generally not eating junk food, though. I like to sit down to a meal. I'll come here [to Blujeen] and have salmon, mac and cheese, and collard greens. To me that's not junk food; junk food is like candy or chips. And I cook. I'm trying to be more mindful [about my diet] and incorporate more vegetables, because I do not like working out."
Aside from Survivor's Remorse, what's on your DVR?
"I love Power, I love Queen Sugar, I love Insecure. Atlanta isn't on right now, but I love that too. Also Game of Thrones and Claws—I love watching Niecy. There's so much great TV on. And I do love a little bit of what I call trashy TV. Married at First Sight is so interesting to me. I'm always like, 'Ooh, did it come on yet? Let's see what happened!'"